by
posted on September 22, 2022
When you hear "slingshot," you may be thinking in terms of children's toys … but a real slingshot, while certainly fun and challenging to use, is the furthest thing from a toy. In fact, the first slingshots were invented for hunting big game, and over time they became very real weapons of war. Those who mastered the slingshot were known as "slingers," and they were the ancient equivalent of today's snipers (think David and Goliath).
Today, slingshot shooting is a sport for the whole family—or a valuable survival skill for the stars of a certain 80's-themed science fiction franchise—and there's a company you know better as a maker of another historical hunting arm, the crossbow, that now offers a full line of slingshots for beginners and budding Davids alike. Meet the Barnett lineup of slingshots!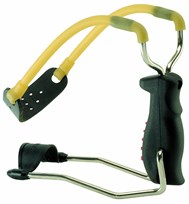 For beginners, there's the Strike Nine and Black Widow slingshots. The Black Widow boasts a foldaway brace that's a big advancement in slingshot design. When engaged, it provides better leverage and a longer power stroke than more traditional slingshots.
Next in the lineup is the Strike Nine, a pocket-sized slingshot offering durable construction with good range and accuracy. It's a perfect option for young people who are interested in hunting small game and learning the basics of safety and control on the range.
Three advanced models—the Diablo, Pro Diablo and Cobra—were designed for older and more experienced users, with full-sized grips and features for more power. The Diablo is an advanced slingshot that delivers increased power and precision. With its magnum power bands, it hits targets hard.
With stability comes precision, and the Cobra's unique front stabilizer and sight system allow users to stay on target with reduced vibration. Its magnum power bands and longer brace add to this slingshot's performance, and it's ready to shoot straight from the package with included target ammo.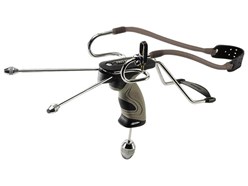 Barnett's most advanced slingshot is the Pro Diablo. It features a three-piece stabilizer designed to combat vibrations for smooth, balanced shots and an adjustable sight for pinpoint precision. The Pro Diablo includes an instructional shooting guide, practice ammo and magnum power bands. Barnettcrossbows.com