by
posted on February 17, 2018
Extirpated from Pennsylvania by the mid-1800s, elk were reintroduced to the Keystone State in 1913 with 177 animals relocated from Yellowstone National Park in Wyoming. Today, Pennsylvania's wild elk herd numbers about 1,000 animals and is the largest east of the Mississippi.  The herd resides in eleven counties in northwest Pennsylvania, the epicenter, not surprisingly, being Elk County.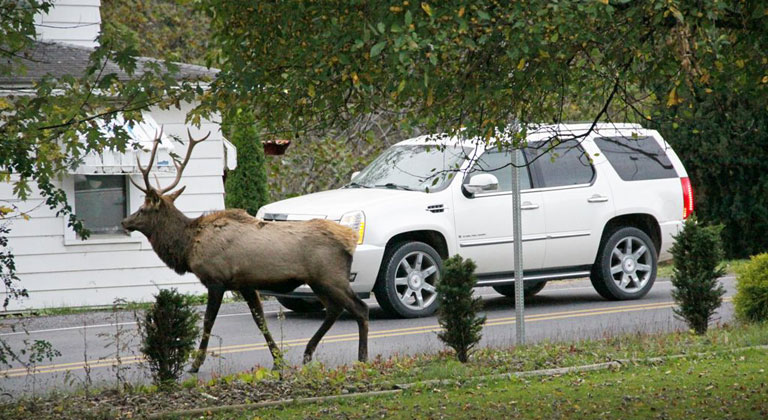 Be on the alert while driving in Pennsylvania's elk country, as you never know where the bulls, cows and calves might show up or when. Cow elk weigh about 600 pounds and bulls average about 800; a large bull can weigh nearly half a ton. Only bull elk grow antlers. This young bull was almost hit right in front of the camera!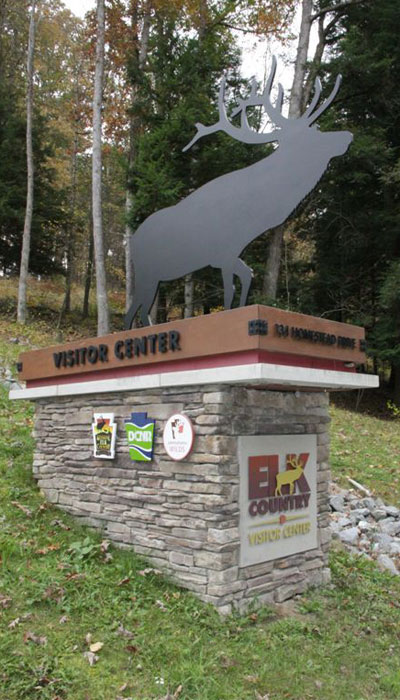 "Opened in 2010, the 245-acre Elk Country Visitor Center was created as a destination for people to come and view Pennsylvania's elk," said Toby Neal, conservation education coordinator at the Visitor Center. "We had more than 400,000 visitors last year, and our visitor numbers continue to grow annually. Wagon tours are available but fill up fast, so if you'd like to experience that while you're here, please make your reservation a day in advance."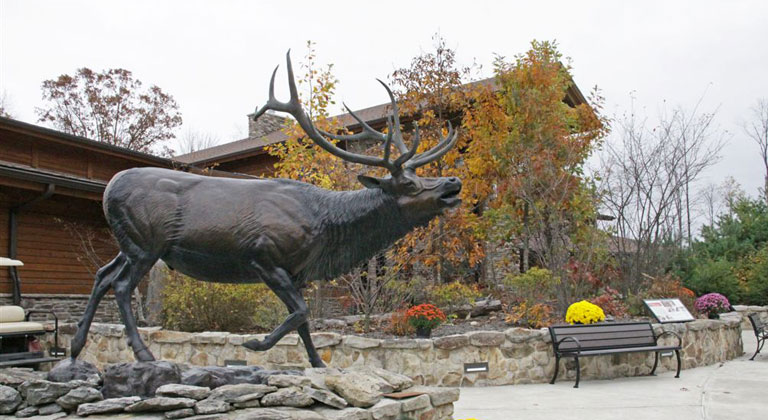 The 8,400-square-foot Elk Country Visitor Center building is a beautiful, contemporary structure of stone, wood and glass. Inside are various hands-on exhibits, a "4-D" theater, and gift shop. Outside are three handicap-accessible, gravel-covered trails that lead to elk viewing areas. The Visitor Center is owned and operated by the Keystone Elk Country Alliance, a non-profit organization. Admission is free.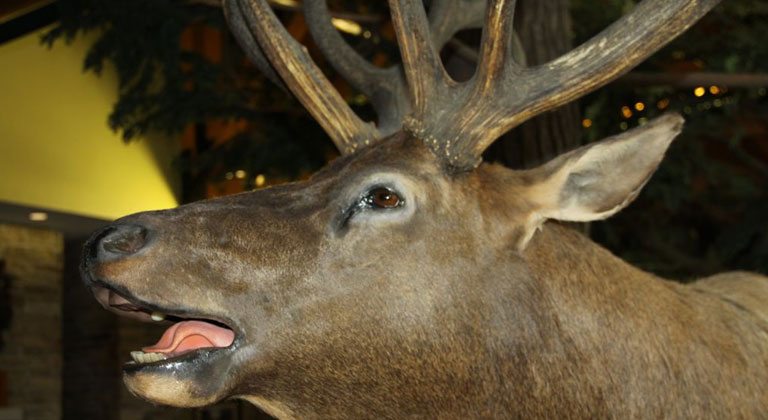 This full-body mount of a bugling bull elk is located in the Visitor Center's great room. Gored during a battle with another elk on Visitor Center property two years ago, the bull was severely injured and subsequently had to be put down. It's seldom that battles between bulls end in death, but it does happen. Relatively minor injuries sustained in battle, however, are common.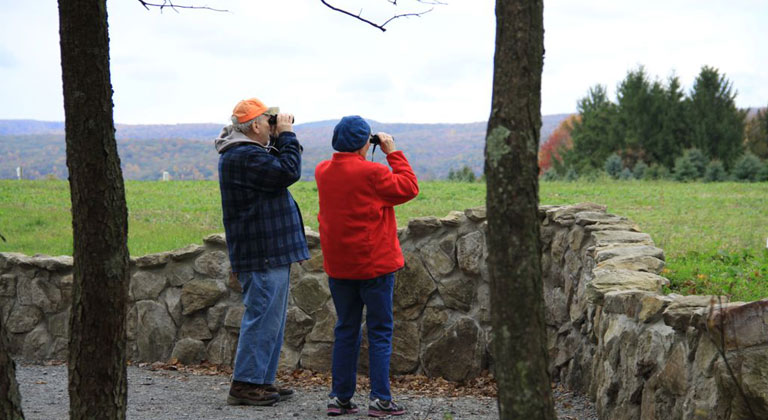 As truly wild animals, not penned, there is no guarantee you will see elk while at the Visitor Center, but fall is the best time of year for viewing and dawn and dusk are the best times of day. During fall, bulls sport their magnificent antlers, and will bugle and battle. Elk can be seen with the naked eye from Visitor Center trails, but taking along a pair of binoculars is a good idea. And don't forget your camera!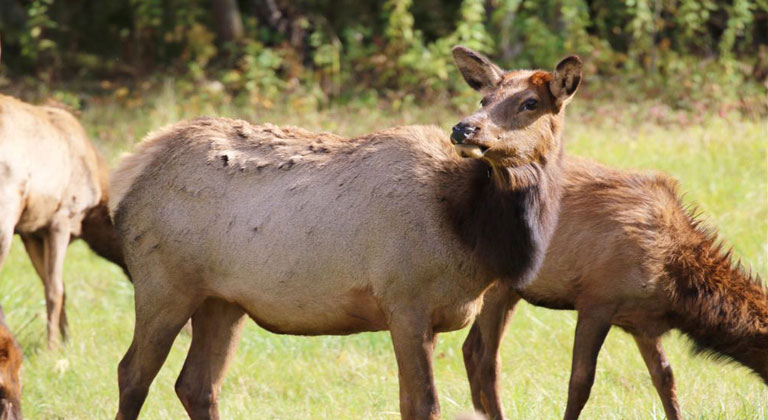 Elk are one of the largest members of the deer family (Cervidae), moose being the biggest. Elk were also called wapiti by Native Americans, meaning "white rump." The gestation period for cow elk, such as this one, is about eight months. After being bred in the fall, a cow gives birth to a single calf (rarely twins) the following spring. Calves grow to the size of an adult white-tailed deer by the end of summer.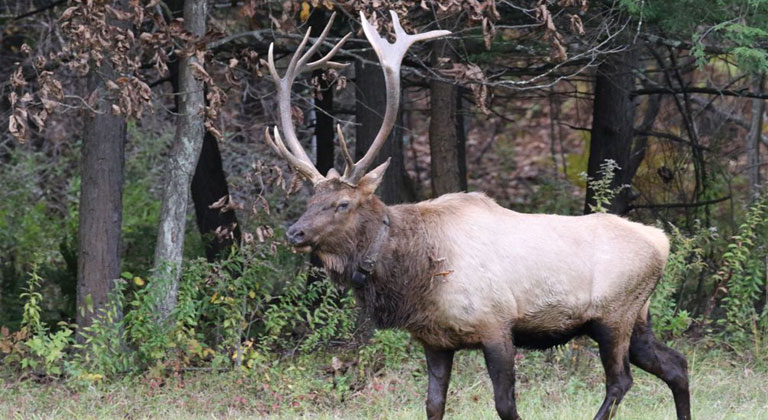 This mature bull was tending a harem of 22 cows and calves when photographed, and fending off other bulls challenging him. During the rut, a bull elk's testosterone level is 1,000 times higher than normal, so keep a safe distance. Bulls are ready to fight anything that may approach their cows. Notice this bull is wearing a radio telemetry collar, allowing wildlife biologists to better track his movements.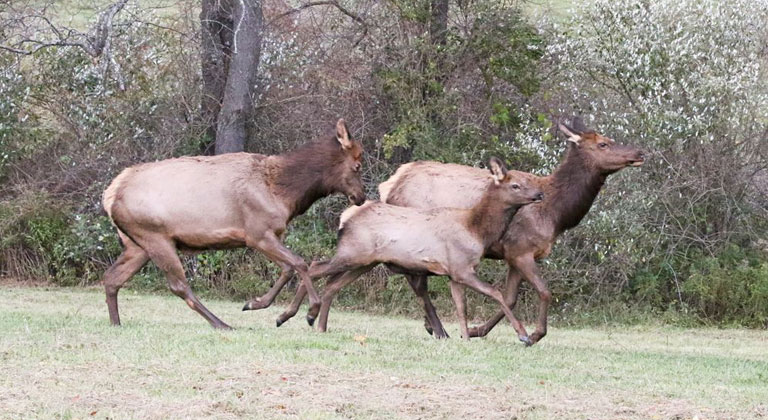 Startled, these two cow elk and a calf run to join other members of their herd. Following the fall rut, females and calves form large wintering herds of as many as 50 individuals. When approached by predators, the largest females may make a stand to protect the herd, using their front legs to kick in defense. In Pennsylvania, elk predators include coyotes and black bears, which mainly target young calves.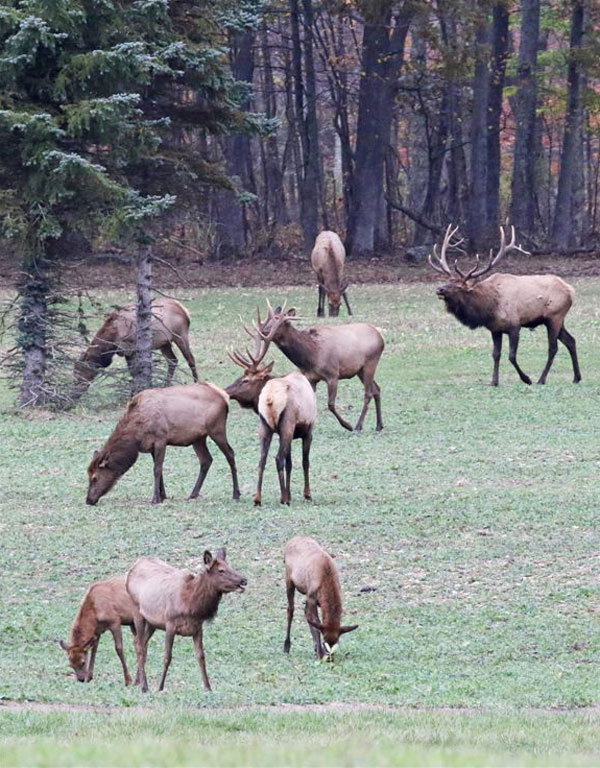 In the middle of this photo, a subordinate bull is showing interest in a cow elk. But when the larger herd bull (upper right) began moving in, the subordinate quickly moved away, out of the herd. Most tests of dominance between bulls are decided without a fight, but when an elk battle does occur it begins with a spectacular clash of antlers followed by a shoving match of brute strength.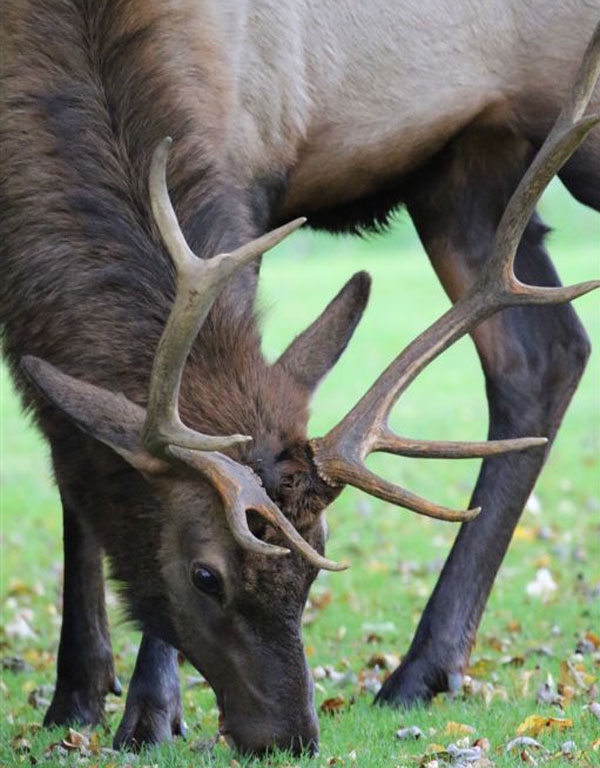 Young bulls, such as this one, are usually solitary or hang out in small bachelor groups. It will be several years yet before this young bull grows antlers large enough and becomes strong enough to challenge a herd bull for the right to gather a harem of cows and breed with them.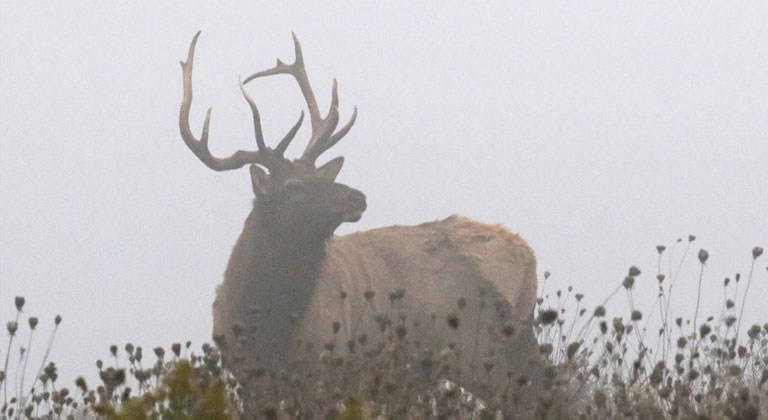 A foggy morning creates a mystical mood for this bull elk photo. Notice this bull's left antler is slightly deformed, curving out farther from his head than the antler on the right. During the summer, while antlers are forming and still covered in velvet, they are relatively pliable and susceptible to damage. But sometimes, as with deer antlers, elk antlers grow oddly for no apparent reason.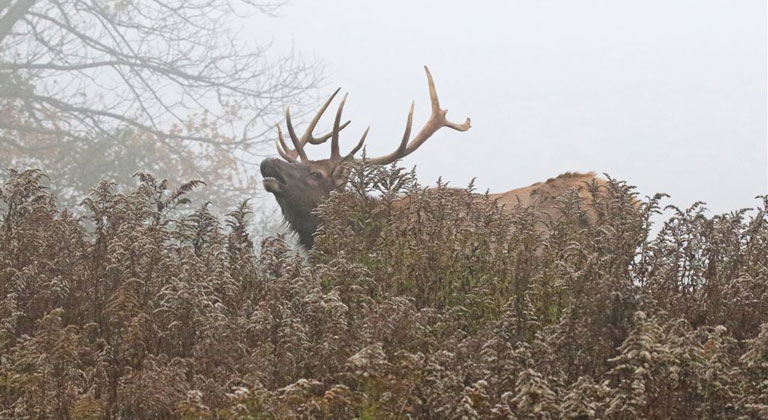 If you ever hear a bull elk bugle, you'll never forget the sound. It begins as a long, drawn out high-pitched whistle or squeal followed by several deep, guttural grunts. Theodore Roosevelt—conservationist, hunter, and 26th president of the United States—once said of the sound of a bugling elk, "It was almost impossible to believe that it is the call of an animal."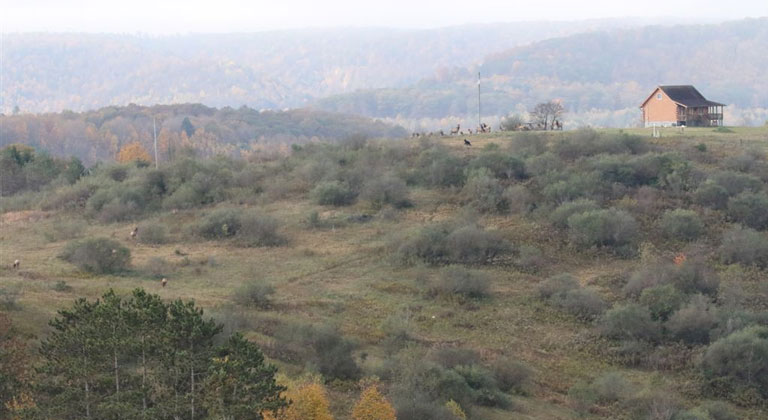 Winslow Hill Road leads to the Elk Country Visitor Center entrance, and elk may be spotted all along the road. Look closely just to the left of the cabin in this photo and you will see a small herd of elk standing in the yard. Look even closer, just in front of the elk, and you will see a black bear approaching them!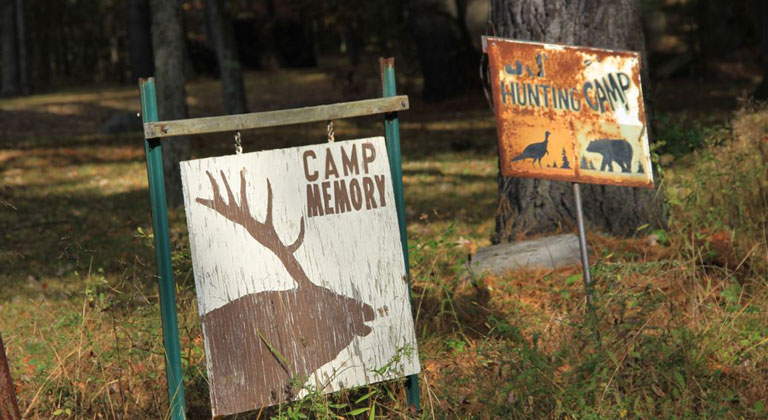 The Pennsylvania Game Commission controls the size of the state's elk herd through sport hunting. Elk hunting season is the first week of November, and 116 elk tags were allotted this year, distributed through a lottery system in 13 hunting zones. Two additional conservation tags were also allotted for 2015, one of which was given to the Keystone Elk Country Alliance. The organization used the tag for a fund-raising raffle, generating $150,000 for elk conservation.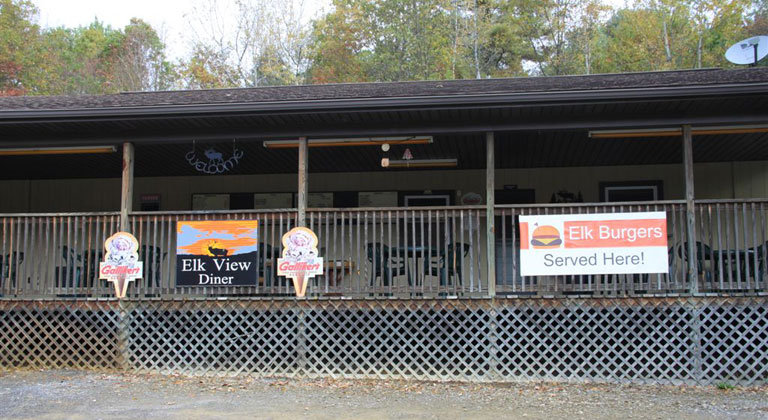 Elk burgers anyone? Local businesses have both embraced and benefitted from the Elk Country Visitor Center. "Because of the Visitor Center, eco-tourism in the area has grown much larger than anyone ever imagined," said Toby Neal. By the way, meat for elk burgers sold at Pennsylvania restaurants comes from game-farm elk, not from the wild herd.

If you consider yourself an outdoors person, you would no doubt enjoy a visit to Pennsylvania's elk country. To begin planning a trip, go to (www.elkcountryvisitorcenter.com).