by
posted on January 6, 2023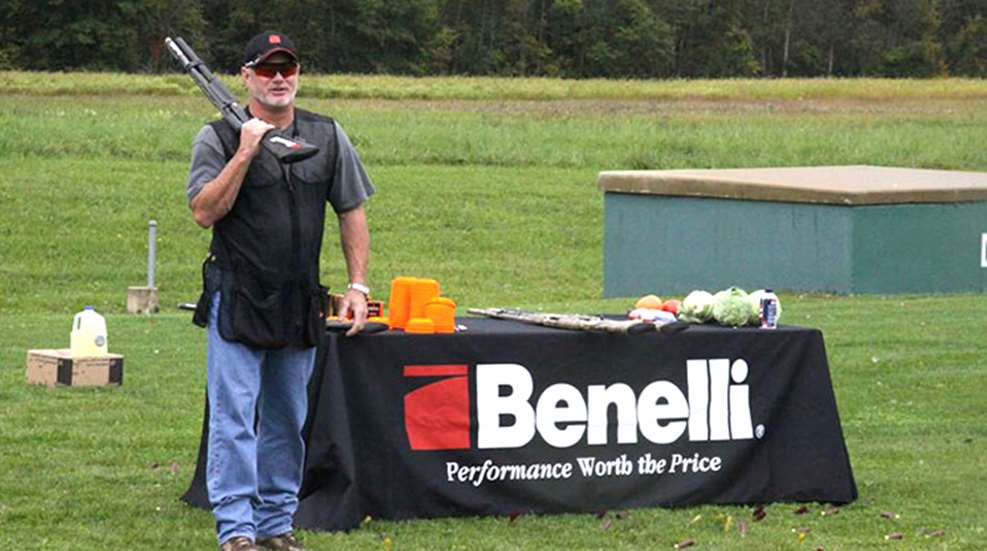 Wouldn't it be great to shoot professionally, to get paid for crushing clays with a shotgun or shooting aspirins out of the air with a .22? Think you might have what it takes? Think again. Very few shooters have the natural abilities and drive to become an exhibition shooter. Someone who knows that firsthand is Tim Bradley, a professional exhibition shooter for many years and one of America's best.
Bradley taught himself to shoot while growing up in rural Arkansas. "A person needs three things to become an exhibition shooter," he said, "natural hand-eye coordination, plenty of shooting practice and desire. You really have to want to do this," he continued, "and be willing to put in the practice time it takes to become really good."
As an example of that kind of mental drive, Bradley said that when he was first learning his craft he once fired 65,000 shotgun shells and 18,000 .22 cartridges in just a six-month period. Today, however, he says he practices relatively little by comparison, as the many shows he does annually across North America keep his shooting eye sharp.
What's the toughest part of Bradley's job as an exhibition shooter? "The constant travel," he admits. "For me it's that first two or three hours of the day when I have to get up and get to the airport. I just hate it…"
Tim Bradley is sponsored by Carlson's Choke Tubes, and you can see some of his amazing shooting demonstrations on YouTube (www.YouTube.com). He's also involved with NRA Outdoors and its upland hunts offered every fall. For more information about those hunting opportunities and more, go online to www.nraoutdoors.com.
Exhibition shooters, also known as trick-shot artists, have been around nearly as long as gunpowder itself, making shots the rest of us mere shooting mortals can only stand and stare at with slack-jawed envy. But the best shooter ever was not a man, but rather a petite Ohio lady: Annie Oakley.
Phoebe Ann Moses (1860-1926) was born and raised in Darke County, along the western edge of the Buckeye State, and is buried there in Brock Cemetery. Visit her grave yet today, and you will likely see a handful of pennies atop her gravestone, placed there by modern-day admirers. The pennies symbolize the coins she would shoot from the fingertips of her husband, Frank Butler, during Annie's shooting exhibitions.
The way in which Frank and Annie met was the beginning of a life-long love affair. In 1881, Frank Butler was an exhibition shooter himself, touring the Midwest taking on all comers. Arriving in the Cincinnati area, he put out word that he was looking for a challenger. The locals said they had one, but when a young woman stepped from the crowd, Butler no doubt thought it a joke. He soon found out differently.
It was to be a live-pigeon match, and the first shooter to kill 25 birds would be declared the winner. The match was tied twice, but Annie eventually won by one bird. Frank Butler lost twice that day: He not only lost a shooting competition to a young woman, he also lost his heart. Frank Butler and Phoebe "Annie" Moses married a year later.
Butler knew a good thing when he saw it-both in a wife and a business partner-and eventually chose to step out of the shooting limelight to become Annie's manager. She adopted the stage name Oakley (no one seems to know quite why), and through the years the couple toured the U. S., Canada and Europe with various shows, the most famous being Buffalo Bill's Wild West.
The traveling entourage featured authentic cowboys, Native Americans (considered by some to be quite the novelty at that time), live buffalo and, of course, Annie Oakley's shooting prowess. Annie was always the first act of the show following the opening Grand Review, amazing audiences everywhere she performed with handgun, rifle and shotgun tricks.
Just some of her trick shots included: shooting an apple off her pet dog's head, shooting over her shoulder by using the blade of a Bowie knife as a mirror and splitting a playing card held in Frank's hand, shooting while standing on a galloping horse, shooting double targets while riding a bicycle, shooting flames off candles as they rotated on a wheel, and individually shattering six thrown glass targets in the air before they could hit the ground.
Annie Oakley made her last public shooting appearance at the Grand American Trapshoot in Vandalia, Ohio, in 1925, at age 65. She died quietly in her sleep one year later, suffering from pernicious anemia in her old age. Her husband, Frank Butler, passed just 18 days later, likely of a broken heart.
The heyday of exhibition shooters in America was the late 19th and early 20th centuries, a time when top shooters were admired like professional athletes are today. A few exhibition shooters still persist, sponsored by firearms and ammunition companies. Think you might have what it takes to become one of these elite shooting stars? Maybe it's time to begin a serious practice schedule and find out.