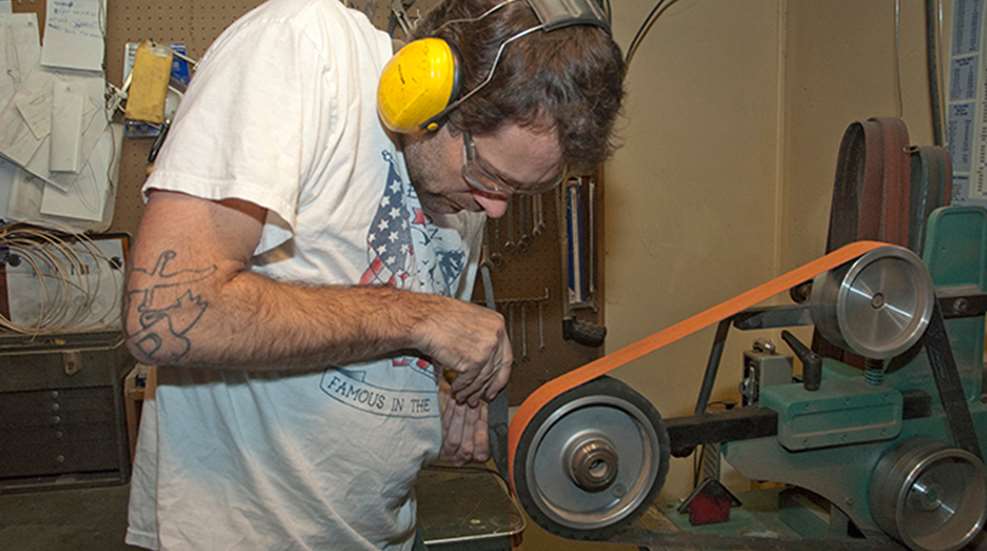 "All my adult life I've had at least a pocket knife with me, and almost every day I use it. It's never failed to be a useful tool." – Paul Cooper, Knifemaker
Paul Cooper is a practical man. He looks at a knife and sees a tool that will help him with a task. He is also a man with the soul of an artist, a man who crafts knives that are as beautiful to look at as they are useful. It is this combination of artistry and practicality that is bringing him increasing recognition as a knifemaker of note.
Looking Back
"I got my first pocket knife at five," recalls Cooper. "By the time I was in my early teens, I realized it was possible to make my own."
His initial interest in knifemaking was largely a matter of necessity. "I had an interest in certain knives," says Cooper, "and I couldn't afford them or no one made what I wanted." So he learned how to make them himself, and over time, what began as a necessity would become a passion.
That passion became more fully realized when he signed up for a bladesmithing course under master bladesmith J.D. Smith at the Massachusetts College of Art and Design. Cooper took the course again and again, eager to absorb everything Smith had to teach. In 2007, some three years later, he was awarded an apprenticeship with Smith.
During the time he spent under Smith's instruction, Cooper worked in Smith's shop and was also, at one point, Smith's student assistant in the same bladesmithing class he once took himself. The two men remain in contact. "We're still friends," says Cooper. "We still talk."
A Day in the Life
Today, the full-time machinist and part-time knifemaker pours his heart and soul into his one-of-a-kind creations. "I have a lot of ideas about what kind of features a knife ought to have," says Cooper, "so I put them into a design and make it. It's kind of an artistic expression."
Cooper's knifemaking days are anything but routine. "I don't have a typical day," he states. "Every knife I do is unique. I'm often experimenting with new technique and new methods of craftsmanship like engraving file working and scrimshaw-different things to embellish."
Despite the uniqueness of the finished product, knifemaking has a well-defined structure about it-a set of steps that must be followed to get from the first glimmer of an idea to a completed piece.
"I start by designing it," says Cooper, "even if it's just in my head."
From there, it's time for a rough forge of the blade, which means heating and hammering the steel until it is the rough shape of the blade he wants. Next comes grinding to give the knife a sharp edge, followed by a rough polish.
"Then I'm ready to heat-treat it," says Cooper. "In heat treating, you harden the steel and temper it to bring some of the brittleness out of it and make it more useful for a knife blade."
Cooper polishes the heat-treated blade and assembles the handle, which may have a number of parts: guard, bolsters, butt cap, grip, etc. "Then," says Cooper, "depending on what I'm making, I may put some decorative file work into it, etch a design into the blades, or however I choose to embellish it. I also makes my own sheaths," he continues. "And that's about it."
Highs and Lows
In other words, it's a lengthy process. So just how long does it take to make a knife?
"I don't really keep track of my hours that well," he says with a laugh. "I guess about 40 hours, depending on how much detail I put into it."
For Cooper, it's a process filled with joy and satisfaction. He is particularly fond of forging and grinding. "You can start to see it [the knife] take shape," he says, a smile in his voice.
And while he admits polishing can become tedious, it's not all bad. "There's a point when you're polishing and assembling the knife, when you suddenly can see what the finished product is going to look like," says Cooper. "I really like that moment."
Cooper also admits that the need to pay attention to even the tiniest of details can be tiresome at times, but he knows it's necessary. "Small details are very important," says Cooper. "People notice if you leave out little things."
People notice when you get it right, too-when your work is a thing of beauty. One of his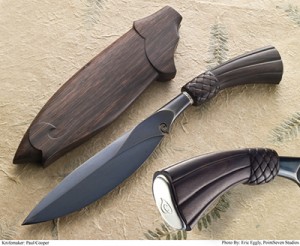 knives was displayed alongside those of master bladesmith J.D. Smith at the National Heritage Museum in Lexington, Mass. In 2006 he was awarded "Best New Maker" of the Oregon Knife Show, the same show at which he sold his first knife. In 2010 he was featured in Blade magazine article on five up-and-coming knifemakers to watch.
Cooper's Future and Yours
Cooper's plans for the future include continuing to refine his skills. "People recognize skill, and my work will increase in value as a result of that," he explains. He also wants to increase the pace of his work so he can produce more knives in a shorter period of time.
Such an increase would undoubtedly please the New York and Florida retailers who sell his work. Both have retail stores and also conduct business online.
Clearly, then, Cooper's future is centered on his passion for knives and knifemaking. What about yours? Perhaps you share Cooper's passion. If so, there are a few things you can do right now.
"I think the biggest thing is to use knives," says Cooper. "Carry a pocket knife and use it frequently. It's important to understand how and why it functions the way it does."
Cooper also recommends searching out books, magazines and DVDs about knives and knifemaking, and visiting online forums for knifemakers and collectors. Although it's not necessary yet, getting some shop skills or developing your artistic ability will be useful down the road.
So you see, you can start exploring knifemaking just about any time you want. You might even decide that it's the "cool job" in your future.
Training Options
The NRA offers knifemaking classes through its short-term gunsmith and knifemaking program, www.nragunsmithing.com.
The American Bladesmith Society, www.americanbladesmith.com, and the Knifemakers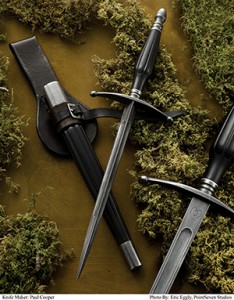 Guild, sponsor knifemaking schools that are typically about a week long. They also sponsor hammer-ins, in which knifemakers of all experience levels gather for demonstrations and to spend time working together.
Some colleges, such as the Massachusetts College of Art and Design (where Cooper went), offer knifemaking classes.
"Once you have some knifemaking skills of your own," says Cooper, "work one-on-one with another knifemaker. I think that's the most valuable way to do it. I never met a knifemaker who wasn't willing to share what he had and go on and on about it if you want him to."