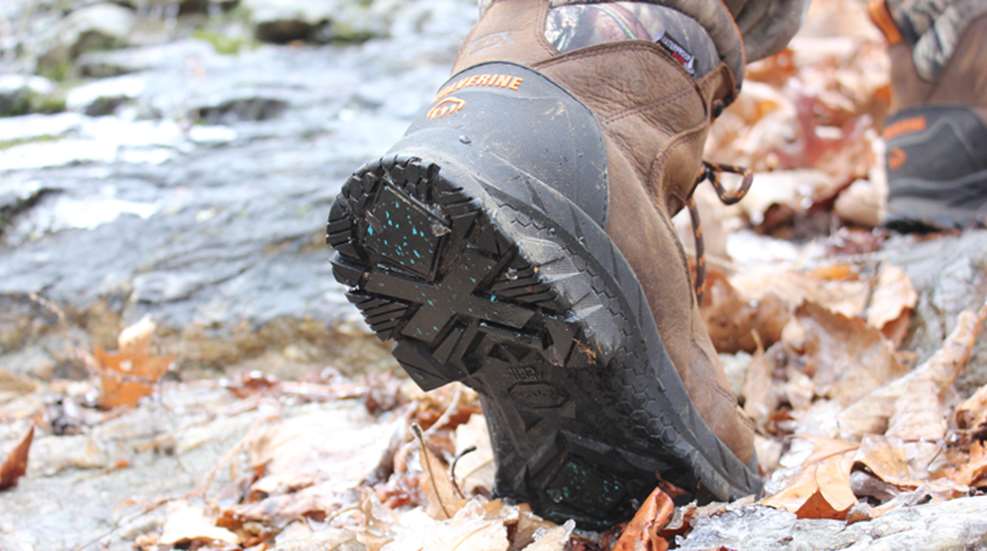 Looking for some bad-weather boots to keep your family's feet warm and dry? Here are some brand-new boots that we've field tested and highly recommend.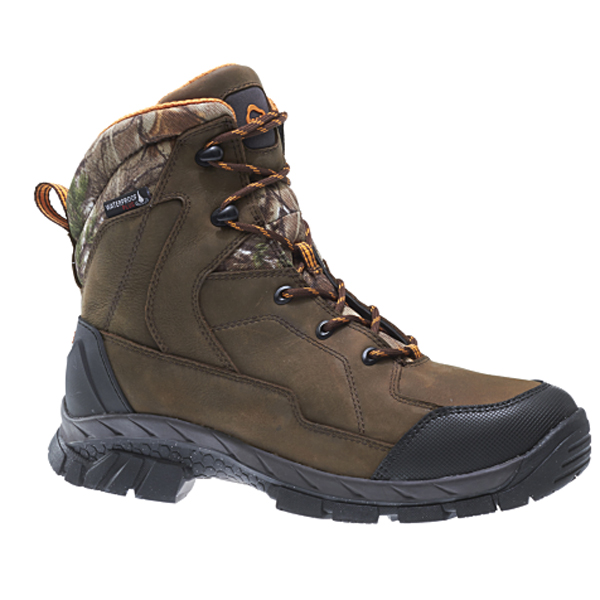 Wolverine Crossbuck Waterproof LX
Lets you walk on (frozen) water—without falling down.
Ground coated in ice or a skim of hardened snow can be nightmarish for hunters and guys working outdoor jobs. Treacherous as that can be, the good news is that Wolverine is now building footwear specially developed to grip icy surfaces. The breakthrough behind the new Crossbuck Waterproof LX is the Vibram Arctic Grip, an outsole incorporating a pair of proprietary materials used in tandem. Some areas have the smooth, pliable feel of the familiar Vibram rubber, and it's interspersed with a harder substance forming the larger lugs that's got a noticeably gritty attitude. They offer an innovative new lug configuration; 4 mm deep with a wide main section that maximizes surface contact and ensures a secure "bite" on muddy and snowy trails, too. There's even a "thermochromatic" indicator lug that turns from white to blue when the temperature nears freezing should you need help determining what's happening underfoot.
the Crossbuck Waterproof LX, a tough mid-weight hunting boot, employs what's being hailed as Vibram's "most advanced cold weather gripping system ever." The 8-inch, waterproof leather upper comes lined with a wicking mesh and contains the company's removable EPX anti-fatigue footbed and 400-gram Thinsulate Ultra insulation. The boot is reinforced at heel and toe, and its 90-degree breaking heel flexes to maintain optimum contact regardless of the terrain.   
After wearing these boots over the course of this season, we've found them to be durable, comfortable, warm, dry and, yes, sure-footed on virtually any walking surface. In limited occasions wearing them on snow and ice, we came away very impressed indeed. The traction they provide is notably superior to other aggressive-tread outsoles.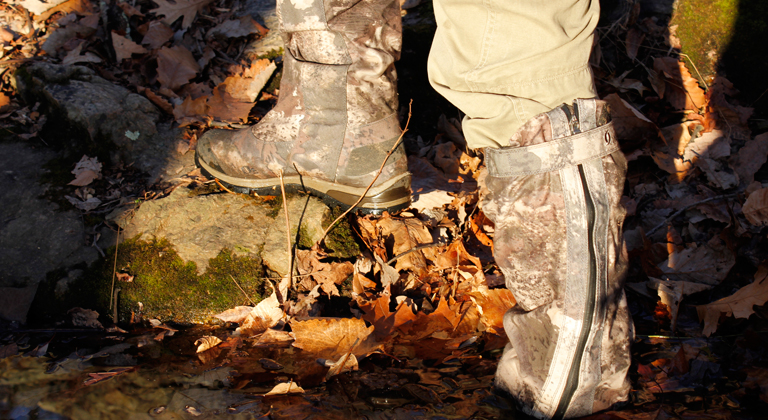 Cabela's Instinct Lockdown Hunting Boots
You want versatility? Here's a mid-weight hiker that doubles as waterproof knee-high.
By some stroke of bootmaking ingenuity, Cabela's footwear designers discovered how to permanently attach a 20-inch waterproof gaiter to a sturdy, 7-inch, Vibram-soled hiking boot that's also waterproof. Similar boots, paired with conventional gaiters, are often favored by mountain hunters striving to stay as dry as possible while relying on footwear that's sure-footed and protective. The Instinct Lockdown ticks off all those boxes and serves other applications as well.
First, based on our in-the-field observations, they do indeed match the waterproofness of rubber knee-highs. Cabela's addresses that with a material called 4MOST DRY-PLUS, and says the upper has three laminated layers to keep the wet out, but since the microporous fabric is also breathable, it wicks away perspiration. We'll never say never when it comes to leaks in hunting gear and skin-layer dampness, but these dogs kept our feet drier than other boots—rubber, leather, you name it—even when wading through shallow creeks to get to our stands. And we all know dry feet are more likely to be warm feet, aided no doubt by this boot's 400-gram PrimaLoft insulation.
The gaiter (decked out in Cabela's O2 Octane camo) is equipped with a full-length sealing zipper and cinches with a hook-and-loop top strap. Since it's not possible to tie the laces in the normal way, Cabela's has outfitted it with the Boa Lacing System, a ratcheting wheel that snugs those unseen laces. (To loosen, you simply release the wheel out of contact.) All this works very well, but doesn't allow wearers to fine-tune lace tightness, and though pretty straightforward, getting into and out of these boots takes a little more effort than normal.  
That notwithstanding, we found the Instinct Lockdown so comfortable for day-in, day-out wear, and they have now become our go-to tree-stand favorites. Ultimately they're not quite as comfortable as our preferred high-country hikers, but it's close, and at 3.2 pounds per pair, the fatigue factor is minimal.