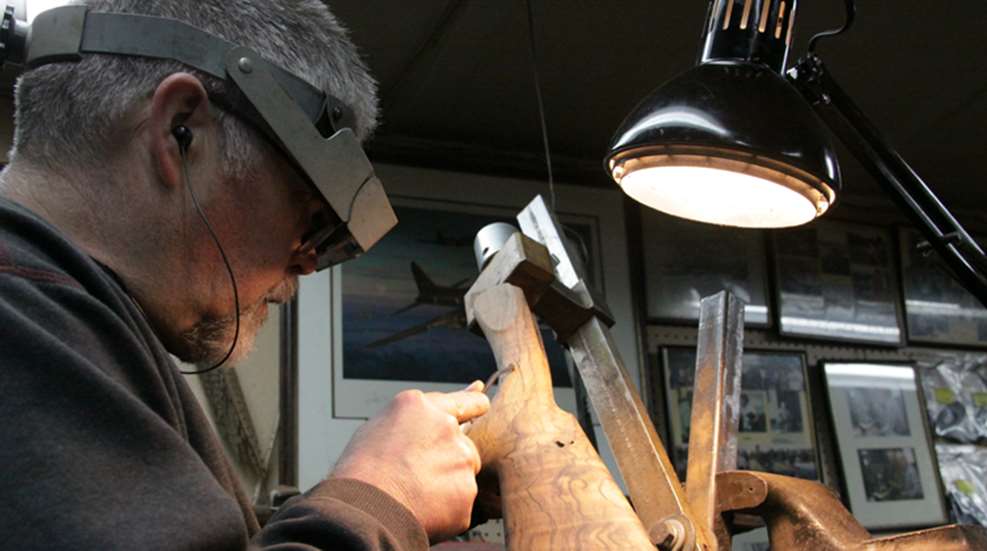 If you're a shooter/hunter long enough you'll eventually require the services of a gunsmith. It may be just a minor repair on a relatively new firearm, or possibly extensive refurbishing of an older gun—the latter being the type of work I recently had completed.
My old 870 Remington pump-action shotgun had seen better days in its more than 40-year lifetime. I initially used it for waterfowl hunting—a sport that's hard on all equipment, especially guns—and years later camouflaged it with layers of green and brown spray paint for turkey hunting. Like I said, the gun had seen better days.
But that particular shotgun holds special memories for me of many great days afield, so recently I decided to have it professionally re-blued and fitted with a new recoil pad. I hoped the gunsmith could make the metal parts (barrel, receiver, trigger and trigger guard) look new again. I told him I would refinish the wood of the stock and forearm myself.
I'm glad to report that the gunsmith, Jim Eyster, did an excellent job. But during the time he had my gun I got to thinking of all the things that could possibly go wrong, of questions I should have asked before I handed him my shotgun and didn't. So if you're considering having some work done, here are a few basic questions to ask before putting your baby into the hands of just anyone:
1. What will the work cost? 
"Pricing involves two things, the amount of time required to make a repair and also the amount of skill that particular repair requires," said Jim Eyster of Heritage Gunsmiths, located near Centerburg, Ohio. "For instance, much of the shotgun-choke work we perform no one else does, so there is a high demand for that service and we can charge accordingly. It's simple supply-and-demand economics."      
2. How long will the work take?
"The amount of time a certain repair takes depends on the shop," said Eyster. "Any gunsmith with a good reputation will have work stacked up ahead of yours, which means you will wait longer than with a gunsmith who is just starting out or not well known. Four to six weeks is probably an average wait time, but some repairs may take longer if a gunsmith is extremely busy. Some gunsmiths will expedite work for an additional fee. We don't do that, but try to work with a customer if there is an emergency."
3. Do you have any references I can contact as to the quality of your work?
"It's best to know the reputation of a gunsmith before taking work to him," said Eyster. "To find that out, ask your shooting buddies or ask at the gun shops or shooting clubs in your area. If no one knows anything about a particular gunsmith, that should tell you something."   
4. Do you guarantee your work, and if so for how long?
"The length of a guarantee depends upon the type of work you have done," said Eyster. "For instance, if a shooter insists that a repair be done a certain way, and I don't agree with doing it that way, I won't guarantee the repair. On the other hand, there should be a minimum guarantee on simple, standard repairs. I stand behind all my repairs. In fact, I can only think of one instance when we didn't honor our work, and that was because the customer tried altering a repair."
5. Do you have any examples of the work I'm requesting?
"Especially when having any cosmetic gun work done—bluing, stock work, or checkering—ask to see examples of a gunsmith's work. Because if the work is not done well, it could affect the value of the gun. Believe it or not, it's better to have an original gun that's a bit beat up and unrestored than have a gun that has been restored poorly."       
6. Are there alternatives to the work I'm requesting?
"There are times when a customer asks to have work done and there are alternatives they are unaware of," said Eyster. "In other words, there may be a better way to accomplish the desired effect. For example, someone might ask for a new stock that could cost a minimum of $600 to $800. But putting an adjustable comb on the gun's existing stock will accomplish the same goal, yet save the customer money. So always ask a gunsmith for suggestions."      
7. Will the work affect the value of my firearm?
"There are two aspects to that question," said Eyster. "Most guns are not collector-quality firearms, so having them restored can increase their value if the restoration is done well. But with collector-quality firearms, restoring them could actually decrease their value, as they are worth more to a collector unrestored. It pays to know the difference."  
8. Is this gun worth putting money into?
"If a gun has no sentimental value, you have to weigh the cost of the restoration against the market value of the gun," Eyster said. "In other words, you could easily put more money into restoration or repair than the gun is worth. On the other hand, if a gun does have sentimental value, it may be worth it. For instance, we once had a customer put $2,500 into a firearm valued at only about $400 simply because it belonged to his grandfather and he wanted it restored as a family heirloom."
Not much in our modern "throw-away" society seems to last any length of time these days, but firearms are an exception. Take care of them by showing a little TLC occasionally and they will likely increase in value as they age.
I don't plan on selling my "new" 870 Remington shotgun. Instead, I look forward to shooting Trap with it occasionally and then eventually passing it on to one of my two sons when I'm gone. I guess you could now call it a family-heirloom firearm—and I like the sound of that.