by
posted on January 20, 2017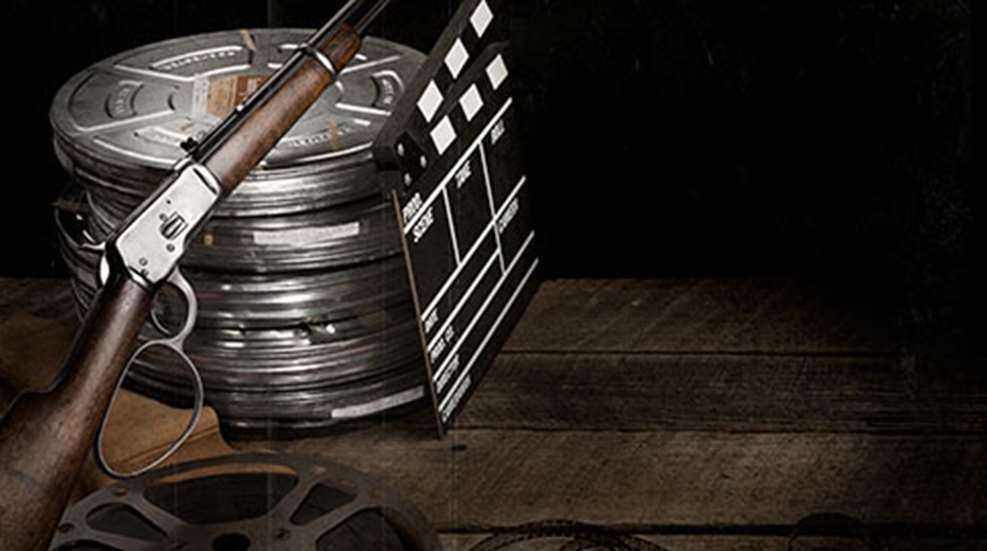 Many of the top actors of the mid-twentieth century like Audie Murphy and Neville Brand were former soldiers and had the background knowledge required to handle firearms properly while on set. Today, however, many of Hollywood's top actors don't have military experience and lack proper gun-handling skills. Some of their errors are comical, and others display behavior that is downright dangerous. But not all actors are bad with guns, and some silver screen stars are skilled and responsible shooters.  
If you've ever watched a major motion picture there's a good chance you've seen props rented from Independent Studio Services in Sunland, California, the go-to place for film makers looking to rent everything from Glocks and Gatling guns to garbage cans. Larry Zanoff of the ISS Weapons Department shares some of his picks for the films and actors that display gun handling on the highest level. 
1. Heat 
Heat is a 1995 crime film starring Al Pacino, Robert De Niro and Val Kilmer. The director, Michael Mann, is known for his attention to detail with regard to firearms handling, so you won't see a bunch of muzzles pointed at feet or fingers on triggers in his flicks. Zanoff ranks this among the very best films with regard to firearms handling.
"(Mann) is an avid shooter, knowledgeable about weapons, and wanted the same from his on-screen characters," Zanoff says. "The bank robbery/street battle scene is full of good weapons handling like tactical magazine changes, the product of days and days of actor training."
2. Enemy At The Gates
This 2001 film is based upon a nonfiction account of the Battle for Stalingrad in 1942/1943 and stars Joseph Fiennes, Jude Law and Ed Harris. Law portrays Vasili Zaitsev, a well-known Soviet sniper, and Harris plays his German counterpart Major Erwin Konig, who is charged with killing Zaitsev. Larry Zanoff says that both actors deserve attention for their skill with firearms in this film.  
"While possibly not the most historically correct film, both the stars displayed actual sniping skills," Zanoff says. These include, "staying back so as to stay in shadow, timing fire to disguise location, and, most importantly, the care they show for their weapons during general daily movement."
3. Collateral 
Collateral is a 2004 crime thriller that stars Tom Cruise and Jamie Foxx, and it was also directed by Michael Mann. Mann, as previously mentioned, has very high expectations for gun handling in his films and he expects actors to train diligently for their roles. Cruise practiced live-fire drills at the L.A. Sheriff's Department shooting range with instructors Chic Daniel and Mick Gould before filming. 
"Tom's scene in the alleyway shows exceptional weapons handling skills, and proves again that practice makes perfect," Zanoff says. It should also be noted that the actors handle their guns safely. The theatrical release poster shows Cruise with his finger properly indexed outside the trigger guard of his Ruger Mk II. 
4. A Good Day to Die Hard
Bruce Willis, who portrays John McClane in the Die Hard film series, is an avid shooter, and that real-world experience translates to the screen, Zanoff says.
"(Willis) is a professional actor who has good weapons skills from the training he has received for films as well as from his own recreational shooting," Zanoff says. "He can actually do those quick mag changes you see on screen. When you see him manipulating weapons on screen that's practiced skill, not acting."
Part of what makes this particular film a standout is that Willis uses so many weapons properly, from a SIG Sauer P220 Combat to an FN SCAR-H CQC rifle to a Remington 870 Police Entry shotgun. In one scene Willis is shown carrying the Remington shotgun with a proper muzzle-down manner with his finger riding along the receiver just above the trigger.  
5. Pale Rider
As with Willis, it's hard to choose a single Clint Eastwood film in which the actor's gun handling skills stand out because his familiarity and respect for firearms is apparent in all of his movies. 
"From…The Outlaw Josey Wales to the fantastic on-screen assembly of a German MP40 in Where Eagles Dare it's easy to see that Clint knows how to handle firearms of all types," Zanoff says. But if there's a standout moment for Zanoff it's the reloading in Pale Rider. 
"The ease with which Eastwood changed cylinders in his 1858 Remington only comes from hours of practice and a natural comfort with firearms."