The 2016 NRA Annual Meetings will be held at the Kentucky Exposition Center in Louisville, Kentucky this May 20th through the 22nd. With 50,000 square feet available at the Center, there's almost no end to the fun. You and your family can see spectacular firearms displays, walk by vendor after vendor showcasing high-tech shooting and hunting gear, view priceless gun collections and attend dinners and banquets for gun enthusiasts from all walks of life. All of these event can make your head spin, so we're highlighting five that should not be missed. Be sure, however, to go through the entire schedule so you can make the most out of this year's Annual Meetings!
1. NRA Youth Day—10:00 a.m.-5:00 p.m. on May 22, 2016—Kentucky Exposition Center
On Sunday, May 22nd, all kids, teens and adults should head over to NRA Youth Day. The day-long event at the Exposition Center with be filled with kid-friendly activities, a walk through the Exhibit Hall to meet-and-greet with sponsors of Youth Day, and the day will end with a drawing of prizes.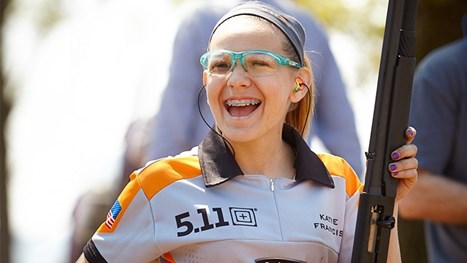 2. Celebrity Appearance: Janna Reeves—2:00-2:45 p.m. on May 21,2016—Brownells Booth #3401
Stop by the Brownells Booth for your chance to meet Janna Reeves, aka "Miss Battle Born." Reeves is a professional 3-Gun shooter with accomplishments such as finishing in the top four of the 2014 3-Gun Nation Pro Series final as well as numerous "High-Lady" match titles. Although she only began her gun journey a short time ago, summer of 2013, she has proven to be tenacious and talented, and if you get a chance to ask her a question make sure it's a good one!
3. NRA Country Jam—6:00 p.m. 'til "you can't boogie no more" on May 20, 2016—Louisville's Belvedere at Waterfront Park
If somehow you've missed the fact that on Friday, May 20th, NRA Country Jam will be featuring Brett Eldredge and Jana Kramer, then we are happy to be the ones to tell you about it. We're even happier to tell you that it's 100 percent free! Eldredge is one of the top country artists of 2016 and the American Country Music Male Vocalist of the Year. At the concert you'll hear him jam out his top tracks such as "Don't Ya," "Beat of the Music, "Mean to Me" and "Drunk on Your Love." Jana Kramer, actress and country starlet, will be rocking out as the sun sets. Crowds will enjoy hits like "I Got the Boy," "Whiskey" and "Why Ya Wanna." Bring your family, friends and, of course, your famous dance moves!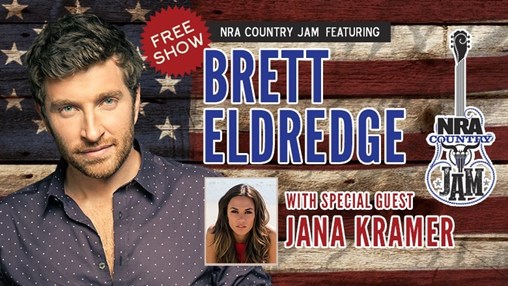 4. Firearms Law Seminar—8:00 a.m.-7:00 p.m. on May 20,2016—Galt House Hotel in the Archibald Cochran Ballroom
"Firearms law seminar? I came to NRA Annual Meetings to have fun." This thought might have crossed your mind when you got to #4 on our list, but hear us out. An important aspect of being a gun owner is to be knowledgeable of gun laws, especially when laws seem to be ever changing. The 19th Annual Firearms Law Seminar is a day-long class taught by practicing attorneys, judges, licensed dealers, bloggers and others you have a lawful interest in guns. The seminar will include discussions on constitutional challenges across the country, executive orders pertaining to firearms, FFL compliance issues, firearms instructor liability, preemption cases across the country, gun trusts and firearms in trusts and estates. Although we want you to have as much fun at this year's Annual Meetings and Exhibits, education has always been a part of the NRA mission and we want you to walk away with more knowledge than when you arrived.
5. Saturday Night Celebration—7:00 p.m. on May 21, 2016—KFC Yum! Center
Ok, back to the fun! Saturday Night Celebration is another concert you will not want to miss. Join Toby Keith in celebrating the Second Amendment and freedom with his beloved hits, "American Soldier," "Courtesy of the Red, White and Blue" and "Beer for My Horses." Additionally, that Saturday, by no coincidence, is Armed Forces Day, and NRA is proud to honor our troops with a party and some of the best country music around.