by
posted on June 8, 2016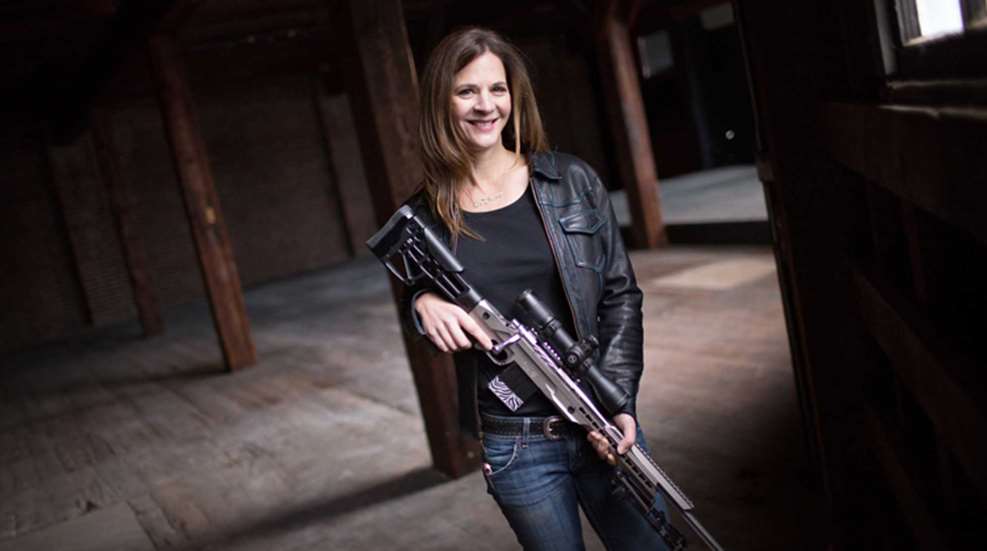 While fans of long-range competitive shooting familiar with the name Anette Wachter would be forgiven for assuming her advanced skills come from a lifelong involvement in the shooting sports, they would be mistaken. In fact, you may find it surprising how relatively new to the shooting community she is. NRAFamily.org recently had the chance to talk with Anette and ask her about her background, areas of interest and much, much more. Read on to see how our Q&A session went, and the fascinating insight it provided.
NRAFamily.org: Thank you so much for taking the time to talk with us. Could you tell us about your background and what got you into the shooting sports?
Anette Wachter: I may have fired a gun twice in my life prior to 2006. My ex-husband introduced me to NRA High Power. He was competing and I did not want to be the "golfer's widow," so I promised I would try it for one year. He bought me an AR service rifle with post iron sights, showed me the basics of that discipline of shooting and threw me into a match. It was the Washington State High Power Championship, my first match! I was one of two women out of 100 competitors. Talk about intimidating. That other woman, Christine Schwartz, won the championship. To this day she has been my inspiration to compete and win in a predominantly male sport.
NRAF: You are known as the "30CalGal." Can you tell us a little bit about that moniker and its significance?
AW: In 2009 a fellow shooter suggested I try shooting long range. He mentioned there was a US National Rifle Team as well as an NRA bullseye discipline at 1,000 yards, and .308 caliber is allowed. I excelled very quickly and fell in love with that discipline and rifle shooting. I started a blog late in 2009, mostly as a diary for myself about my adventures in shooting. I needed a name for the blog and 30CalGal came up. Who knew people were actually following me and reading it?!
NRAF: What type of shooting do you do, and what makes you like it so much?
AW: Mostly long-range rifle disciplines. I don't shoot High Power much anymore, but of course I am on the US National Rifle Team and the Palma Team, so that occupies much of my time. My new love is Precision Rifle. This is the new hot and trendy shooting sport that is taking over the industry. It is like a sniper challenge. All unknown distances and usually the matches are out in the field. I also compete in 3-Gun, which is a ton of fun. 
NRAF: What advice do you have for new shooters who want to get into these sports?
AW: If you want to get in to any discipline of competition I always suggest going to a local match to watch first. With the Internet you can find out your state competition information. Look for local organizations like USPSA. See the type of equipment shooters are using and how the sport is run. Ask a lot of questions. Shooters are a very generous culture as well, in my experience. When I started out I was loaned almost everything to try it out.
NRAF: From what you have seen, are there a lot more women getting involved in the shooting sports these days?
AW: I started shooting and competing in 2006. I remember going to NRA Nationals at Camp Perry and, out of almost a thousand competitors, I was one of maybe 20 to 30 women. At local matches I would be one of two. In the past five or six years and especially in the last three, I have seen the numbers jump like crazy. Three years ago a few women in the 3-Gun market decided to put on the first Ladies 3-Gun ProAm in Georgia. We were wondering if anyone would show up. Over 200 women competed. Any of us that had extra guns and equipment were loaning them out. For many of the women it was their first match ever. It changed lives. They had an environment that was not intimidating. The few of us pros mixed in to the squads to coach. It was really cool.
NRAF: Do you do any work with youth groups or young shooters?
AW: I have spent time with the Washington State Juniors High Power Program. Washington State has had an amazing representation in national and world competitions. These kids are awesome. What I love is to see how they mature much quicker than kids that are not in the shooting world. Perhaps it is that they are around adults more, but I also think they learn to respect firearms and learn about competition and sportsmanship early on.
NRAF: Is there anything you would like to discuss that we may not have covered during this interview?
AW: Yes, definitely. I can't express how much I love being involved in the gun industry and culture. The people are cool. I have traveled to places in the world I may never have on my own. It has involved me in politics and fighting for our  Second Amendment Rights. Ten years ago I would have never dreamed of being where I am today. It has changed my outlook on life and has brought me confidence, strength and empowerment. Every other part of my life has benefited. Need I say more?
NRAF: Anette, thank you very much for your time.
AW: My pleasure.
To learn even more about Anette Wachter and her role in the competitive shooting world, visit her website at http://www.30calgal.com/.