Carrying concealed can be a challenge for women: Although most of us acknowledge that
on-body carry is usually preferred by self-defense experts
, most women's clothing simply isn't adequate to cover a concealed pistol. Fabrics tend to be thin (which facilitates that fashionable layered look); patterns tend to nip in at the waist (hey, we didn't spend those hours on the treadmill for nothing!); and don't get me started on the crop tops (too late). However, this year's
NRA Annual Meetings & Exhibits
in Indianapolis, Ind. proved that women all over America are taking matters into their own hands, and designing undergarments and clothing that actually allow us to CCW without having to dress like SNL's
Linda Richman
. From belly-band holsters that essentially function as corsets, to casual blue jeans, to cozy sweaters that offer a little "extra," it's pretty clear that Sisters Are Doing This CCW Thing For Themselves. Here are three of the high points from the Exhibit Hall show floor...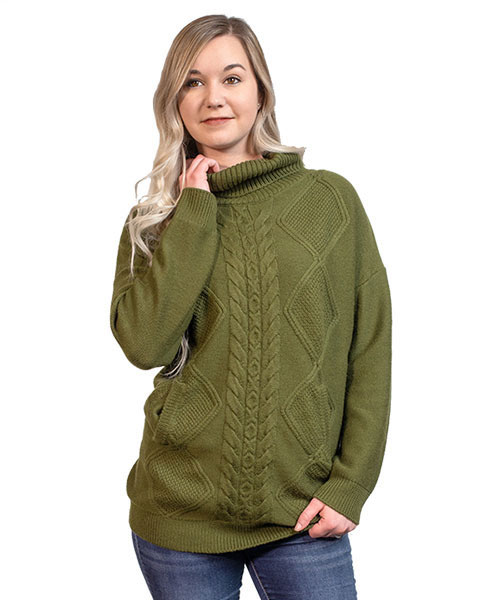 1. Tactica Defense Fashion
Tactica Defense
's president, Sandy Little, didn't start her career as a "gun person," but instead as a fashion designer. She brought those talents with her to Tactica Defense, where her strong support for the Second Amendment and women's right to defend ourselves united with her design sensibilities. Although Tactica Defense encompasses a wide range of CCW-ready holsters, handbags and accessories, what really caught this writer's eye was Tactica Defense's on-body solutions...like that cozy sweater pictured above. This sweater has two "faux" pockets, but unlike the
usual
faux pockets that irritate us women to no end, these have an actual use. They're open on the inside, so you can immediately access a holstered handgun in a belly band, corset or inside-the-waistband (IWB) holster. The sweater is 100 percent fine-gauge Merino wool, so it's itchless. Offering just the right amount of slouch and a hip length sufficient to provide cover even for long-waisted ladies, the Tactica Concealed Carry Knit Sweater is available in olive and black. MSRP: $149.99.
Click here for more
.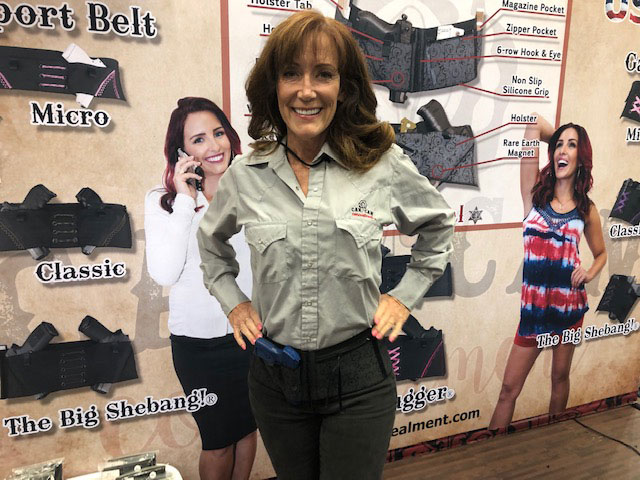 2. Can Can Concealment
The big news from
Can Can Concealment
this year is their brand-new Hip Hugger Elite. I had a few minutes in the Can Can booth to talk to Darlene Cary, founder and president, about what the new Hip Hugger can do for women who carry concealed. Although Cary is wearing the Hip Hugger Elite outside her clothing for demonstration purposes (above), this slimming and functional little number is meant to be sported under your clothes, right around the hips. Don't let the pretty lace stenciling fool you; it conceals military-grade elastic, two holsters, five accessory pockets and a left-side zipper pocket. To be certain, this is a compression garment and as such you may very well notice a slimming effect under your clothes, but here's a secret: It's actually very breathable and comfortable. What's more, even if you're not going to carry your firearm in it, you can use it to discreetly stash your ID, credit cards, cash, keys and anything else you want to keep safe...so it's great for travelers, too. MSRP: $79.
Click here for more
.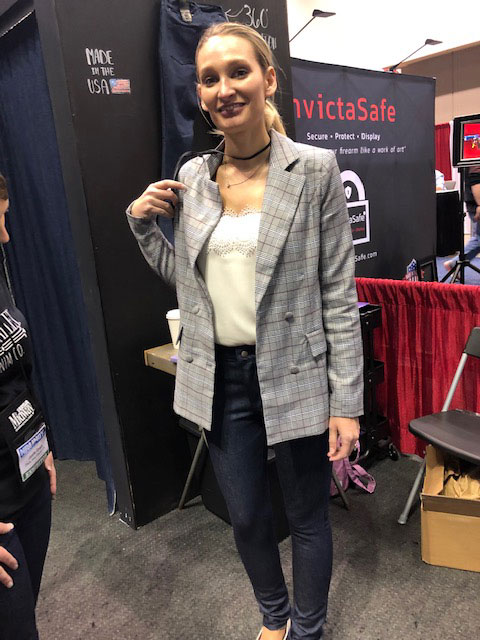 3. Dark Alley Denim

Dark Alley Denim is very much a newcomer on the scene, and co-founder Joelle Orem's story is very much unique. Orem told me, "I found carrying concealed while I was pregnant very tough...I felt very bulky and hot, and one day I was just thinking about how much I wished I could just put my concealed-carry pistol right in my jeans." For Orem, that was more than an idle fancy: She got a pair of scissors and started cutting up her jeans, and then the jeans she found at consignment stores...then, her friends' jeans as more and more of them asked her to do for their denim what she'd done for hers. Soon, she was selling her holster jeans on Etsy. Very recently, she located a small-batch manufacturer to start selling these ambidextrous one-solution blue jeans. They're built on a "skinny jean" model, but with built-in retention holsters and a high rise in back to prevent the jeans from gapping or slipping when you sit. Constructed of premium raw denim, these jeans are made to stand up to the worst you, your firearm and your busy lifestyle have to offer.
Currently available for pre-order in sizes 0 to 18 for $215 here
. 
On-body concealed-carry options for women, by women, that you won't mind being photographed in? That's more like it!