by
posted on September 5, 2023
After the COVID years reduced supply, 2023 was the year the firearms industry caught its breath. With the lines at the gun stores beginning to subside, manufacturers finally had a chance to shorten lead times, spin resources to create a few new products—even perhaps deliver some that were promised long before the pandemic. Needless to say, I've tested more tactical rifles this year than ever before, so narrowing it down to just three was a challenge. Here are the ones that stood out the most.
Mossberg's Patriot LR Tactical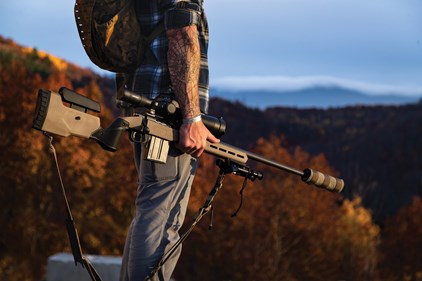 As Mossberg is a company dedicated to value, it wanted to put together a rifle that would satisfy the needs of the long-range hunter while still being simple enough for somebody to get their feet wet in precision-style shooting. Through a collaboration with stock-maker MDT, the Mossberg Patriot LR Tactical was born, and I think they achieved precisely what they set out to do.
Although precision shooters seek out MDT to increase the weight of their builds via one of its aluminum chassis, the LR Tac is largely composed of polymer. This was done for the opposite reason, as humping a twenty-something-pound gun through the woods or across a field isn't much fun. This left enough allowance for a beefier barrel to support longer strings of fire and tighten up groups.
Gone is the AR-style magazine system. In its place, you'll find the appropriate AICS setup whether your rifle is chambered in .308 Winchester, 6.5 Creedmoor or 6.5 PRC. This allows for the use of cartridges loaded with longer bullets, common of today's higher BC projectiles. As you might have assumed, an LBA trigger comes stock, leaving you with a fully adjustable, drop-safe trigger that is one of the smoothest I've ever pressed. Mossberg ships the gun with a 20 MOA rail, leaving you with just the task of picking out a scope and rings before hitting the range.
I put the gun through rigorous testing at Gunsite Academy. The rifle was topped with a Crimson Trace Hardline 4-16x optic and fueled by a case of Hornady's ELD Match 6.5 PRC ammunition. That day, more than a dozen shooters shot a dozen different rifles without a single group stretching beyond MOA. That's one of the most impressive feats of consistency I've ever witnessed.
Wilson Combat's 300 HAM'R Protector Elite Carbine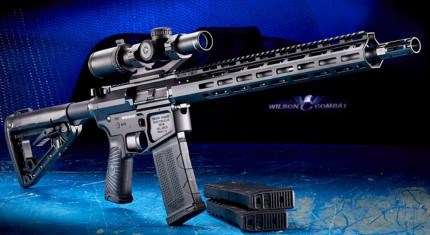 With the market flooded with AR-15 options, it's easy to miss the best new options. I'm glad I didn't miss Wilson's newest Protector Elite because it was chambered in something other than .223/5.56. Remington's round is excellent for target work and coyote-sized game, but I've never considered it adequate for anything larger than that, and apparently, neither did Bill Wilson.
The .300 Blackout Cartridge was a step in the right direction, but it's still on the light side, as most bullets put it into subsonic land. Wilson's 300 HAM'R stretches the case body to push heavier bullets beyond bad-breath range, pulling .308 Winchester-like energy out of the compact AR-15 platform. Initially intended for hogs, the Protector Elite is also suitable for home defense.
This new heavy-hitting carbine is built from a billet receiver set, delivering tighter tolerances than those built from forgings. The benefit of this process becomes evident the moment you grab the two halves and try to wiggle them. (Won't happen.)
A medium-contour 16-inch Recon barrel is hanging off the front of it, which is threaded and capped with a recoil-reducing Q-comp; standard equipment in my mind when running .300 HAM'R. As important as these parts are to Wilson, user interface doesn't take a backseat, as the furniture selection so boldly displays. The Roger's Super-Stoc is inherently cozy and makes adjustments a snap. It also features a locking mechanism to eliminate carbine jiggle, which is more conducive to precise shot placement. Wilson's signature pistol grip is also included in the package, and I have found it to provide just the right amount of girth at the proper grip angle.
My sample arrived in Forest Green Camo, making it perfect for those who moonlight in the woods on the weekend. I mounted an EOTech Vudu LPVO using a Warne X-Skel mount bearing a similar finish and proceeded to take it up the hill for a little "quality time." The power-to-accuracy ratio was off the charts, particularly with the Lehigh 125-grain load. At 2,368 feet per second (fps), it's generating 1,556 foot-pounds of energy. That's approaching twice what it takes to humanely harvest a trophy buck, and some even consider this the threshold for short-range elk. The Wilson Combat Tactical Trigger Unit (TTU) made delivering these rounds to the target effortless and broke at just a touch over 5 pounds. Although stout, the recoil was certainly manageable, and depending on target distance, follow-up shots were rapid and deliberate.
CZ 600 Trail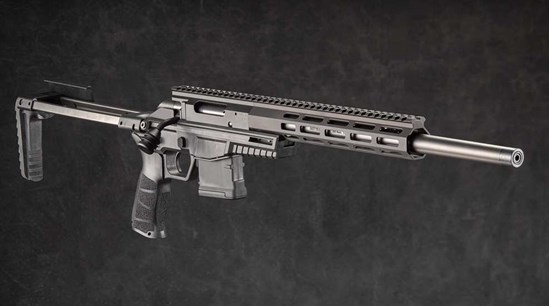 The CZ 600 Trail made the list for a bevy of reasons … starting with its uniqueness. The quintessential "go" gun, this compact bolt action is perfect for those looking to keep a pack ready for deployment or those just in need of an easy-to-stow truck gun. Capable of being fired closed, a PDW-style stock instantly turns it from a "pistol-esque" platform to a rifle.
I requested a sample in 5.56 and hung onto it until they made me send it back. The CZ 600 Trail arrived naked, so I topped it with a Primary Arms 1-6 LPVO, figuring I could zoom down for fast work and come in tight for group testing. Using a variety of ammo from Federal, Hornady and Winchester, I found that the tiny rifle was far more accurate than I expected. The four-position stock gave me a little bit of adjustment to fit the rifle to my body, and for what it was, it wasn't the most uncomfortable thing I have ever shot. Feeding was perfect and handled by a standard AR-15 magazine, and ejection rivaled many gas guns that I shot that year.
More than just a step in the right direction, 2023 has shown us it's time to get out there, and I cannot wait to see what next year brings us.
Specs – Mossberg Patriot LR Tactical
Caliber: 6.5 PRC
Barrel: 24.25 inches
OA Length: 44.0-44.75 inches
Weight: 9.5 Pounds
Stock: Synthetic Chassis
Action: Bolt
Capacity: 7+1
Finish: Blued
MSRP: $1085
Specs – CZ 600 Trail
Caliber: .223 Rem
Barrel: 16.2 Inches
OA Length: 27.2-35 inches
Weight: 6.1 pounds
Stock: PDW-style 4-position
Action: Bolt
Capacity: 10 + 1
Finish: Matte Black
MSRP: $1155
Specs – Wilson Combat 300 HAM'R Protector Elite
Caliber: 300 HAM'R
Barrel: 16.0 Inches
OA Length: 33.25-36.25 inches
Weight: 6.9 pounds
Stock: Rogers Super Stock 6-position
Action: Direct Impingement
Capacity: 30+1
Finish: Forest Camo
MSRP: $2325