by
posted on March 18, 2015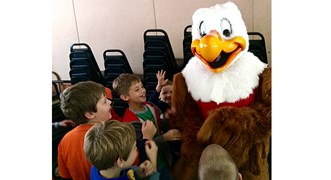 Almost four years ago, Amanda Krpan arrived at NRA Headquarters for the 2011 Youth Education Summit (Y.E.S.). Here for a week's worth of Second Amendment education and experience, Krpan left the friendly confines of Fairfax, Virginia with a single mission in mind: keep spreading the word.
Though she's taken part in a number of NRA related activities, she's been especially busy bringing Eddie Eagle's life-saving message of "If you see a gun: STOP! Don't Touch. Leave the Area. Tell an Adult." to the pre-K through 3rd grade students of Florida.
Here's an update from Krpan on her latest venture with a Cub Scout troop in Hawthrone:
The Eddie Eagle GunSafe® Program was presented to over 125 Cub Scouts at their annual camping event this past weekend at Camp Shands, located in Hawthorne, Florida. NRA volunteer Amanda Krpan led a team of volunteers to do an hour long gun safety program and activities.
The program was repeated in six sessions throughout the day to children ranging from 1st to 3rd grades.
"The great thing is that we not only got the Cub Scouts involved, but their siblings and parents as well," said Krpan. "We reached a lot of people and they promised to spread the message to others."
To the delight of many of the younger children, Eddie Eagle made an appearance at each session. He was quite the star and posed for photos with a number of the participants. This was the fifth year the Eddie Eagle program was highlighted at the Cub Scout camp.
To read the full article, visit NRABlog.com.