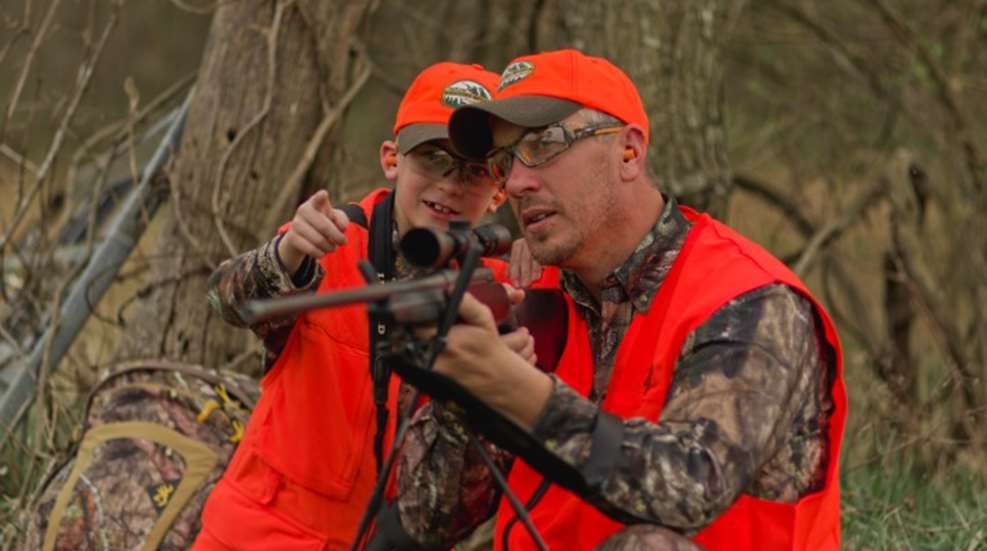 You've been dreaming of this day for years: Your son or daughter is ready to go on their very first hunt. They've been shooting at the range and you know they can handle a firearm safely and accurately. You've had the talk about how hunting is fun, but also very serious business, and you feel confident they're emotionally prepared. They can't wait, you can't wait, and the big day is almost here.
This is a crucial step, because if the first hunt doesn't go well, there might not be a second. How can you avoid things going sideways on your child's first hunt? You can start by avoiding these mistakes.

1. Starting Too Big
You know your child best. Make sure they're ready to do this and that they fully understand what's about to happen. Whatever (legal) age you think is appropriate for your child is fine, but a hunter's safety course is an excellent—and often required, even for minors—first step. 
Deer get all the glory these days, but your child's first hunt doesn't have to be a quest for a whitetail. Why not start with a few short afternoon squirrel hunts or a morning in a turkey blind? Small-game hunting in particular is a great way to teach woodsmanship and build excitement.
Whatever species you start with, a child-appropriate firearm will make the experience easier and less intimidating. Rifles in .243 or even .223 with the right load are appropriate for deer, and 20-gauge shotguns with light-recoiling loads will do the job on turkeys, waterfowl and upland birds.

2. Making It Hard, Just Because
Some older hunters have the attitude that because they shivered through long, boring sits in a foot of snow and never saw any game, kids these days should have to suffer the same way to earn their chops. Nonsense.
Don't baby your kids—they're tougher than you think—but don't make it unnecessarily miserable, either. If you're in a ground blind waiting on deer, turkeys or hogs, let them read a book, take a nap or play games on their phone when the action is slow.
A hunt with lots of action or a high success rate, whatever that is where you live, is a good idea for a kid's first hunt. Let them get hooked on the fun of hunting first and worry about the hard stuff later.

3. Not Gearing Up Properly
When a kid gets too cold, it's all over. Don't spend a fortune, but do outfit your kid in enough gear to keep them warm, even if that means buying a new pair of waders in a bigger size every duck season. Pack plenty of handwarmers and a warm beanie. Make sure they have comfortable, warm boots and quality socks (not cotton).
I like to let a kid pack their own backpack for the hunt, under the condition that they have to carry it themselves. Some kids feel like it's a big deal to carry their own flashlight, folding knife and random kid treasures that will make no sense to you. Don't forget the toilet paper and maybe a couple of wipes. If you have a daughter, make sure she knows how to answer nature's call in the woods — the middle of a hunt is no time for stage fright. And, of course, pack more snacks than you think you'll need. I always repackage snacks in zip-top bags, because they're much quieter than the wrinkly packaging chips and granola bars come in.

4. Having Unrealistic Expectations
Depending on the kid, you're probably only looking at a few hours in the field before they go from having fun to wanting to leave. Forget an all-day sit and plan to limit the time afield to three or four hours. Be prepared to pack it in before your child is whining about leaving so they depart on a positive note. You do want to build a little resilience, so I like to say "20 more minutes" the first time a kid asks to leave. Then I judge their behavior as the 20 minutes tick away to decide if it's really time to go or not.
Temper your child's expectations, especially if they watch hunting television with you and think everyone shoots a limit of ducks or a 10-point buck in the first 30 minutes. And temper your own expectations — you think you know how your child will react to taking an animal's life, but some kids will surprise you. Almost any reaction they have is okay, but be prepared for anything from joy, to tears, to shaking with excitement, and possibly all of the above.

5. Forgetting the Little Stuff
Not to get all "they're only little once" on you, but this period of life won't last forever. Take selfies in the duck blind. Play "would you rather?" games while you wait for a hog to show up. Let a kid eat as many snacks as they want. Let her play with your rangefinder and range every single tree in the woods if she wants to. Teach her to glass and let her try to take smartphone pictures through your binos. If you're fortunate enough to take an animal, allow her to be as curious as she wants to be, examining a duck's feathers, running her fingers through a fox's soft fur, or touching a deer's tongue to see what it feels like. It might feel like little stuff to you, but it's big stuff to her.
She'll probably walk more slowly than you'd like on the walk in and out, but that's also okay. Let her pick up the feathers and pinecones and come home with a pocketful of cool rocks. You are teaching her about the woods or the marsh, about the natural world and our place in it, and that shouldn't be rushed.

Image courtesy NSSF