by
posted on May 30, 2018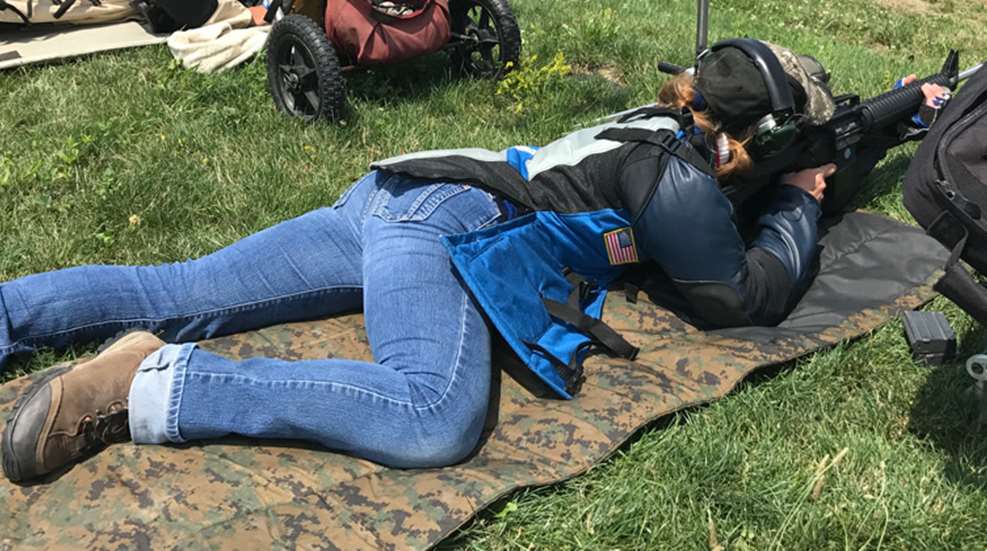 "Honestly, competitive rifle shooting has completely changed my life," said Serena Juchnowski of Richfield, Ohio. Nineteen years old, Serena just recently completed her first year of college at Case Western Reserve University in Cleveland, Ohio, studying business, hoping eventually to earn a double degree in marketing and journalism. "I chose Case Western so I could stay close to home while attending school and continue my shooting," Serena said.
She began shooting in the eighth grade when her adopted grandfather came over to her house one day and asked her father if Serena would like to try shooting the .22 rifle he had brought along.
"My dad had already instructed me in basic firearms safety, but other than that I knew very little about guns and shooting," she said. "My dad placed a small chicken silhouette about 22 yards away, handed me the rifle and told me to hit the target, which I did. The target was only about the size of a half-dollar and I shot it offhand. My dad and grandfather couldn't believe the shot and asked me to do it again, so I did. That's when I first realized I had some natural shooting ability and things just kind of progressed from there."
Serena started her competitive shooting career in 2013 at the Tusco Rifle Club—about an hour's drive from her home—then joined South Cuyahoga Sportsmen's Association, which has a youth shooting program. There she shot small-bore rifle and handgun in the winter indoors as cross-training for shooting high-power rifle events in the summer outdoors.
"The first time I shot high-power I fell in love with it," she said, "and I immediately signed up for the Small Arms Firing School at Camp Perry, Ohio, in 2015. I shot the full week of the National Rifle and Pistol Matches at Camp Perry the next year, in 2016."
Serena shoots an AR-15 platform .223-caliber rifle, but also competes in the Vintage Matches at Camp Perry firing an M-1 Garand .30-06. In addition, she shoots a .03 Springfield, K31 Swiss, and Swedish Mauser. Her primary focus is the High-Power Service Rifle events, which involve shooting from both the standing and sitting positions at 200 yards, and the prone position at 300 and 600 yards.
Asked what life skills she's learned from competitive shooting thus far, she had this to say. "Being only 14 years old when I got started, and a typical teenager, I didn't really know what I wanted to do with my life. But shooting has given me a focus and a wonderful community of friends and coaches who are incredibly supportive. I've learned a lot about myself through shooting; I've learned to be more patient and I've also learned responsibility and leadership skills."
What Serena seems to enjoy, too, is being part of the shooting community, spending time with other like-minded young people. "It's really like an extended family, and I never experienced that in any other sport," she said. "For instance, I played both soccer and softball when I was younger, but I was never on a team where everyone was willing to help everyone else. In shooting there are no secrets; everyone wants to help you be the best shooter you can be."
Serena continued, "I love the challenge shooting offers and the fact that it's an individual sport. The only reason someone might get upset with you is for a firearms safety infraction, and that's very understandable, even expected. So if you don't seem to fit well in team sports, and you'd like to challenge yourself and develop a skill you can continue throughout your life, give shooting a try. There are so many different types of shooting competitions that you're bound to find something that fits your interest and lifestyle; and you'll find a supportive community that will help you get started, as well."
As for getting started, Serena suggests going online and checking out both the NRA and CMP beginning marksmanship programs. Local sportsmen's clubs or shooting clubs are also good places to begin your search for a place to shoot, as are state rifle and pistol organizations.
What's in the future for Serena? "After college I'd like to work in the outdoor industry," she said, "preferably in the shooting sports. I also have an interest in writing about shooting and the outdoors."
She's well on her way to honing her writing skills, having already published about a dozen articles in various shooting magazines. One of her very first stories even appeared here on NRA Family. 
Serena plans to continue her competitive shooting well into the future, hoping one day to earn the title of NRA High-Master and Distinguished Rifleman. To earn a Distinguished badge, a shooter must earn 30 points over his/her lifetime. You earn points by finishing in the top 10 percent of officially sanctioned matches. Serena has already earned four points at her young age, so is well on her way to accomplishing that life goal.    
Another pastime she enjoys is hunting. "I love to hunt and have been fortunate to take two very nice bucks and a few does," she said, "plus some pheasants. And I'm just beginning to learn turkey hunting."
Serena Juchnowski is definitely an up-and-comer in the shooting-sports world, someone to watch. She was chosen as the Ohio representative to the 2016 NRA Youth Education Summit (Y.E.S.) held in Washington D.C. She is also a Student Member of the national Professional Outdoor Media Association, and just recently became a Student Member of the Outdoor Writers of Ohio.