by
posted on May 22, 2018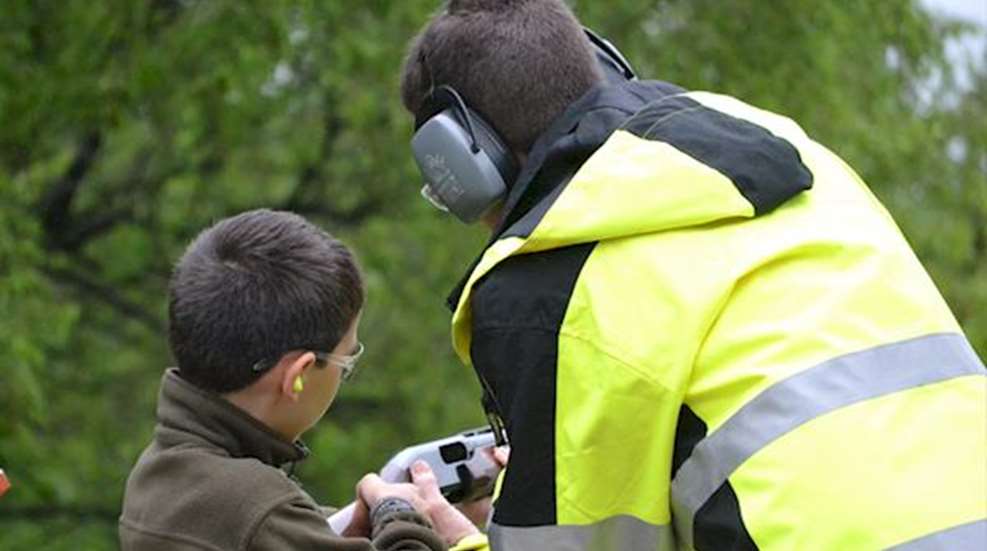 The mainstream media these days are so saturated with hyperbolic headlines about the NRA, that it almost seems as if they're competing with each other to see who can misrepresent us and America's law-abiding gun owners the most. As an NRA Member, you know better than anyone that since the NRA was founded in 1871, our mission has been to educate law-abiding Americans on the safe and legal use of firearms. Of course, that mission is most important when that person—regardless of age—is brand-new to the world of guns. Naturally, this includes the next generation. And as an NRA Member, you know that the NRA defends your right to teach your children about firearms according to your own family's needs and values. We're here to help you with a variety of programs purpose-built to help you introduce your kids to gun safety, shooting and hunting in ways that have a proven track record of success.
1. Our Eddie Eagle GunSafe program, now celebrating its 30th year, was created for the very youngest children. Eddie's message of "STOP! Don't Touch. Run Away. Tell a Grown-Up." has reached over 30 million kids since its inception, offering a clear, easy-to-understand message about what to do if they ever come across an unsecured firearm. It works, too. According to the National Center for Health Statistics, incidental firearm-related deaths among children in Eddie Eagle's targeted age group have declined more than 80 percent since the program's launch. Our goal is to ensure that figure keeps rising until we reach 100 percent, and so your NRA makes this invaluable resource available to local law enforcement, educational institutions and families for free. Families who live in areas where Eddie isn't available can access these resources by visiting eddieeagle.com.
2. For older kids, we offer a number of time-tested educational initiatives. Our Marksmanship Qualification Program takes new shooters from the most basic challenges through to the Distinguished Expert level using tools from the humblest BB gun through rifles, shotguns, muzzleloaders and handguns. This self-paced program is designed to help develop shooting skills at a child's own pace, and within their family's budget. (You can learn more about it by visiting mqp.nra.org.)

3. For young hunters, our Youth Hunter Education Challenge (YHEC) lets young hunters compete in simulated scenarios of wildlife recognition, firearm safety in the field, orienteering, archery and shooting smallbore, muzzleloaders and shotguns. Since its inception in 1985, 1.2 million junior shooters have passed YHEC…and each and every one of them is part of the reason why, today, hunting as a sport causes fewer injuries than golf. If you think your child would enjoy being part of this tradition, you can learn more at yhec.nra.org.
4. Your NRA is also here to help dedicated young shooters with scholarship opportunities—none of which depend on a child's skill level with firearms. Our Youth Wildlife Art Contest, which is held yearly and offers prizes of up to $1,000, is open to all kids (including homeschoolers). Our Youth Education Summit provides a week-long, expenses-paid educational adventure in the D.C. Metro area, with $30,000 in scholarship up for grabs. There's also our Civil Rights Defense Fund Youth Essay Contest, which also offers cash prizes of up to $1,000. Finally, there's the NRA/Brownells Outstanding Achievement Youth Award, with awards of up to $5,000. You can find more details about these opportunities at explore.nra.org.
5. Finally, your NRA is working to make sure that families in search of a place to relax together for a day of shooting won't have to search far. Our Brownells/NRA Day program are family events, with all ages specifically invited to experience the many different activities available in shooting sports in a safe, controlled environment. Events are held all over the country and are usually low or no-cost; you can find one near you at nraday.nra.org.  
What do these five points prove? The truth about NRA, kids and guns is that—together with our Members—we have advanced firearms safety and skills for every generation we've had the privilege to serve.