by
posted on August 3, 2016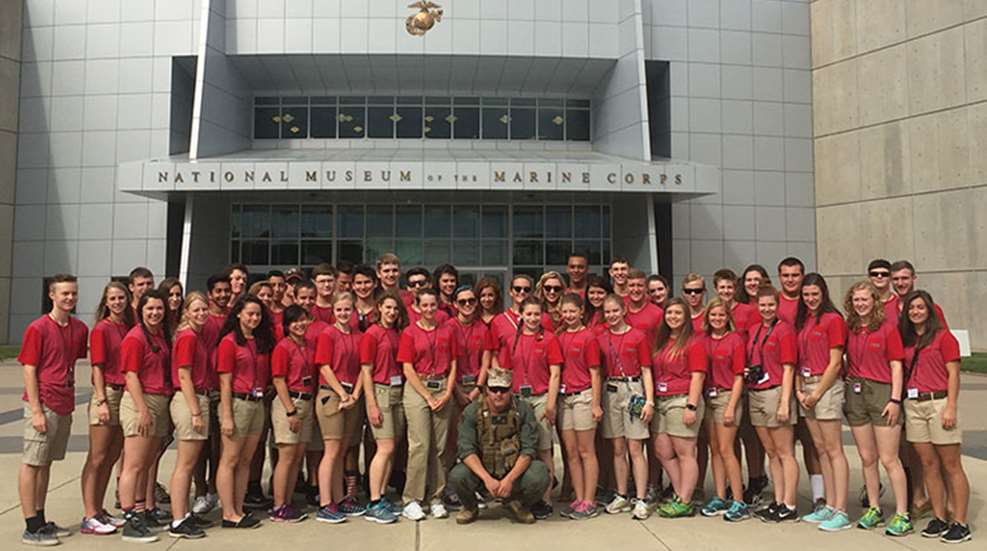 The 2016 National Youth Education Summit (Y.E.S.) has proven to be one for the record books. This year's class ranked as one of the largest, with a total of 47 students participating, representing 37 states, and diversity seemed to be the theme. Each one of these students was extremely bright, well informed, ready and eager to learn more about NRA.
Day one started with a morning full of lectures, a mock Friends of NRA fundraising event for lunch, a tour of the National Firearms Museum, and to conclude, some trigger time on the NRA Range. The participants walked away with a better understanding of what the NRA represents and defends. Many had no idea the Association has so many different programs and fundraising events. One such program is the Eddie Eagle GunSafe Program, and everyone agreed this program is a great way to inform young children and parents what to do when they encounter an unsecured gun.
The second day of the summit included a meet-and-greet with NRA-ILA Federal Liaison Jack Thompson, where the students had a chance to ask many questions about how the NRA handles lobbying in Washington, D.C. One question asked was, "What is the best advice you can give us to prepare for college and politics"? The answer – Read, read, read… . Reading and staying informed is the best way to prepare for communicating your view on any particular topic. Jack also spoke of the media's responsibility to report on facts not fiction. This seems to be a standard that is slipping away, resulting in grossly misinformed voters. He took the time to explain the repercussions this trend is taking on today's society. Another timely topic addressed why this election year and the Supreme Court vacancy is so very important to the NRA and its members. Gathering a greater understanding of how the NRA and politics are intertwined proved to be an exciting time for the Y.E.S. participants. The session with Thompson proved a wonderful experience for those students thinking about following their dreams and entering the political arena.
You could see the excitement on the students' faces during our next tour stop at Capitol Hill. Sitting in the gallery of the House Floor, and then taking a seat in the audience of the Supreme Court, everyone seemed intent on learning as much as possible about our nation's history and political ideals. Being able to see where our political leaders vote on policy and turn ideas into law stirred the attendees' creative side. The wonderful and intricate architecture of these important buildings surely opened the Y.E.S. students' eyes.
Yet another Washington stop was the National Museum of American History. Here the students were able to explore and interact with exhibits, seeing at the uniforms of the GIs from various wars, the different vehicles used in battle, and the many service guns our soldiers used.
Visiting the Marine Corps Museum at Quantico, Va., was an eye-opening experience for some of this year's participants. Corporal Emanuel Sanchez was front and center speaking with our group, offering a first-hand account of life as a Marine. He spoke of what it takes, the sacrifices and accomplishments that can be made while serving in the United States Marine Corps. When asked what the best preparation one can do to become a Marine, Sanchez said "Nothing will ever prepare you. Physically anyone can do it. It's the mental part that gets to you." He went on to explain that if you want something hard enough and work hard enough, no one can stop you.
Once inside the museum, the students tried their skills at the pull-up bars. Everyone was cheering each other on with smiles all around. The students then stepped inside the D.I. "Guidance" Simulator. This simulator enabled the participants to observe what a day of basic training is like. Taking in all of the different war planes and mock-up military scenes proved to be a once in a lifetime experience for our 2016 Y.E.S. class.
As you can see, NRA Field Operations and the other departments involved put a lot of effort and resources make the annual Y.E.S. Summit an exceptional education experience. All of the high-achieving young adults who attend are potential leaders in their communities and for the nation, and so it is a win-win, for them and for NRA members, to help them learn more about our rights, our heritage and our organization.