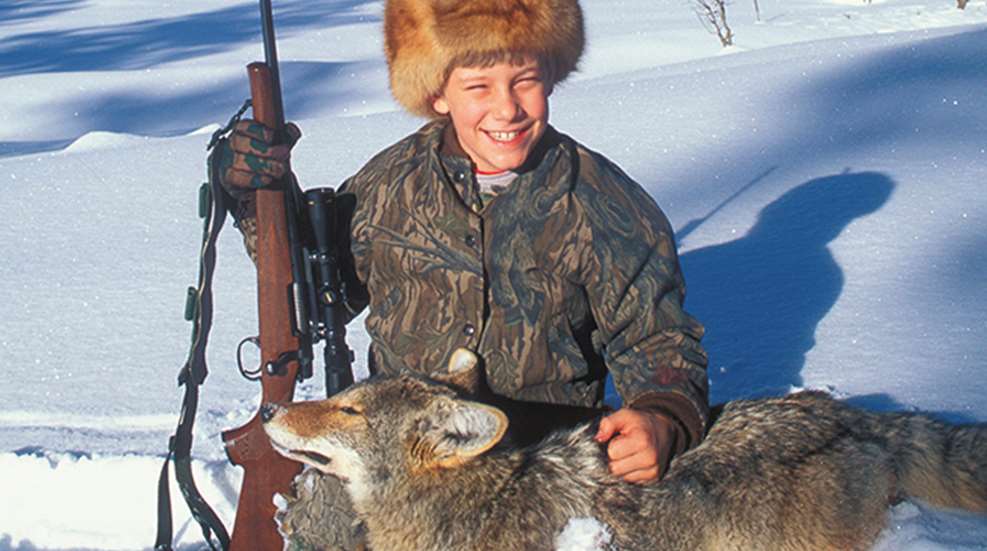 It is cold outside, and a raw winter wind is whipping the air and pushing snowflakes about in white wispy clouds. While most other hunters are hunkered down in their homes by a glowing fireplace, you head outdoors into the cold. You are on a mission-to collect a coyote, fox, bobcat or other predator. You know that you'll have to pay attention to many of the small items that yield big results for a successful-and stealthy-winter predator hunter.
Beating the Weather
The first thing most wintertime hunters need to prepare for-and beat-is the cold. You'll need to dress in layers, select the right gloves and headwear, and take care to stay warm and dry.
"The cold temperatures will take a toll on you quickly," reports 16-year-old Preston Tremain, a winter predator hunter based in Missouri. "Along with layers of clothing, I use a lot of air-activated handwarmers. I place those in my boots on top of my toes, and on the back of my hands inside my gloves. If my hands or feet get too cold, the hunt is over for me." He also wears lofty layers of clothing, like fleece, that trap air near his skin to help keep him warm.
Another key to keeping warm on winter hunts is covering your head and ears. Instead of a simple ball cap, think of covering your head with a wool cap or balaclava that can be pulled down over your ears. You'll also need insulated camouflaged gloves that keep your hands warm, but that are also thin enough to permit your fingers to reach inside the trigger guard and to safely operate a rifle's trigger or the bolt.
Along with dressing to beat the cold, your outer clothing layer should be cloaked in white, or snow camouflage, if there is snow on the ground. In other conditions, however, think tan- or beige-based camouflage patterns. Forgo the mostly green-based camouflage patterns. Study the plants and background where you'll hunt, and work to blend in to avoid detection by keen predator eyes.
Blending in with your surroundings is more critical on winter hunts because tree leaves are gone and the dead, weather-worn winter vegetation is thinner. It will be easier for predators to spot you or any slight movement you make. This means being comfortable-and remaining motionless for long periods-is critical. When hunting, consider using a small folding stool, like those packed by turkey hunters, as your seat. This will keep you up off the cold ground or out of the snow, and help you stay warmer.
Another problem encountered by winter predator callers while hunting in colder temperatures is frozen calls-especially the mouth-blown calls. The reeds tend to freeze shut, becoming inflexible. You can often prevent this by keeping your calls on a lanyard around your neck and by tucking them inside the top of your coat and under clothing layers. This keeps the calls warm and working. If you are using an electronic call to lure predators near, consider packing along extra batteries. Cold temperatures often kill otherwise good batteries.
The Good News on Cold
The good news, however, is that cold weather can make coyotes, bobcats and other predators hungrier-and easier to call. Most predators will also be out and about for longer periods of daylight in their search for food, or to defend their territory.
"I'll stay on some set-ups for 30 to 45 minutes," continued Preston. "It all depends upon whether I've killed something at that site previously, or if my game camera tells me there is something around." Preston uses motion-activated cameras to scout and capture images of coyotes and bobcats, and then plans his hunts-and the location where he will sit and call. Raw, cold winter days often offer another advantage for hunters. As you call, the notes will often carry much further on a calm, frosty winter morning. Thus, you can cover more territory when calling, and your notes are more likely to reach the ears of a hungry predator.
While statistics show most coyotes arrive at a hunter's site within 7 to 10 minutes after the calling begins, give predators up to 30 minutes, or more time, to arrive at any site in winter because they could be traveling from a greater distance away. Expect to wait at least 45 minutes if you believe there are bobcats in your hunting area. Those huge cats take their sweet time in coming to calls, and never get in any hurry.
Top Tactics
Late winter often means meals are more difficult for predators to find, so they definitely tend to be more willing to come to calls. In addition to sounding like a meal, such as a distressed rabbit or dying bird, try sounding like another coyote while calling only for coyotes. They are more aggressive about defending their home turf in winter when food is scarce, and the sound of a possible intruder could bring them running. Winter is also a great time to deploy a decoy, especially those that look like a coyote-an intruder on your intended target's territory. While coyote decoys and calls will attract coyotes, note that those will also repel foxes and bobcats-two predator species that avoid the bigger coyotes.
The more open fields and forests during winter will make it easier for you to scout. When possible, before you hunt any area, spend an afternoon or morning glassing from afar and looking for predators that are beginning or returning from a hunt. You can also search for coyotes lying in cornfields or foxes sleeping atop of knolls. Many critters use the sun's rays to warm themselves and spend much of a winter day out of the den and sunning. If you have snow or mud in your hunting area, search for and study predator tracks. Note the direction the animal travelled, and where the predator came from. Scouting can definitely increase your advantages.
Keep It Quiet
On calm mornings, any sound travels further, including your noisy mistakes. Be super quiet when closing truck doors, operating the pump action on a shotgun and walking on crusty snow. Loud coughs or chat with a hunting buddy can also be heard at great distances on a calm winter day. Don't alert your prey of your plans. Keep it quiet!
As you hunt, listen for nearby birds that often loudly sound the alarm calls when they spot a coyote, fox or bobcat on the prowl. Some birds will actually dive on the predator, and that's a top clue that a predator is coming your way if you see this action.
Successful Shots
Late-winter predator hunts can often mean taking more challenging shots. First, be certain that you can reach the trigger, operate the safety and see through any scope on the firearm with which you will be hunting. Those many layers of warm winter clothing also reduce the distance from your shoulder to your wrist, and some hunters have suddenly discovered that they could not see through a riflescope that was too far away from their eyes.
Nearly any field shot becomes more accurate when taken from a rest, like a set of shooting sticks. If there is snow on the ground, those sticks could be too short or too unstable. Some shooting sticks permit the installation of snowpads on the feet, so if you need them, consider buying them. Since you can definitely see further in winter, some hunters are tempted to make shots at longer ranges. Don't, unless you've practiced at longer ranges with the firearm you are using.
One other factor can play an important role to a successful-and legal-late-winter predator hunt. Remember to check your license if you are required to have one, and have any dad, grandfather or other adult that is possibly assisting you to do so. Some states set hunting licenses to expire on January 1, or other days in January or February. Stay legal as you hunt.
Gaining Knowledge
Sometimes extreme winter weather is just not safe to be out in. This is a good time to watch instructional calling DVDs or do online research about predator hunting, calling and scouting. If you can, consider visiting a hunting expo or show. Many of these wintertime sportsmen shows offer seminars on predator calling and hunting. Sometimes call company experts give the seminars, and they might have a booth at the show with discount prices on predator calls. You might also get one-on-one coaching there from a predator hunting pro.