by
posted on December 17, 2013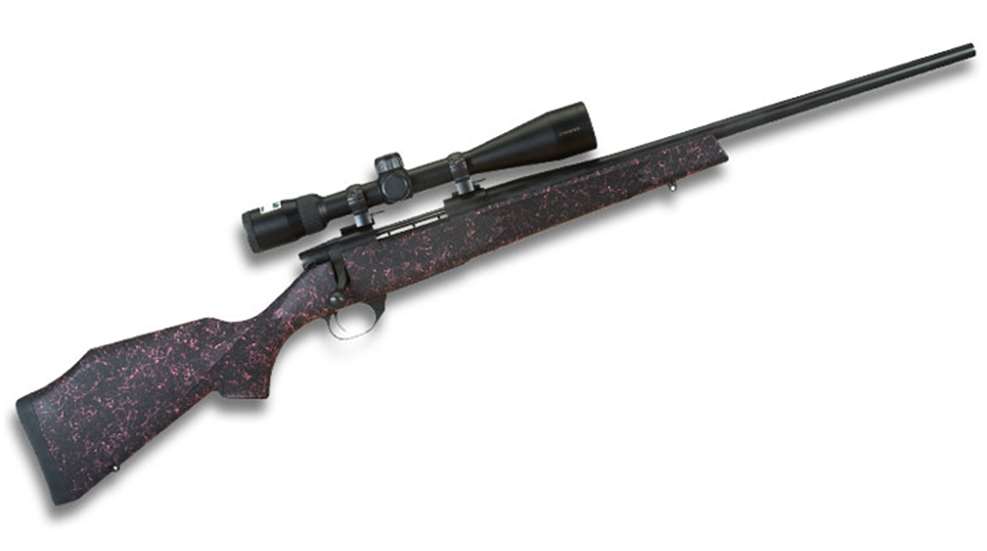 I've got two teenage daughters who take turns helping me out with articles—this time was 16-year-old Millie's turn. She has been shooting since she was about 13. Most of her experience has been with a .22 LR, shooting at steel targets, but she's recently taken an interest in hunting. Together, we pored over all of the new guns and camo patterns in Weatherby's new WBY-X line ( www.wby-x.com ). After careful consideration, she settled on the GH2 model chambered in  .22-250 Remington. When Millie finally had it in her hands she was excited. I have been around guns my entire life, and she wasn't the only one who was impressed: The workmanship and attention to detail are superb. The pink "spider web" pattern is innovative and classy. The bluing is matte, and very well executed, right down to the two-tone bolt. The GH2 is an extremely nice-looking firearm.
Company History
When I hear the name "Weatherby," the first thing that comes to mind is performance that is ahead of its time. Roy Weatherby pioneered an entire line of cartridges from the .224 Weatherby Magnum to the .460 Weatherby Magnum and everything in between. Weatherby cartridges feature unique double-radius shoulders. The company is known for putting a great deal of focus on quality and accuracy, guaranteeing that their guns will shoot one minute of angle (MOA) or better—roughly 1 inch at 100 yards. Few gun manufacturers offer this kind of guarantee, making Weatherby truly a premier American arms manufacturer.
Function and Features
The GH2 functioned flawlessly. It is a push-feed-type bolt action. Push feeds are known for their smooth functioning, the GH2 was absolutely no exception. It fed cartridges from the magazine to the chamber smoothly and reliably. Weatherby uses a very strong extractor, commonly referred to as a "Sako-style extractor," which is an excellent feature. The trigger is adjustable, but was excellent right out of the box, among the best I've experienced on factory guns. It makes shooting accurately much easier and is a feature worth spending some extra dollars on when you're making a decision that you'll be living with for a while. Another practical feature is the stock insert, which allows the length of pull (or LOP, which is the distance from the butt of the gun to the trigger) to be adjusted from 12.5 inches to 13.6 inches so it can grow with young shooters. The barrel measures 20 inches, which helps keep the gun balanced for easy pointability, but does cause a bit of muzzle blast with the .22-250. The three-position safety, which is located on the right side of the bolt, is ergonomically positioned and easy to use. The GH2 is an impressive gun and has tons of great features for the money.
Accuracy
Accuracy testing requires a quality scope. Redfield supplied their new Revenge hunting scope with the Accu-Ranger reticle in 4-12x42mm. I found the scope was the perfect choice for the GH2. The optical quality was excellent, and the Accu-Ranger reticle was very easy to use.
On the range the rifle did well. It seems to have a preference for heavier bullets. In my experience, high-performance cartridges such as the .22-250 can be finicky in the accuracy department, especially through a shorter barrel. It shot exceptionally well with Hornady 60-gr. SP Custom ammo; as the bullets got lighter, the groups opened up. For shooting prairie dogs and small predators at long range, a hunter should focus on heavier bullets. From a hunting standpoint, the .22-250 is a great choice for all varmint and predator hunting. Certain states have bore requirements that preclude the use of any .22-caliber centerfire cartridges on some game animals, so wise hunters will check these regulations prior to purchasing any hunting rifle.
Weatherby is on the right track with the WBY-X line, as I witnessed when my daughter took the gun from its box. The fit and finish on this line of guns is outstanding; a WBY-X purchased today stands a good chance to be passed down to the next generation of hunters and shooters. Weatherby has stayed true to their roots and delivered a good-looking, well-built rifle that performs very well, one any kid would be proud to carry.