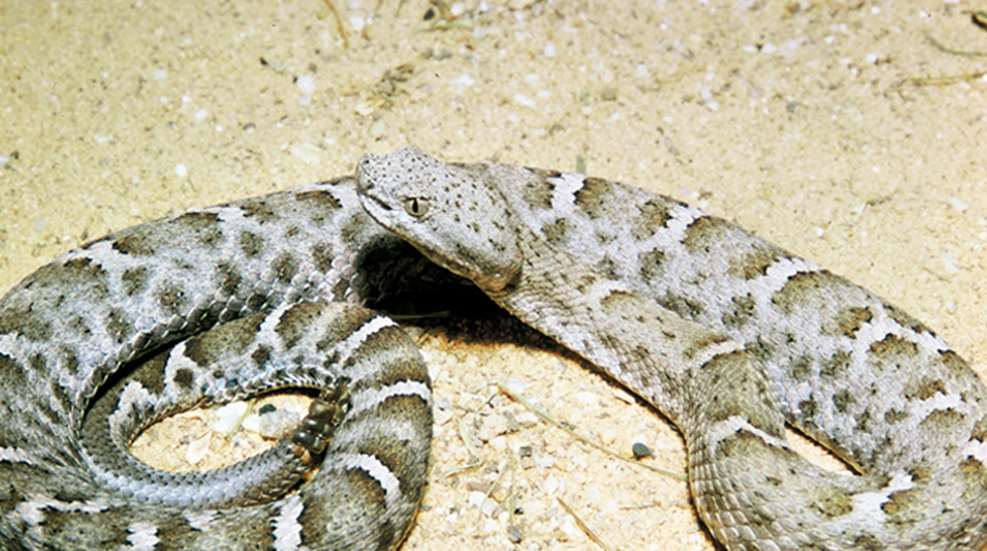 Bzz-zzz-zzz-zzz! There aren't many noises in the world that can make your blood run cold quite like the distinctive buzz of a rattlesnake, and for good reason: Rattlesnake bites are the most common cause of snakebite injuries in North America. However, this isn't because the rattlesnake is particularly aggressive towards humans; in fact, rattlers tend to avoid people whenever they can. It's simply that although there are several species of venomous snakes in the United States, the rattlesnake is the most widespread, with 32 known species in the Americas.
Rattlesnakes can be found anywhere from southwestern Canada to Argentina. Like all ectothermic ("cold-blooded") reptiles, rattlesnakes prefer temperatures from 80 to 90 degrees Fahrenheit, but they do thrive even in colder climates like the northeastern part of the U.S.
Depending on the species and age of the snake, adult rattlers can be anywhere from 1½ to 8 feet long, with a wide variety of patterns on their scales. Unlike the colorful (and equally venomous) coral snake, however, rattler skins tend to feature muted shades of browns and tans that allow them to blend into their surroundings. What unites all species, however, is the distinctive rattle at the end of their tails, which is composed of hollow, interlocked segments made of keratin (the same substance that makes up your hair and fingernails). The muscles that cause the rattle to shake are some of the fastest known, firing 50 times a second!
In the wild, rattlesnakes feed mostly on small rodents and birds, which they kill with their venomous bite. Naturalists agree that when a rattlesnake bites a human being, it's almost always because they have been surprised or frightened by someone who wandered too close by accident. When hiking or hunting in areas where rattlers live, it's important to be careful when scaling rock piles or fallen timber, since these are areas where rattlesnakes will either go to warm themselves or to cool off, depending on the temperature. If you must pass through some brush that you can't see well, use a walking stick to make sure it's safe.
Although there are about 5,000 rattlesnake bites a year, very few of them are fatal to humans. If you or a companion is bitten, here's what you should do:
Seek immediate medical attention. The quicker you can get to a hospital, the better.
Phone ahead to the hospital to let them know you are bringing in a snakebite victim. Try to remember what the snake looked like-but do not waste any time attempting to hunt down the snake. This allows medical personnel to get the proper antivenin ready.
Keep the victim calm, and make sure the bitten part of their body is below their heart.
Remove any rings or constricting items from the bitten part of the body, in case it swells.
Do not attempt to cut the bitten area, or to suck the poison out. Studies have shown that the venom enters the bloodstream too quickly for this to be helpful, and it introduces germs from your mouth into the wound. Also, do not introduce a tight tourniquet. This can cause more harm then good.