by
posted on October 2, 2015
If you enjoyed our article about how to take great outdoor photographs, here's a chance to put those skills to the test. The International Hunter Education Association (IHEA)-USA is looking for shutterbugs who want to help advance their cause of developing safe, responsible hunters. Their second annual Hunter Education Photo Contest, which runs from now through October 31 of this year, is themed "Hunter Education in Action!" The winners, who will be announced on November 30, will receive gift cards courtesy of Bass Pro—and they're quite generous! First place 

will receive $300.00; 2nd place will get $ 200.00 and 3rd place will be given $150.00; (honorable mentions may also be awarded).

 


Successful entries can depict a number of hunter education topics, including safety, classroom instruction, field tests, hunting scenes, shooting and range scenes, families hunting together and more. 
Entries should be submitted electronically before 11:59 p.m. Eastern time on October 31 to 
[email protected]
,
 with "IHEA-USA Photo Contest Submission" in the subject line. The images should be in a high-resolution .jpg format, and (this is important) cannot be watermarked. Please ensure that your submission is labeled with your name, e-mail address and phone number. Note that submission of any/all images attests that person or organization submitting the image(s) has the legal right(s) to use the image(s)—including model release forms where applicable, and that entry of any and all photos gives owner's permission to IHEA-USA to use the image(s) in IHEA-USA communications and marketing programs. The rights to use submitted photos will not be given to any third parties, but will remain strictly with IHEA-USA.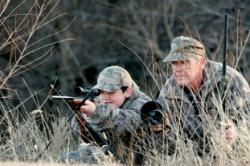 2014 winning image by Ron Spomer
Contest administrator and IHEA-USA Marketing and Communications Consultant, Chris Chaffin (an IHEA-USA Life Member) said, "We received great entries last year from both amateur and professional photographers and those images have enriched our outreach efforts and products significantly."  The images have been used in national magazine ads, the IHEA-USA booth at SHOT SHOW, a new fund-raising brochure and PowerPoint presentation, a media kit, on Facebook and Twitter, as well as on the organization's Website and in nationwide news releases. 
For more information, contact 
Chris Chaffin, 

[email protected]

.