by
posted on June 16, 2020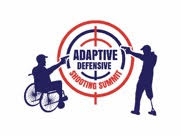 It's a sad fact that
people with disabilities
--especially visible disabilities--are targeted by violent criminals at rates much higher than the rest of the population.
SIG SAUER Academy
recognizes that
"disabled" most definitely does not have to mean "defenseless,"
and towards that end, they're offering their second annual
Adaptive Defensive Shooting Summit
. Due to be held this October 23rd and 24th at SIG SAUER Academy in Epping, New Hampshire, the Summit is a terrific time and place to learn defensive strategies, show off your abilities, and network with people who face the same challenges you do.
Registration is now open for this event, which is guaranteed to be bigger and better than last year's first foray into adaptive shooting. Chad Barber will once again take the reins as the Match Director for the eight-stage championship. With his better half Angie on the décor team, expect an even larger "Wow-Factor" from last year. The event has expanded both in the number of competitors SIG SAUER can host, as well as the intricacy and number of challenges.
In order to participate in the championship event, competitors will be required to attend a half day training and live fire shooting development seminar held on October 23. The session is included in the $95 registration fee, and will be taught by renowned Learn To Shoot Again and SIG SAUER Academy instructors.