by
posted on April 4, 2023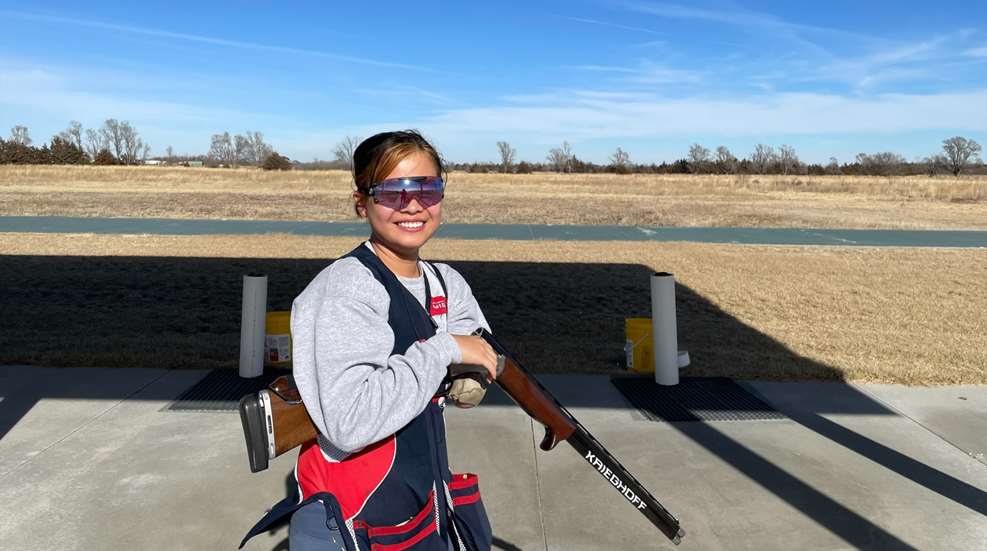 There are people who face adversity, and people who transform it into magic. One such is 19-year-old Sophia Bultema, whose story began in a Chinese orphanage. She lived there until the age of six, when she was adopted into a family living in Colorado Springs, Colorado. Like many folks who live in the area--which hosts Olympic training facilities--that family was already involved in the shooting sports. So it was with lots of support that she joined her Colorado high school's Scholastic Clays Target Program (SCTP) her freshman year.  
She fired American disciplines until her coaches, Dale Royer and Caitlin Conner, introduced her to Bunker (International Trap) the second semester of her freshman year. According to Sophia, "I've been shooting Bunker and traveling the world since." This sudden transition speaks to Sophia's skill and dedication.
Sophia shoots for Team Krieghoff and Team Winchester, who she says are "the absolute best people to work with." She enjoys breaking targets and having fun, and continues, "There's no better feeling than doing well in something you have trained for. I can confidently say that the most joy I feel is when I go above and beyond what I think I'm previously capable of." She hasn't met her limits yet … and she does it all with one arm.
She is currently the top-ranked junior women's Para Trap shooter in the world. She set a Junior world record in Para Trap at the 2022 Chateauroux Para Sport World Cup, and also became the first woman in Para Trap history to make a World Cup Final. She has also represented the U.S. at two Para Shooting World Championships: one in Lonato, Italy (2021); and another in Al Ain, United Arab Emirates (2022). She says her Para Junior world record is her greatest accomplishment, especially since her hand was bitten by a horse right before she set the record. (Yes, you read that correctly.)
Most recently, she claimed a gold medal in Para Trap at the USA Shooting selection match in Tucson, Arizona and second place in Class C Skeet Doubles at the ACUI/SCTP National Championship in Texas. Shooting has taught her patience, self-reflection, confidence and personal growth. She says that, though she has honed these skills and traits for competitive shooting, she has found that they apply to all areas of her life.
Sophia is grateful for her sponsors, but also to her family. She wears a small glove her brother made for her to prevent her arm from chafing or sliding as she shoots. Currently on Hillsdale College's shotgun team, Sophia aspires to represent the U.S. at the Paralympics in 2024 and bring home a medal. She also volunteers at a local animal shelter, and enjoys working out, reading, and driving with no set destination.
Everyone has struggles, but Sophia encourages others, especially new shooters, to "Focus on something you enjoy and build up from there." This could be the people you shoot with, a friendly post-practice plinkathon ... even something as small as the snacks after practice. She admits that she was sometimes discouraged when she first started shooting, but always focused on what she needed to do to improve. This is one of the beautiful things about the shooting sports—they are for everyone, and don't discriminate.