by
posted on June 21, 2023
Over the next few months, I will review some military replica air rifles that are sure to please collectors and enthusiasts with their realistic feel and looks. We start this month with a classic, the M1. This was the rifle that American soldiers carried into battle from Greatest Generation, right on through our Vietnam veterans. If you don't have one, perhaps you might consider Springfield's M1 Carbine CO2-powered air rifle, which fires .177 BBs for some military look-alike fun in your backyard.
Springfield Armory is well-known for quality firearms, and after some testing, I can assure you that the reputation continues with this air rifle. Air Venturi is the worldwide licensee for all Springfield Armory replica firearms. There are several variants to the M1 I tested. There's a synthetic stock version (which is what I tested), a wood version,  a .22-caliber underlever pellet rifle and finally a .177-caliber underlever pellet rifle. The latter two rifles are hardwood stock as well.
The .177 synthetic stock version I tested has an MSRP of $179. The stock looks realistic enough that I initially thought I had been sent a real hardwood stock. 
Here are the specs:
.177 caliber
Velocity up to 425 fps
Powered by a single 12-gram CO2 cartridge for up to 40 BBs
Magazine capacity of 15 BBs
Semiautomatic blowback operated
5 lbs., 11 oz.
Overall length: 36"
Two-stage trigger
Sights adjustable for windage
Action is metal and very realistic—down to the metal magazine that feels like the real deal.
I was excited to get my hands on this rifle. Right out of the box it felt really good in my hands. The gun shoulders easily and the sight picture is are easy to acquire. After thoroughly reading the manual, which was one of the best airgun manuals I have read in a long time, I got busy loading the CO2 and the magazine with BBs. I used Air Venturi steel BBs, which are excellent. They come in a bottle with an angled spout and cap that make loading so much simpler. I think from now on I will just buy their BBs for that very reason.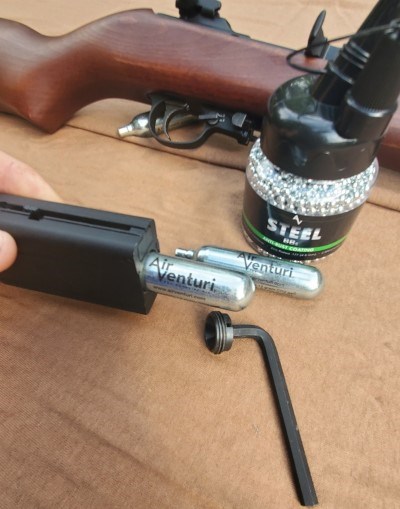 Loading the CO2 was a snap with the included hex key. At first I thought the hex key was missing but upon looking at the white packing the rifle was secured in again, I noticed it was firmly stuck into the layers so as not to come loose and scratch up the gun in shipping. Nice call, Springfield Armory! When I was loading BBs, the angled spout made the task easier than most BB guns. A tab is pulled down with a finger or fingernail and then locked to the side before pouring in up to 15 BBs. I found that by gently tipping the bottle of BBs over and then easing a line of them out on the magazine slot I could then just push them up to the open slot where they would drop into the magazine perfectly.
In testing, I fired far more BBs and went through much more CO2 than was strictly necessary because the M1 was so much fun. I spent quite a bit of time on my porch and range destroying cans. The first magazine proved the sights were already dead on target. The soda can was being shredded quickly.
I moved over to a heavy vegetable can and began pummeling it. The authentic blowback of the gun was enjoyable, but not so loud your neighbors would complain. While working on the heavy vegetable can I was able to push some of the BBs through the can walls, which I found impressive for 425 feet per second at 17 yards.
My testing found that the gun would consistently fire two complete magazines before power dropped off. I usually wrung out 38 BBs from each CO2 although the website states that users can get 40 BBs per CO2. I was happy with the results. You should note that any rifle that fires at 425 feet per second isn't going to give you tack-driving accuracy. That's why I did not officially measure it on a paper target with groups. I will say that I rarely missed the can at 17 yards and when I did, I am sure it was either me, powered-down CO2 or a combo of both.
One more comment on the accuracy; at the edge of the yard, we have some overgrown roses and one had a half-dead flower hanging loose. I took three shots at 25 yards with open sights, freehand, and the second and third shot destroyed the dying flower (eliminating my need to go cut it off to clean up the flower patch). I spent another 10 minutes following up on dandelions and other things needing attention from the lawnmower I didn't feel like pushing in the rain.
Overall this rifle gets a stellar review from me. I would buy the underlever .22 rifle next as it is full sized and could be used for more than some backyard fun. Meanwhile, I will continue harassing insects in the yard, mice in the barn, cans and other things that catch my eye. This gun is reliable and consistent. It feels and looks like an M1 and is very enjoyable to shoot. I also think it looks great on the wall and in the gun rack. The instructions are very straightforward, easy to read and the manual is complete.
If you want to get a replica of one of the best rifles our military has ever seen without breaking the bank, consider one of these. For more information, click here!