by
posted on November 6, 2019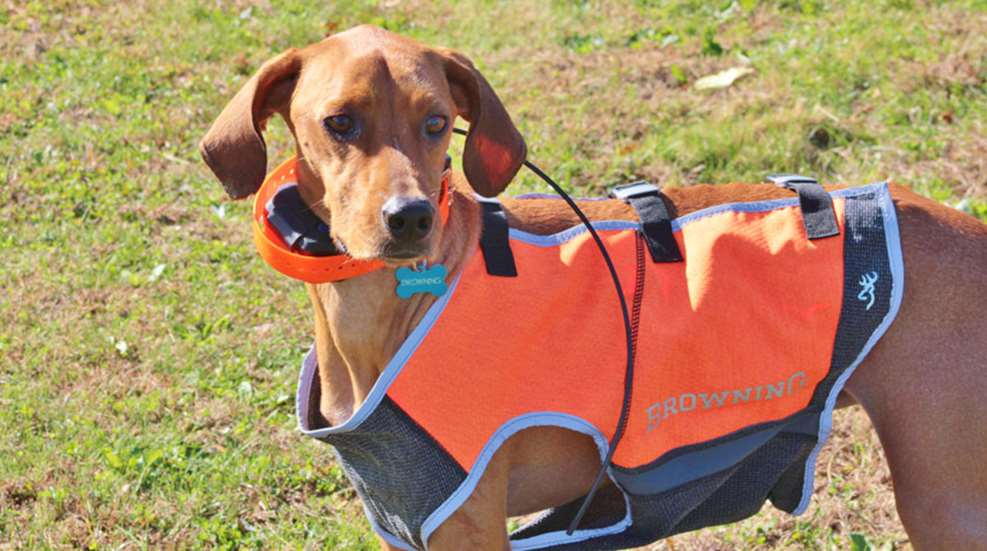 Let's face it, keeping track of the family dog is sometimes a bit of a chore. While we like to let them roam when we can, it's important to keep them out of trouble. Take our family's furry Houdini, Browning, for example. While he spends most of his time basking in the sun from the safety of the couch, he is an absolute flight risk. It's essentially a scene from The Shawshank Redemption any time the front door is cracked open. With his adventurous spirit, we've considered training him to hunt, as he shares deep Redbone Coonhound heritage. (Although at 39 pounds and a temperament that consists of crying when his mama leaves for work, he's really just more of a glorified wiener dog.)
We named him after "The Prophet," John Moses Browning, partly because of his brownish-red coat. Unfortunately that coat's almost the exact shade of a whitetail deer. During hunting season we make him wear a blaze orange hunting vest made by Browning, Inc., to make him more visible and to keep his chest safe from the fall debris that lines the forest floor this time of year. However, this year we wanted to give him a little more freedom and decided to fit him with a tracking system.
After scouring the interwebs, we settled on the Dogtra Pathfinder tracking and training collar. I wanted to fit him with this collar to not only review the equipment, but to test his natural inclinations as well. He's a hound and thus "born to roam," so we wanted to see exactly how he would act when taken afield. I have been dying to get him into the woods to give him a taste of freedom. His mother not so much. We reached the compromise of a nature preserve that backed right up against an elementary school as our proving grounds.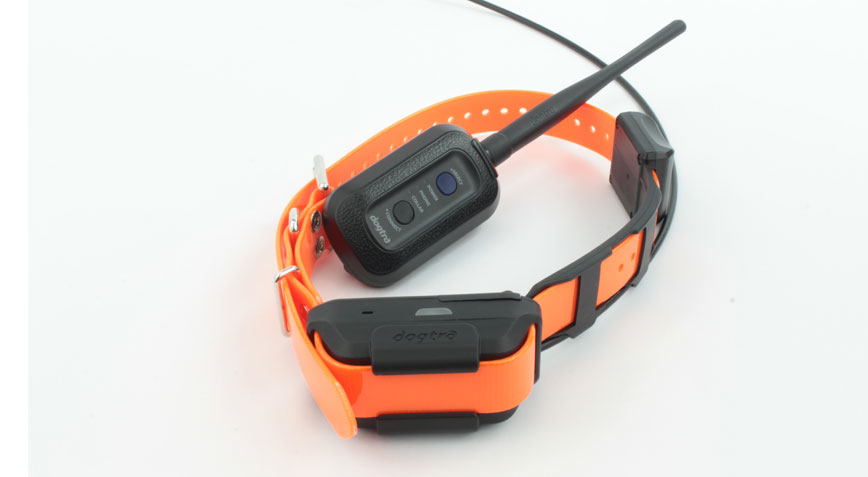 As we thumbed through the manual we noticed quite an impressive list of features, such as a 9-mile range and Bluetooth connectivity allowing for smartphone integration. A feature that many rural dog owners might enjoy is the Geo-Fence, which allows you to set up a perimeter to which you'll receive alerts when your buddy steps outside of it. The app also shows you when your dog (or up to 20 others) trees a critter or even barks, in case he does get that far away from you. We also liked the ability to utilize offline maps, in case you are in the deep woods without a good GPS connection.
The collar also has a tone delivery system that can be used to either find the dog or issue a warning. Not only does the Dogtra Pathfinder help keep track of your speedy little trickster, it offers a little electronic persuasion should he decide he knows better than you when you call him. It's important to understand that this is not painful for the dog. In fact, it's identical to the electronic stimulation used for muscles in physical therapy. How do I know this for sure? Well, I couldn't do anything to my pal that I wasn't 100 percent sure wouldn't hurt him. So while sitting in my living room I ponied up and took a level 60/100 zap to ensure it was humane, and that everything was working properly. It got me out of my chair for sure but didn't create any damage to the soft tissue on the underside of my arm. My wife convinced me that I should try a level 70/100 "for science," as she cranked it up and hit me when I wasn't expecting it. After "the experiment," I reached further down into the foam case and found that it came with a handy test light...so you, reader, now know there's no need to test it "the hard way."
We had an absolutely perfect testing day, pure sunshine and mild temperatures. We got Browning all amped up with the double whammy of "car ride?!" and "walk?!" When we got to the field we leash walked him to the tree line and then released the proverbial hound. As he worked his way away from us we called him when he was about 400 yards away. As expected he didn't listen (hounds are stubborn when on a scent). We called again and like the defiant little pooch he is, he picked up steam and bolted off. Before resorting to the juice we gave him a few tone warnings and then eventually a quick level 50 jolt. After that initial correction, Browning understood what disobeying a command meant in the field. After that, we turned it down to level 40 and before issuing any electronic stimulation used the tone. Just like Pavlov's dog, Browning instantly associated the tone with the zap and we didn't have to use electronic stimulation for the rest of the day. Most people don't know our dog but this is amazing as he doesn't learn very easily. After another hour of training, he came immediately to voice commands and didn't even get to the point where we had to use the tone to get his attention. Trust is essential for this to work. Browning knows we keep him safe, so he quickly interpreted us calling him back in the field as a warning he's about to walk somewhere that will hurt him. Overall the experience helped create a stronger bond between us.
When he was within eyeshot we utilized a laser pet trainer to get him to chase a red dot up a tree. Once he achieved a fully vertical position against the trunk the Dogtra app alerted us that he had something "treed" and even signaled us the moment he started barking. I liked that it differentiated between a dog just being curious and actually seeing something of interest up in a tree. The app even indicated when Browning was running, and when he took a break and stood still.
When we got Browning home he was exhausted, and this is an important point: Browning suffers from separation anxiety, and usually has a hard time settling in especially if a member of "the pack" leaves the house. There really is no one solid cure for this condition, but most experts agree that tiring the dog out is satisfying for him and helps wear off that nervous energy. We found The Pathfinder to be a valuable tool in treating his condition, and it also makes it that much easier to take him for a "walk" every day and keep him in shape.
Even if you don't plan on using your dog for hunting, the Dogtra Pathfinder e-collar is something that every dog owner should own. We found it to be a valuable training tool for obedience as well as a method of keeping your dog out of harm's way. Above all, it got this suburbanite hound off the couch and into the woods where he belongs.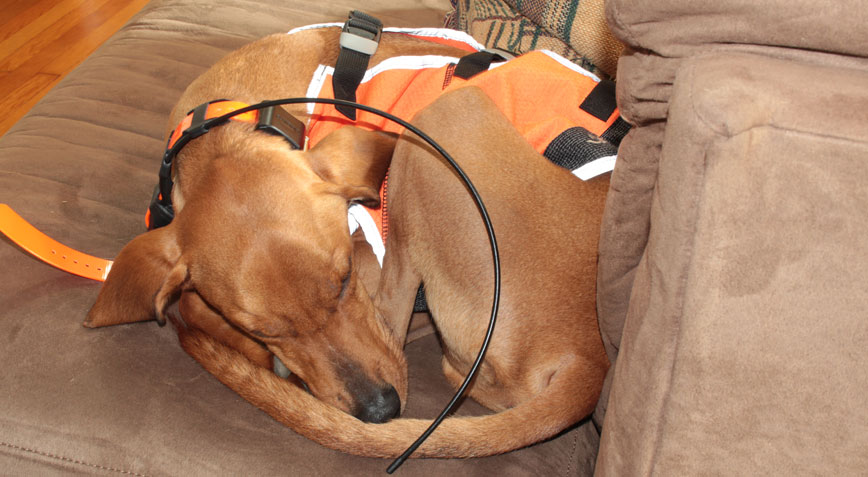 Would your best friend benefit from the Dogtra Pathfinder? Click here for more information, or to purchase!