One of the best parts about attending a consumer trade show like the NRA Annual Meetings & Exhibits is that it's possible to take home some of the cool things you've gotten to see and try. What's even better is that sometimes you don't have to pay for them.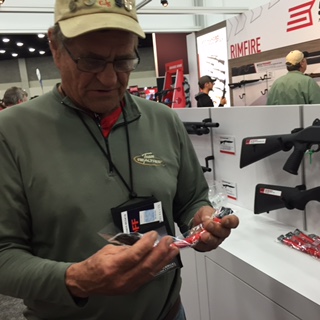 "This year, we're trying to make Vista Outdoor's booth the place to go for cool swag," said Vista's J.J. Reich with a note of glee. "We're doing more giveaways than ever." Vista Outdoor, the parent company of such household brands as BLACKHAWK!, Savage Arms, Federal Premium Ammunition and Bushnell, has a massive booth (#4623) that could keep an outdoor enthusiast occupied for (literally) hours. And this year, they're determined to make it worth your while to do so.
"We've got lip balm, CCI bandanas, Federal Premium barrel stickers, bumper stickers, discount cards, survival bracelets, pins, pens, Hoppes air fresheners, breath mints that look like riflescope turrets, lens cloths...everything we could think of," grinned Reich. "And you can register to win an Elite Tactical riflescope, shirt or hat, too."
Also, throughout the weekend, TV celebrities like "Bone Collector"'s Michael Waddell and Travis Turner will be making appearances at the Vista Outdoor booth, in a large amphitheater-like stage area that will offer showgoers a chance to rest their feet while they hear from their favorite outdoor personalities.
Where's your favorite place to get giveaways at the NRA Annual Meetings? Tell us in the comments!