by
posted on August 9, 2021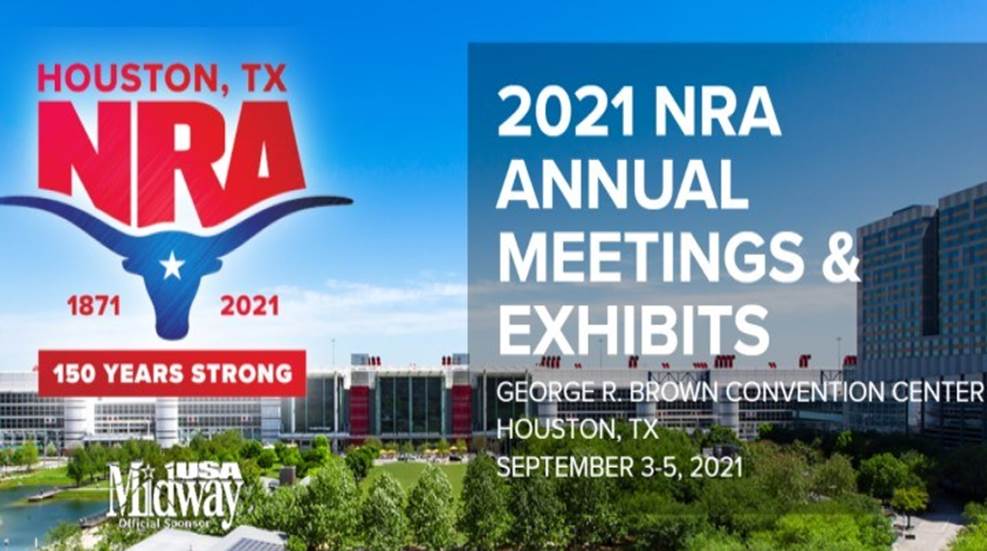 The National Rifle Association is proud to thank MidwayUSA as the official sponsor of its 150th Annual Meeting & Exhibits to be held on Houston Sept. 3 -5.
"Freedom and liberty have no greater friend than Brenda and Larry Potterfield.  They are steadfast in virtue and support of our Second Amendment and the NRA.  MidwayUSA's generous sponsorship enables to the NRA to celebrate 150 years of preserving and protecting the Second Amendment," said Wayne LaPierre, CEO and executive vice president of the NRA. "MidwayUSA has always shown its support for the law-abiding gun owners of America, and this is another example of an outstanding American success story giving back to the community."
The 150th Annual Meeting & Exhibits will be held at the George R. Brown Convention Center over Labor Day weekend. Thousands of dues-paying members and many more law-abiding Americans will gather for the family-friendly event featuring a bigger-than-ever exhibit hall boasting more than 800 exhibitors, events, receptions and demonstrations. Attendees will get a look at the latest guns, knives, optics, ammo and accessories available on the market today. They can also book the hunt of a lifetime, purchase shooting and hunting accessories, view priceless gun collections and hear some of the most influential, pro-2A speakers. 
"Since its inception in 1871, the National Rifle Association has been, and continues to be, the foremost protector of our Second Amendment rights. From founding the NRA Roundup program to helping start Friends of NRA, Brenda and I, along with the employees here at MidwayUSA, have always been strong supporters of the NRA," said Larry Potterfield, Founder and Executive Chairman of MidwayUSA. "We're honored to return, for the eleventh year, as the Official Sponsor of the NRA Annual Meetings and Exhibits, and we look forward to seeing you in Houston!"
 Starting as a small gun shop in Columbia, MO, MidwayUSA blossomed under the leadership of Larry and Brenda Potterfield into the country's leading firearm accessory retailer. Since then they've played an integral role in introducing the public to the world of shooting sports. Thanks to programs such as NRA Round-Up and Friends of NRA, the Potterfields can be credited with providing tens of millions of dollars to the fight to protect your right to keep and bear arms. ​
"The NRA Annual Meetings and Exhibits is the largest gathering of hunters and shooters in the nation," said MidwayUSA President & CEO Matt Fleming. "The audience is full of our Customers. I couldn't imagine another event more appropriate for MidwayUSA to support.