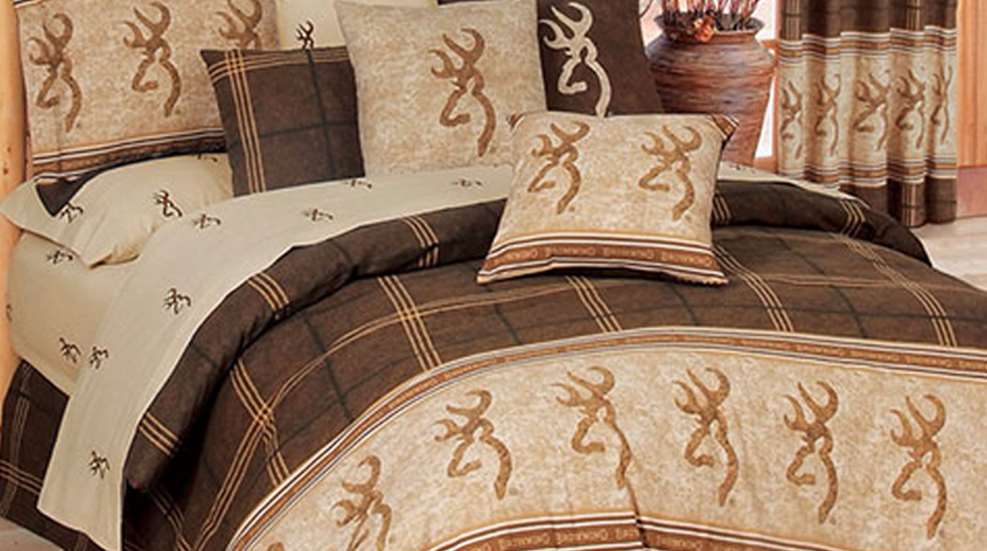 As hunters, we spend a fairly large portion of our year in camouflage—and many of us tend to grow attached to it over time. Camouflage furniture, curtains and bedding sets are not necessarily a new trend, but it's not always easy to find a retailer that both does our favorite patterns justice and produces high-quality goods. With that in mind, we took a look at the hunter-friendly bedding options offered by the aptly named "Camo Trading."
On this occasion, we tried out the company's Browning Buckmark pattern, which can be seen in the photo above. Browning's signature logo is combined with brown and gold plaid and soft tan with a faux leather texture, creating a very aesthetically pleasing bedspread. The comforter's earth-tone look blended relatively seamlessly into an existing bedroom set.
Of course, the Buckmark style seen here is just one of Camo Trading's many pattern offerings. You can check out the complete collection of designs at CamoTrading.com, but some of the highlights include: Realtree Timber, Bone Collector Black, Mossy Oak Break-Up Camo, Realtree AP and Realtree MAX-4. Camouflage patterns aren't all you've have to pick from, however—there are also designs like "Deer Meadow" and "Dogs 'N Ducks," if you're looking to shake things up.
Comfort, of course, is probably even more important than style—and Camo Trading's stuff holds up just fine. The product we put to use was rare among bedding in that it was just as comfortable as it looked—those fluffy pictures aren't misleading. Better, there was no "itchy" feel to the comforter, which can't be said for some competitors. After one courtesy wash, it was good to go.
Oh and, if you don't trust us, trust our boy Tank:
Gundog tested, gundog approved.
For more information, go to CamoTrading.com.