by
posted on March 22, 2017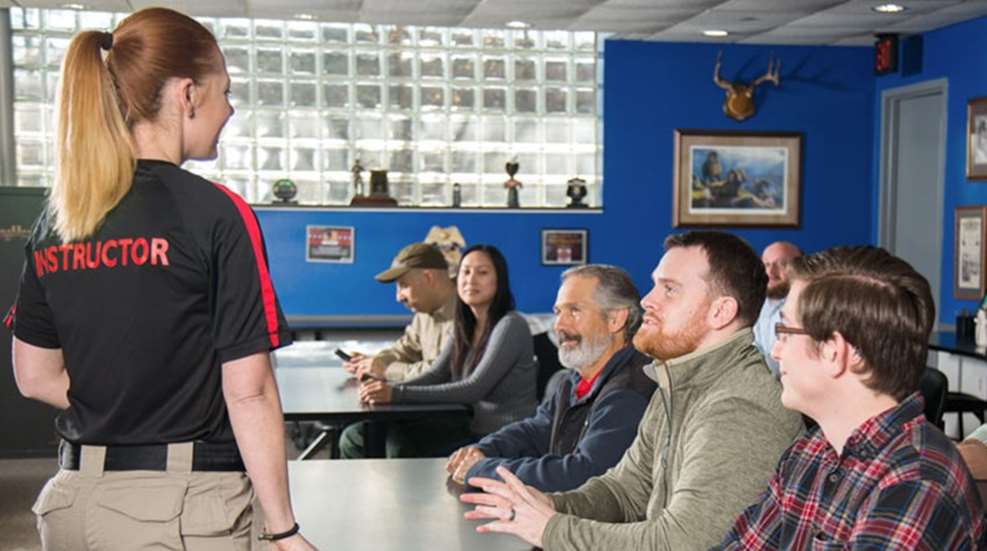 When beginning your quest for self-defense instruction, there's a lot to keep in mind. First off, you are, out of necessity, going to be getting out of your comfort zone. Simply obtaining your concealed-carry permit is a big step toward accepting responsibility for your safety and that of your family, and one that few people will take. Less than 10 percent of eligible adults have concealed-carry permits, so you're becoming a member of a pretty select group.
Out of this select group, you're electing to become an even rarer variant: a concealed-carry permit holder who seeks out additional training. While we cannot stress more highly how important regular, quality instruction is in one's personal-protection plan, few make the time and/or spend the money to obtain this training. You've decided to become one of the few, the proud, the trained. Good on you!
Of course, with this decision are many questions, not the least of which is "How do I know this training is right for me?" Obviously, attending one of the big-name schools like Whittington U, Gunsite, Thunder Ranch or SIG Sauer Academy is a great idea, but not everyone can afford the time and travel costs of getting to a major school. Local instructors are much easier to fit into a schedule, and save money if you just have to drive an hour or so for the day. We've asked some of our experts for what they look for in a concealed-carry class, and here's what they have to offer.
Shooting Illustrated's Handgun editor Tamara Keel, who has spent hundreds of hours in classrooms and on ranges learning from the masters, had this to say about finding the right instructor:
"When looking at their resume—they do have something like a resume up, right?—is it just a vague list of who they've trained, with no mention of who they trained under? The best instructors I know are always out attending classes and trying to learn something new, or maybe just looking for new tips or tricks for teaching. I don't care who an instructor has trained, I want to know who trained them."
In the world of concealed carry, as in the world of pretty much anything else that requires frequent practice, updating one's skill set and learning new things is vital. An instructor who has been running the same curriculum for decades and hasn't expanded their worldview beyond their skill set is only going to be able to offer a limited view of the techniques and drills available to the concealed-carry permit holder. While the instruction they offer may be top-notch, these instructors should be part of an overall strategy, not the only component.
Competitive shooter and Shooting Illustrated contributor Caleb Giddings counsels avoiding gimmicks, obviously over-the-top tactical marketing and instructors who aren't up front about their background and skill set. He comments, "The big thing to do is this: Find an instructor that teaches what you're looking for. Don't go to a competition-focused class if you want to get better at shooting AIWB (appendix-carry inside-the-waistband) from concealment. And vice versa. Make sure your instructor has the relevant background as well."
This is also very important—you need to be honest with your expectations and needs from an instructor and a class. Don't take a second- or third-level class if you've never drawn from concealment. Work on building basic skills before focusing on moving, finding cover and other more-advanced elements of defensive instruction. For the serious pistolero, there's plenty of time, classes and ammo to expend in the pursuit of knowledge. As the expression goes, learn to walk before you run.
Shooting Illustrated Rifles editor Steve Adelmann has received extensive training in defensive firearm use from his time in the U.S. Army, in addition to private instruction. He bolstered Keel's admonition to check resumes and references, reminding us that a teacher who uses catch phrases, buzzwords and clichés might not be the first place he'd look for classroom time. He also echoed Giddings' comments about matching your instructor's credentials to the type of instruction you are most interested in receiving.
Adelmann advises us to "Look for instructors who aren't afraid to shoot. This may mean looking at clips on YouTube or social media or, if they're local, watching a class in progress. If the instructor doesn't shoot in front of students, go somewhere else. This includes instructors that shoot a couple simple drills and then holster their gun for the rest of the day. The best instructors will demonstrate drills throughout the course and won't hesitate to say 'Watch me do it first.'" He cautions that an instructor who teaches a particular type of tactical shooting that they cannot do themselves is a big red flag.
Lastly, he suggests avoiding instructors who spend more time telling "There I was..."-type stories than actually instructing. While Adelmann sees nothing wrong with using life-experiences to set the stage for what's about to be taught, he feels that if that's all an instructor has, they probably  shouldn't be teaching anything. He also reminds us to not get caught up in any instructor with a  "cult of personality" feel.
This is a lot of information to process, so take it slow and easy and do your homework before signing up—but don't be afraid to take that class. The NRA's Education and Training page is a good resource for finding NRA-certified instructors. We should always be striving for additional instruction in our concealed-carry knowledge base, and taking classes with qualified instructors should be part of everyone's "to-do" list.

Want more concealed-carry strategies? Click here!