by
posted on March 30, 2016
This past March 18 - 19, the Civilian Marksmanship Program (CMP) hosted its own version of "March Madness" in the form of its annual JROTC National Championship. It all started back in October 2015, with the JROTC Postal Competition. Qualifying teams and individuals then moved on to the Regional Service Championships in February at Camp Perry, Ohio; Anniston, Alabama; and Provo, Utah. Finally, as St. Patrick's Day ushered in the training day of competition, 220 skilled junior marksmen in Army, Navy, Air Force and Marine Corps JROTC Programs traveled to the South CMP Competition Center in Anniston, Alabama to compete for gold. The National event was hosted and administered by the Civilian Marksmanship Program (CMP). The National Championship is a two-day competition, where competitors fire in three positions

—

prone, standing and kneeling

—and in two classes, sporter and precision.

The top eight competitors of the day from the precision class and the top eight from the sporter class then compete in a 10-shot final, vying for daily gold, silver and bronze medals.



With the St. Patrick's holiday in mind, 17-year-old Levi Carlson of Nation Ford High School in South Carolina,

 along with a few of his teammates, decided to search the Alabama ground for a four-leaf clover
—
and he found one. He competed with it near him on the line to encourage good fortune for the rest of the competition. 

"I think it brought me luck," he said, with a smile. But was it enough to ensure success?

As it turned out, the Marine Corps teams took first and third place in precision competition, with East Coweta High School in Georgia earning top honors for the second year in a row. The team,

consisting of Cayla McLeod, Tanner Whitehead, Nate Peterson and Jonathan Satterfield, r

ecorded an overall aggregate score of 4694-307x. Perhaps most remarkably, the team also set a Marine Corps and Overall National Record for recording a score of 2356-165x.
"It's pretty amazing," said East Coweta coach, Maj. Pete Merrill. "Last year we won the National Championship, and I graduated three seniors, so this year was pretty unexpected." Continued Merrill, 
"It started with great kids, they worked hard, and they stayed together as a team. They shot for each other as much as themselves

—

I'm very proud of them."
Army team Walla Walla High School in Washington earned the second-place spot in the precision team match with a score of 4661-287x, and Dallastown High School in Pennsylvania took third with a score of 4650-304x.
So what about that four-leaf clover? In sporter competition, Nation Ford High School in South Carolina led with an outstanding score of 4430-140x. The team also set a Marine Corps JROTC National Record with a 2216-66x aggregate score. The Nation Ford High School team includes Levi Carlson, Marcus Stallings, Morgan Tench, and William Jaeger (coached by Col. Sean Mulcahy). 
For their win, the team received a Crosman Challenger Air Rifle, donated by Crosman.
Landing in second place was Gulfport High School in Mississippi with a score of 4386-154x, followed by Des Moines North High School in Iowa, whose members fired a score of 4383-145x for third.
Placing teams earned monetary awards from the CMP for their stellar performances: $500 for fifth, $750 for fourth, $1,000 for third, $1,500 for second and $2,000 for first. In addition, Larry and Brenda Potterfield, co-founders of the MidwayUSA Corporation, again provided generous fund donations to winning teams of the JROTC Championships. 
The funds will be placed in each team's endowment account with the MidwayUSA Foundation. The MidwayUSA Foundation is a 501c(3) public charity that helps communities and organizations raise funds to support youth shooting teams and activities. The Foundation is an endowment that helps fund team expenses today and into the future.
Earning first place in the individual sporter match was Navy competitor Cassandra Rodriguez, 18, of Parlier High School in California, with a score of 1221.45. Levi Carlson, 17, of Nation Ford High School in South Carolina, fired a score of 1218 for second. He also secured two Marine Corps National Records: a 3x20 plus finals score of 658.2 and an impressive kneeling score of 195-10x.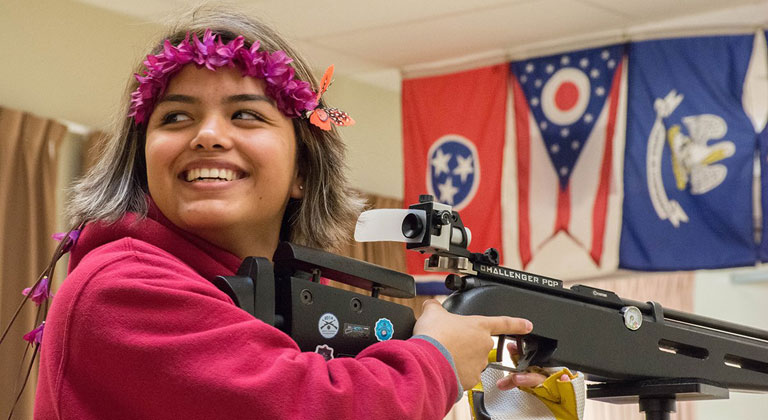 Cassandra Rodriguez from Parlier High School in California was the overall individual winner in the sporter match.
Rounding out the top three in the sporter class was Howard Norrish, 18, of Zion Benton High School in Illinois, who recorded a score of 1214.6. He, like Rodriguez, is also a member of a Navy JROTC.
In the precision competition, Marine Corps competitor Mark Amdahl, 17, of Eldorado High School in New Mexico, fired an overall score of 1282.7 to grab first place, followed closely by Army marksman Taylor Gibson, 15, of North Salem High School in Oregon, who earned a score of 1280.2. Cody Bogle, 17, of Grandbury High School in Texas, picked up another medal for the Marine Corps branch with a score of 1277.9 for third.

First-place finishers in each discipline received $500 from the CMP. Competitors were also awarded $400 for second and $300 for third. Additionally, fourth place received $200, and fifth place collected $100.
Navy precision competitor Logan Hanscom, 18, of Robert Service High School in Alaska, also received National Record recognition after setting an astonishing Navy JROTC National Record for kneeling: 200-18x.
As more evidence of the growing talent in air rifle, over 30 Junior Distinguished Air Rifle Badges were awarded at the FOX Sports 1 Dome at the Talladega Superspeedway, where the National awards banquet was held. Of those, 12 had earned their badges while competing in the National Championship.
Junior Distinguished Badges are awarded to those junior athletes maintaining consistent excellence in major air rifle matches over time – earning the total points needed to receive the honor. Since the beginning of the badge in 2001, 1027 juniors have been pinned.
The CMP was proud to once again be witness to all of the talented juniors who participated in all stages of the JROTC Air Rifle Championships. Congratulations to all!
For a complete list of results, visit the Competition Tracker page at 
https://ct.thecmp.org/app/v1/index.php?do=match&task=edit&match=14011
.
Images courtesy Civilian Marksmanship Program