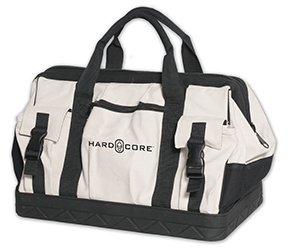 These aren't just Canada's painted white, folks. Hard Core put championship-level carvers to work to create the new head designs for these snow goose decoys, and they look great. The feathers are detailed down to the grain. Not only did they get the paint scheme right (which is harder than you may think), they are painted with Hard Core's ACP (Armor Coated Paint). Chipping and flaking shouldn't be a problem, which is important when you're toting a trailer filled with 200 or more snow goose decoys banging around. Place them on Hard Core's TruMotion bases to get movement in even the slightest wind.
And because spring snows have such liberal limits, Hard Core's new Snow Goose Blind Bag is a smart buy for serious snow chasers. This beefed-up bag is huge, and ready to carry all the shells you'll need to keep the action going for you and your buddies--up to 10 boxes. It also has a hard rubber bottom that is not only durable, but more importantly, waterproof. Nothing ends a cold day of gunning faster than wet gear.
So while I have yet to be invited on a snow goose hunt this spring, the sight of decoys and gear and the very idea of slinging steel at the plentiful targets-all while doing my part as a conservationist-is enough to keep me from putting up my waterfowl gear for the off-season, hoping I get the call.