by
posted on October 9, 2019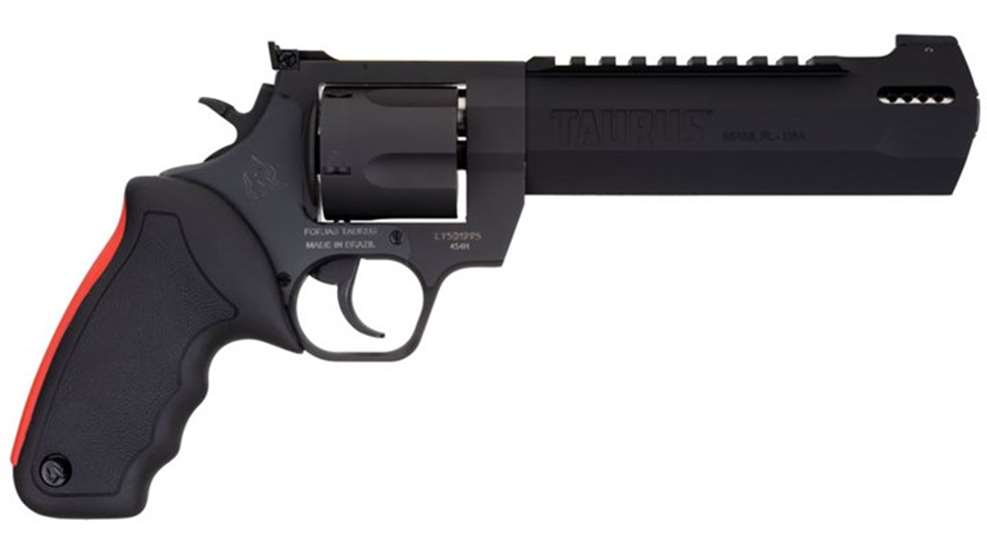 Just in time for autumn, when our hunting or backpacking adventures take us deep into brown-bear country, Taurus has expanded its line of Raging Hunter hunting handguns with a new, heavy-hitting chambering: .454 Casull. If you're not familiar with that chambering, it currently stands as #2 on the list of recommended grizzly-bear stoppers prepared by our friends at American Hunter (click here for more details). However, the Raging Hunter revolver in .454 Casull can do more--much more--than providing you peace of mind while hiking where the grizzlies live.

You see, although the Raging Hunter is perfect for self-defense inside or outside your home, it was purpose-built by Taurus specifically for hunting. In fact, last year the first generation of Raging Hunters garnered the Hunting Handgun of the Year Golden Bullseye award thanks to its innovative design, reliability and value.  The .454 Casull Raging Hunter joins the original .44 Magnum and the recently introduced .357 Magnum chambers offered in this exciting hunting revolver platform.
Although the .454 Casull won't ever be exactly fun to shoot through a handgun (did we mention it's a heavy hitter?), Taurus has maximized ergonomics and shooter comfort by way of the revolver's exceptional balance, lightweight barrel housing and cushioned insert grips. A sleeved barrel construction, factory-tuned porting and a gas-expansion chamber to reduce muzzle rise, making the Raging Hunter quick on follow-up shots and an ideal revolver for short- and mid-range big-game hunting.
Available in three barrel lengths—8.375, 6.75, and 5.125 inches—the .454 Casull Raging Hunter features a spurred hammer, DA/SA action, and a five-round cylinder. It is available in two frame colors—matte black or stainless—with matte black barrels and cylinders. An integrated Picatinny rail provides easy optic mounting, while shooters who prefer open sights will appreciate the fully adjustable rear sight for precision zeroing.
All barrel lengths and color combinations of the new Raging Hunter .454 Casull are available and currently shipping to dealers nationwide; depending on which model interests you, the MSRP is $910-$919. Click here to learn more!