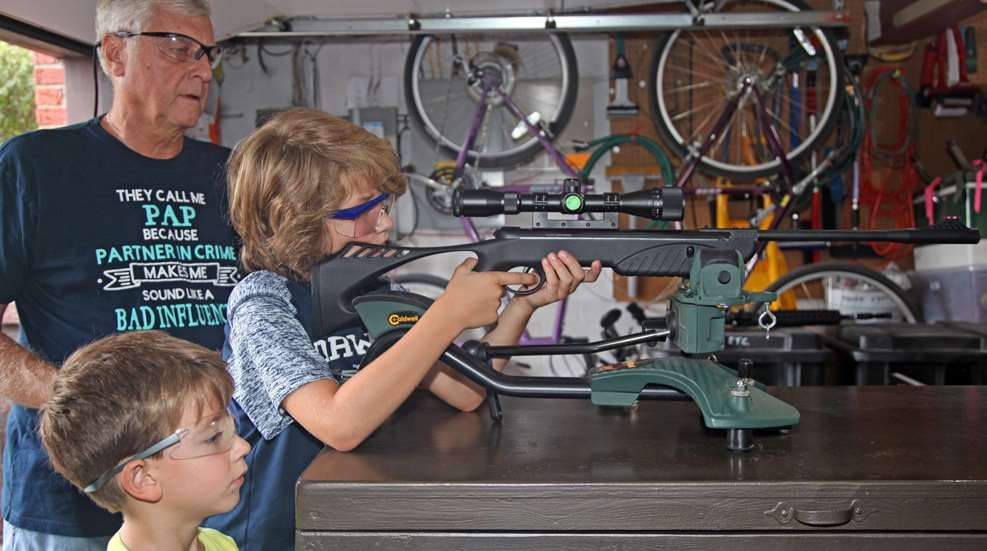 When I was a youngster, I was lucky to have a father who took the time to teach me to use firearms safely and responsibly. Today, my wife and I have five grandchildren—three girls and two boys aged from 5 to 13—and all began shooting with .177-cal. pellet rifles at around age 4. Two of the girls are 13-year-old twins, and while both are excellent shots, only one has a passion for shooting. She always wants to shoot on Pap's garage range with her .177 pellet rifle, and I now trust her to independently set up the range and safely start her routine. The younger boys are 5 and 8 years old, and are learning to follow the basics of gun safety through careful and attentive instruction. If you're a grandparent, you may just be the perfect person to connect the generations of your family through the common thread of a shared hobby: shooting! Here's how I did it, and what I recommend for you.
First: Is the child ready?
Remember, each child is different, so we must make this determination using a combination of age, maturity and preferences. When our twin granddaughters were around 6 years old they would always have questions for my wife and I when they saw us shooting clay pigeons. I decided they were ready to learn by watching, so sometimes I would take them to the local sportsman's club to observe clay games being played.
As the competitors shot, I would explain the game to the girls. As part of that, I would explain the safety rules. (For example, it's easy to understand why you need ear protection when you're watching and hearing shotgun sports.) Over time, I saw those lessons stick, and that meant they had matured mentally. With that, the second aspect of training came into play.
Second: Choose gear that a child can use.
Gun fit is very important. If the stock is too long or short, it is hard to manage/aim. When the fit is right, it will feel comfortable and not awkward. That's why my next purchase was a Ruger Explorer Break-Barrel Youth .177 Pellet rifle because it is easy to cock, load and hold. When they were a bit older, I got the grandkids a .177 Gamo Shadow Whisper and didn't affix an optic so the girls could learn how to use iron sights. (I love my scoped Gamo Whisper Fusion Mach 1, but it takes too much cocking effort for the kids to do by themselves, and that takes something away from the total experience.)
Third: Start small, still and quiet.
To start them shooting, I put a 10-yard range in my garage designed for BBs and pellets. The first air rifle I purchased for them as a trainer was a Crosman M4 .177. I like the Crosman because it has an AR-type adjustable stock so I could properly fit it to my grandkids' varying heights.
I then added a Crimson Trace red dot sight to boost their initial accuracy and confidence. I had them shoot from a Caldwell Lead Sled DFT and later a Caldwell Fire Control Rest. I used these since they were secure and with all the adjustments, easily fit any size individual. Now that I had made sure there was virtually no report or recoil, sending pellets downrange resulted in many big smiles—Pap's ultimate reward!
Fourth: Remember that children rise to your expectations of responsibility.
During each shooting session, I appoint one child to be the Range Safety Officer. A duty of that position is to make sure everyone there is behind the shooter, wearing shooting glasses and keeping their muzzles pointed in a safe direction. (Of course, I am watching like a hawk as the "real" RSO, but the kids don't need to know that.) 
Fifth: Remember that the child is watching, so be honest and lead by example.
On one occasion when the one granddaughter was 11, we were doing a range session after I picked her up from school. After she shot about 10 shots, I went to change the target.
She said, "Pap, I know what you are doing. You are seeing if I am paying attention. I am touching the rifle and you walked in front of me."
I replied, "Good pick up on safety! Now for the truth, which is I am used to shooting alone and simply went to change the target."
"You did?" she asked.
"Yes, and I messed up and we need to think safety at all times. Assume nothing from anyone, no matter how experienced!"
Sixth: Listen to the child to keep it interesting for him or her.
Keeping it interesting is critical, so remember that what you find interesting and what your grandkids do may not always match. As an example, when the twins were younger, they asked me to share my chocolate-covered peppermint patties with them. Instead, I hung the (wrapper-clad, of course) patties up on the backstop and told her that if she could hit it with a pellet, she could eat it. "But if you miss," I cautioned, "that peppermint patty is mine." Needless to say I went hungry, but their smiles as they joined in our family tradition and hobby were dessert enough.