by
posted on June 20, 2014
Ladies, are you hitting the range and need a new bag for your gear? Leave the black range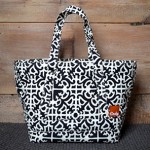 bag at home, and try the Cody Deluxe range bag. These bags come in five fun pattern options. The Cody Deluxe features two spacious pockets to fit a full-size Cody pistol clutch (sold separately) and four magazines. Small accessory pockets are also included on each end to hold smaller items such as eye protection, keys, etc. The Cody Deluxe range bag is made in the USA of 100 percent cotton, features nylon lining, and comes fully padded.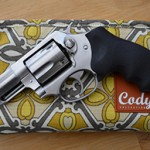 Now, I don't usually go for products that are "girly," but I saw this and my eye was immediately drawn to it. The Cody pistol clutch and mini pistol clutch are a great option for storing pocket and full-sized handguns. The YKK zipper can be locked with a luggage padlock if you so choose. For less than $50, you can own one of these stylish cases to keep your firearms protected while in a bag or purse. Two elastic straps inside hold the gun and magazine in place in the mini pistol clutch.
For more information, visit BangBangBoutique.com.