by
posted on November 2, 2018
When you're heading out on a family vacation, sometimes it's better to make it a road trip than to simply wing your way to your destination. America is chock-full of strange, odd, eerie and delightful natural attractions that will help instill a delight for the outdoors in your kids. Here are four such awesome places to stop the car for a leg-stretch and some photos...and one where you really ought to just keep on driving.
1. Do: Devil's Kettle Falls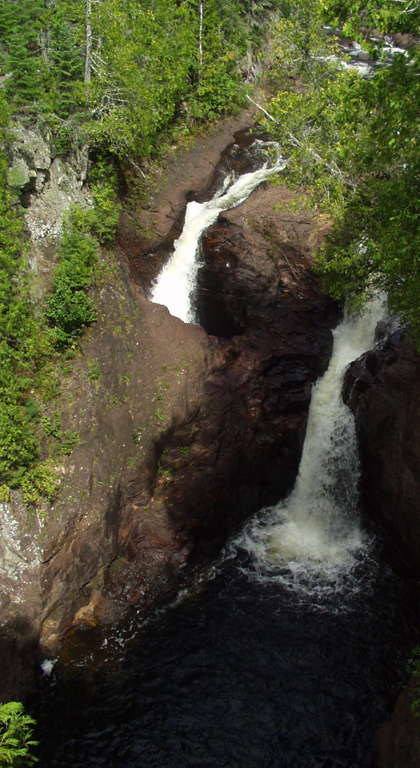 The Devil's Kettle, located in Minnesota's
Judge C.R. Magney State Park
, is a true outdoor mystery. This unusual double waterfall results when the Brule River flows past an outcropping of volcanic rock, splitting the river in two. One side of it flows downward into a regular waterfall. The other side, however, drops into a hole and...disappears. After decades of scientific study, nobody knows where it goes. The common theory is that somehow the volcanic rock formed a lava tube when it was first erupted, but it's the wrong kind of rock—basalt and rhyolite. Over the years, researchers have dumped all manner of dyes and objects into the Kettle in an attempt to find out where they end up, but they simply never have.
The Devil's Kettle is about a mile-long hike into the park, involving some climbing, but as long as your family is in reasonable physical shape, the trip isn't terribly arduous. Although we don't recommend you do this yourself, some time ago an intrepid hiker was able to take advantage of low water levels to get
this inside video of the Kettle's maw
. 
2. Do: Sedona's "Vortexes"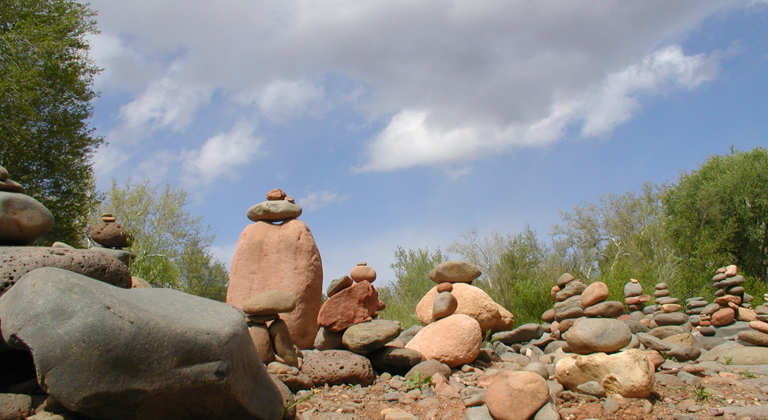 The Sedona "Vortexes" are specific places in the Sedona, Arizona Red Rock area that many New Age followers believe contain enhanced levels of "earth energy." The claim is that this heightened energy swirls in a vortex, like a tornado or water going down a drain, and that it can result in heightened feelings of peace, spirituality and creativity in sensitive people.
Whether or not you believe this, the area is certainly strikingly beautiful and well deserves its place as one of America's most loved natural features. Most of the "vortexes" are accessible by short (one mile or less) and relatively easy hikes, although the rocky desert terrain calls for good hiking shoes. The city of Sedona offers extensive lodging and meal options, so it's a great place to make a daylong diversion in your road trip. Be sure to stop by the
Red Rock Visitor Center
for a parking pass and a map. 
3. Do: Devil's Tramping Ground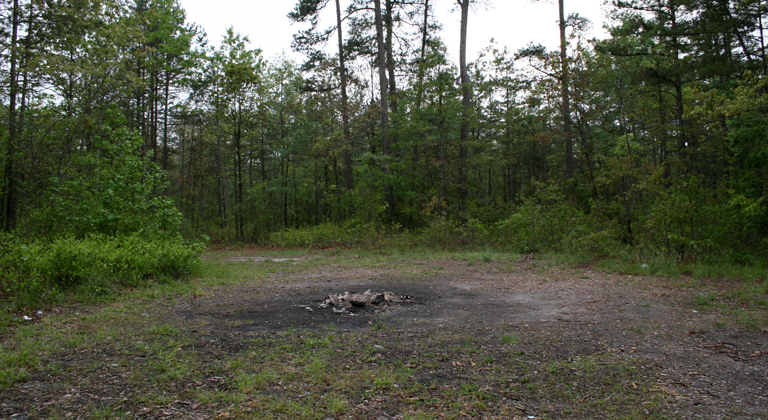 Photo by Jason Horne
The "Devil's Tramping Ground," which is located approximately halfway in between Greensboro, North Carolina and Fayetteville, North Carolina, is a bare circle about 40 feet in diameter. Local legend holds that it's one of the places where Old Scratch himself can appear on Earth, and that he uses it to stomp in endless circles. According to the stories, that infernal presence is the reason that nothing has grown in the circle for over 100 years. Greensboro journalist John William Harden had this to say about the Tramping Ground: "Chatham
natives say... that the Devil goes there to walk in circles as he thinks up new means of causing trouble for humanity. There, sometimes during the dark of night, the Majesty of the Underworld of Evil silently tramps around that bare circle-- thinking, plotting, and planning against good, and in behalf of wrong. I have heard that boy scouts spent the night there and woke up with their tents a few miles away. There were also some guys who tried to stay up the whole night there. 2 men attempted to stay up all night, but were lulled to sleep by a soft voice." 


Of course, there's no evidence of any kind that the Tramping Ground is the result of anything other than the activity of prankish teenagers, who were every bit as mischievous back in the nineteenth century as they are now. However, the longevity of the legend—and the ardor with which locals will swear to it—certainly make it worth a quick side trip.
4. Do (But Exercise Caution): Yellowstone's Hot Springs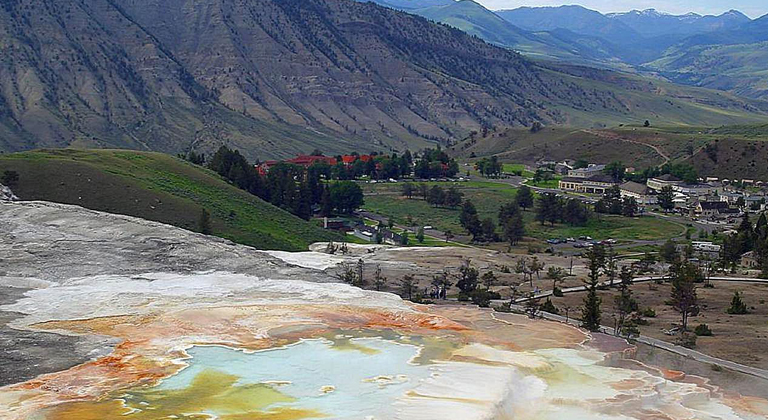 Yellowstone National Park, a massive wilderness area encompassing almost 3,500 square miles and including parts of three states (Montana, Idaho and Wyoming), is one of America's most famous natural attractions. One of its most iconic features is Old Faithful, the world's most faithful geyser. However, Old Faithful is just one of the thermal features of Yellowstone, which include other geysers, mud pots, steam vents...and hot springs. The hot springs make for stunning viewing and photography because they feature concentric rings of water in descending temperature, in which different kinds of bacteria thrive. The result is rainbow-colored ponds and pools that look for all the world as if they'd been Photoshopped.
However, it's extremely important not to venture off the marked trails for a closer look or touch. Many of the springs feature water that's at or near the boiling point. What's more, there are areas around the springs that
appear
to be stable ground, but are in fact a mere thin crust just inches from superheated water. Sadly, there have been some tourist deaths resulting from accidental falls into the springs.
5. Don't: Area 51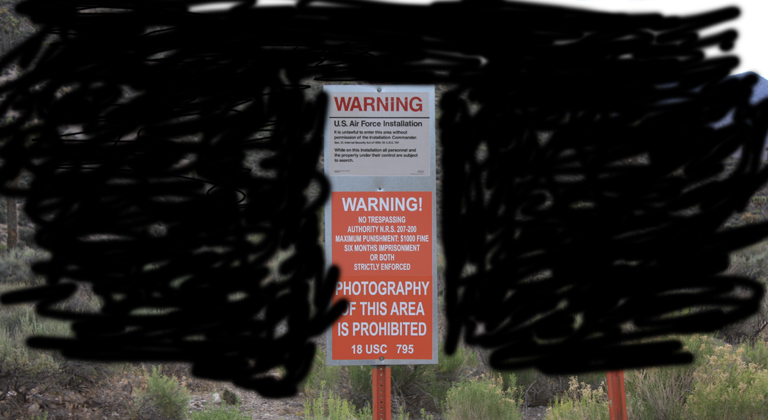 No, I did not take that picture. I did do the hilariously bad Photoshop, though.
If you enjoy alien invasion movies, then chances are you've heard of Area 51. It's a real place, but it is strongly suggested that you limit any interest you may have in it to the aforementioned movies. As many UFO enthusiasts have discovered, the Air Force has
zero
sense of humor about people trying to sneak on to the Nevada site to try and catch a glimpse of a little green man. Arrests, fines and jail time can absolutely result (
as this BBC crew found out
).
If you're in Nevada and would like to see something unearthly, why not check out
Valley of Fire State Park
instead? The eerie-looking natural red sandstone formations have played home to thousands of years' worth of human history, including the mysterious Basket Maker and Anasazi Pueblo people, so the scenery is matched only by the site's historical value. (Plus, you won't wind up in handcuffs.)
What's your favorite American road-trip must-see? Tell us in the comments!