by
posted on October 11, 2021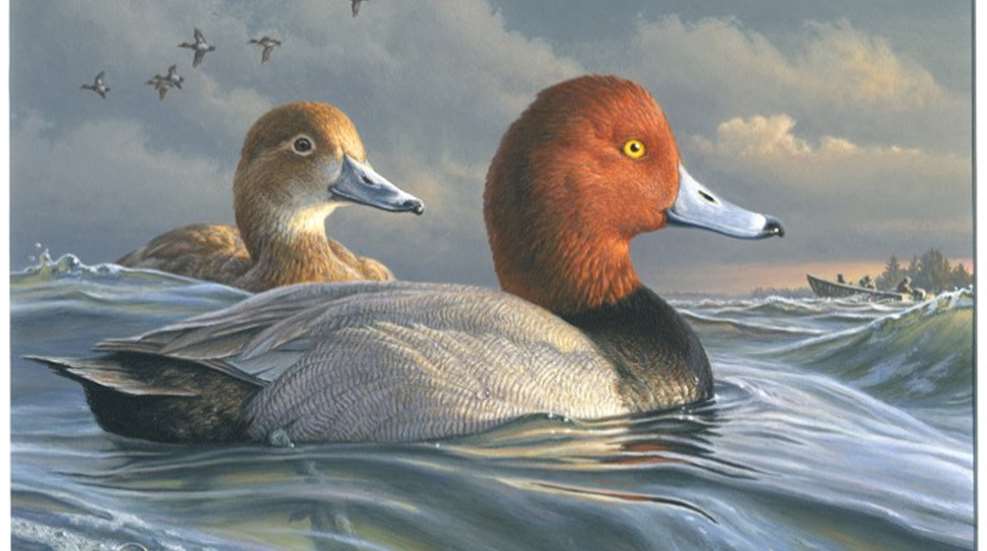 The results of the 2021 Federal Duck Stamp Art Contest were announced just a few weeks ago, and the winner was Jim Hautman of Chaska, Minnesota, for his acrylic painting of a pair of redhead ducks, a male and female, bobbing on choppy waters. Hautman's image will become the 2022-2023 Federal Migratory Bird Hunting and Conservation Stamp, which goes on sale in late June 2022. The $25 Duck Stamp is required to be purchased by all waterfowl hunters nationwide, ages 16 and older.
The Federal Duck Stamp Art Contest is the oldest and most prestigious wildlife art competition in America, begun in 1934, the same year the stamp was initiated. Duck Stamp paintings are judged anonymously by a five-person panel of noted art, waterfowl and stamp authorities. Stated in football terms, it's like winning the "big game" for a wildlife artist.   
But the story within the story this year is that Hautman is now the only person to have won the federal Duck Stamp art competition six times, surpassing his own brother, Joe, and the now-deceased Maynard Reece (1920-2020) who have both won five times. But wait, there's more… 
Jim Hautman and his two brothers (Joe and Bob), all professional wildlife artists, have now won 14 of the annual art competitions in the last three decades. That's nearly half of the federal Duck Stamp contests won by the members of just one family—an astounding feat that will likely never be replicated.
In describing his latest win, Jim Hautman said respectfully of Maynard Reece, a native Iowan, "He was the first to get five wins, and when I first started out [painting] no one thought beating that record would ever happen. This win is pretty special."
One of the reasons that besting Reece's record was so unlikely was a contest rule change that took place years ago, stating that the winning artist could not reenter the Duck Stamp contest for the following three years. As a result, it took Hautman 32 years to accomplish his unprecedented record, having won previously in 1989, 1994, 1998, 2010, and 2016.
Another contest rule changed only recently. Mandated during the Trump Administration, it required that in addition to the image of at least one of several designated species of waterfowl, contest entries must also include some hunting imagery to meet a "celebrating our waterfowl hunting heritage" theme. Under the Biden administration, that requirement has now been rescinded, beginning with next year's competition.
Either way, Duck Stamps will continue to raise some $40 million annually. Since the program's inception 87 years ago, Duck Stamps have generated more than $1.1 billion, resulting in the preservation of six million acres of wetlands in the National Wildlife Refuge System—an accomplishment for which waterfowl hunters can be justifiably proud.
The three Hautman brothers credit much of their professional success to their parents and supportive home environments. They likely inherited much of their art talent from their mother, Elaine, who was an accomplished and prolific painter in her own right. Their father, Tuck, instilled in his sons a love of the outdoors and hunting (especially for waterfowl), and a strong commitment to wildlife conservation.
As previously mentioned, Joe Hautman is also a five-time Duck Stamp winner: 1991, 2002, 2008, 2012 and 2015. But before becoming a fulltime wildlife artist, he studied physics and astronomy at the University of Minnesota, eventually earning a Ph.D. in Theoretical Physics from the University of Michigan.
"In the midst of an active research career, I began entering the Duck Stamp contest as a way to exercise my artistic skills," said Joe. His unexpected first win, in 1991, surprised not only the wildlife art world but Joe himself, convincing him to make a career change that he has never regretted.
Brother Bob Hautman has won the Duck Stamp competition three times: 1996, 1999 and 2017, finishing second this year with his rendition of Ross' geese. In addition, he and his two brothers have painted 12 stamps for the United Nations Endangered Species Program. The trio's wildlife art has also appeared on numerous state duck stamps, and thousands of prints of their original paintings have been sold to support conservation organizations such as Ducks Unlimited, Pheasants Forever and the National Wild Turkey Federation.
The Hautman brothers were also featured in The Million Dollar Duck, a 2016 documentary about the Federal Duck Stamp Contest. The film takes its name from the fact that although no cash prize is awarded for winning the Duck Stamp, the winner retains the copyright to his or her painting; the sales of prints and associated items of which are rumored to be worth a cool one million dollars.
Another interesting movie-related sidenote is that some of Jim's original artwork, his name and a likeness of his studio were included in the 1996 Academy Award-winning film Fargo.
To view all three Hautman brothers' artwork, visit their website at www.hautman.com. If you'd like to learn more about the Federal Duck Stamp Art Contest, click here: https://www.fws.gov/birds/get-involved/duck-stamp.php.