by
posted on November 8, 2022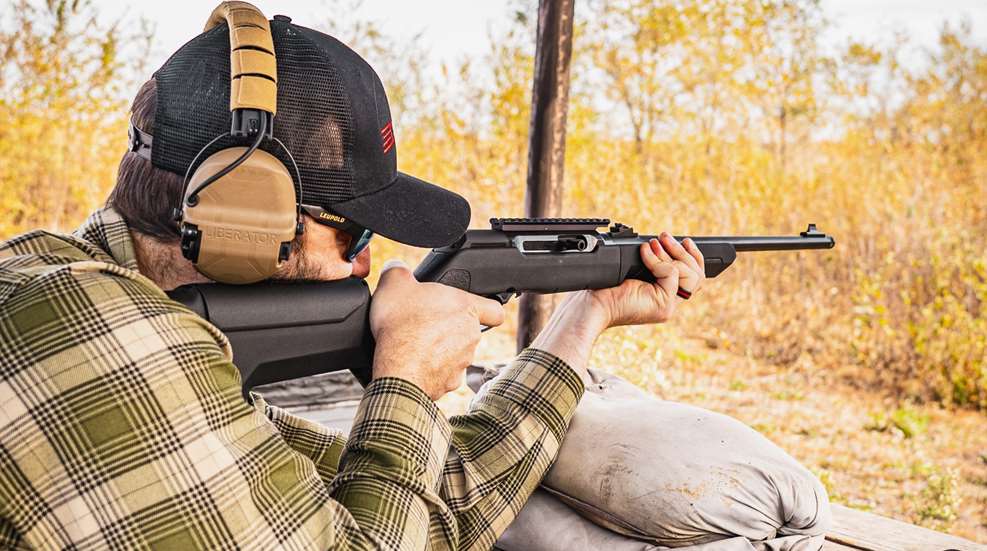 Savvy outdoorspeople know that a rimfire caliber survival rifle is your best friend on an outdoor adventure. Trouble is, rifles by their very nature tend to be difficult to fit into a backpack. That's why hunters, campers, hikers, boaters and everyone who loves the outdoors will be excited to learn about Savage Arms' hottest new release: the A22 Takedown. The most exciting feature of this new survival gun is its simplicity: You can break the rifle down into two compact components with a simple 1/4 twist. Yes, it's that easy.
Of course, the A22 line has been around for a while, and it's a big favorite with shooters. This new addition to the line shares all of the DNA of the rest of its family, including that one measurement that means the most: its accuracy potential. This rifle boasts a zero MOA Picatinny rail that you can use to mount an optic ... or, if you prefer, you can just sight down the rail with the iron sight channel that runs down the center of the A22's pic rail. 
The next feature that makes this an optimal survival rifle is its carrying capacity. This semi-auto boasts a 10-round rotary magazine, which is something of a departure from most survival rifles (many of which are single- or two-shot firearms). That said, we're also referring to the gun's stock, which also serves as a storage compartment. Well, two storage compartments! There's a magazine compartment in the cheek riser and a storage compartment in the pistol grip. What a perfect place to put your firestarters, fishing line and other survival gear!
Of course, given its pedigree, the A22 takedown also boasts the famous Savage Accutrigger, which is index-finger-down the nicest factory trigger on the market. You can adjust it from 3 to 5 pounds in trigger pull weight, so it's custom tuned to your own optimal firing sequence. 
This rifle encompasses all that the A Series represents with redefined speed, precision and accuracy-enhancing qualities. The A22 Takedown presents an effortless breakdown, acting as the perfect backpack gun for tough hunts and hikes. 
"No other rimfire rifles bring the versatility and flexibility of the A22 Takedown," said Beth Shimanski, Director of Marketing at Savage Arms. "Weighing in at only 6lbs and available in 22LR, this rifle is specifically designed to improve your outdoor adventures with the ability to easily transport it in your pack. Savage is thrilled to bring the A22 Takedown to the market this upcoming year." The price is nice, too: $479. SavageArms.com