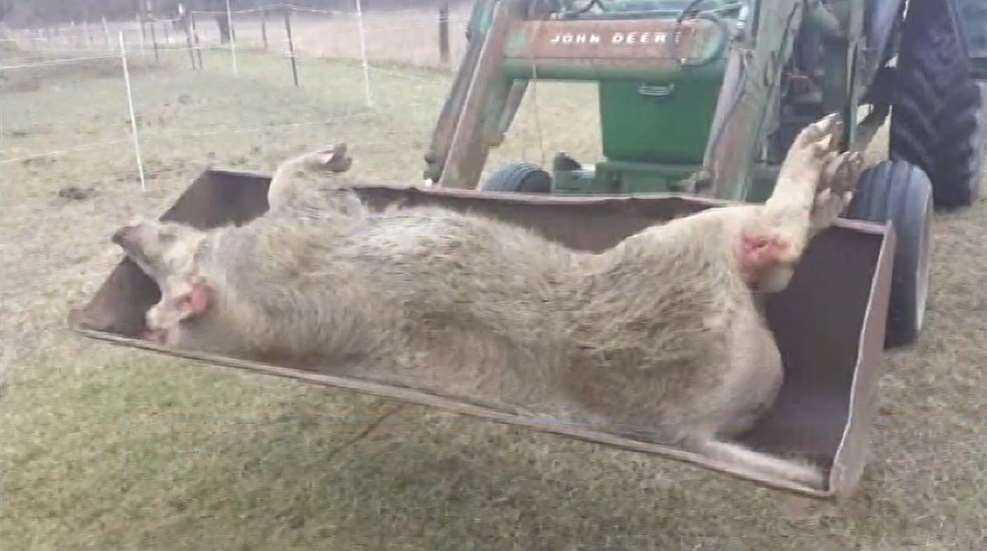 "Our house is usually very quiet and calm and docile," Michelle Deemer told a local reporter. "…last night was just a crazy, crazy night." Crazy, yes, and also very rare. What caused the alarming disturbance wasn't something normal, it was abnormal: a 600-pound, 6-inch-tusked massive hog. "It was big, white and muddy," said Michelle. "It was the size of a small pony."
The hog, who reporters later said is believed to have been a neighbor's animal, ripped through the fence containing the Deemers' horses. It tore up her land, rolled in her hay and released her horses—with four of them running more than two miles away.
The Deemers easily spotted the massive hog, and called police and animal control.
Pictured above, you can see that the hog was too big even for a tractor bucket. "It's definitely something that's unusual and something we don't see every day," said Allegan County Undersheriff Frank Baker.
Whether this hog has an owner, or if it's indeed a member of the spreading population of feral hogs in the U.S., remains to be seen, but precautions must be taken. Feral hogs can carry numerous diseases that can infect livestock and humans, such as pseudorabies, brucellosis, E. coli, salmonellosis and more. A Michigan Department of Natural Resources wildlife biologist, Mark Mills, hopes to take the head in for disease testing. 
As for the Deemers and their land, they have a lot of work to do since their monstrous visitor. "A huge inconvenience," Michelle said.
Feral hogs are a major problem for many states in the U.S. To learn about their history, biology, environmental and economic impacts and more, click here.