by
posted on February 26, 2021
Let's face it, ammo is expensive and a little hard to find these days… and .22LR is pretty easy on the wallet! If you're looking for some great rimfire shooters, 2021 has some exciting new offerings from your favorite gun designers and manufacturers. Here are six that caught our eyes.


1. Winchester Wildcat 22 SR
Having used a Winchester Wildcat of my very own for instructing new shooters on the art of the bolt, I can personally attest to the reliability and accuracy of this long gun. Ideal for plinking and varmint hunting alike, it appeals to the masses regardless of intended use. What is unique about this new variant is that Winchester created this option to be suppressor ready. With a composite stock and a barrel length of 16.5 inches, the Wildcat 22 SR weighs in at only 4 pounds, so even the youngest of shooters will not struggle to shoulder this rifle. Easy on the eyes, and easy on the ears! MSRP $279.99; Winchesterguns.com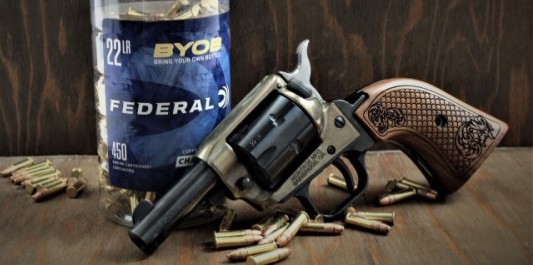 2. Heritage Barkeep
The Heritage Barkeep hearkens back to the days of Miss Kitty keeping watch over her saloon patrons should things get a little rowdy in Dodge. Available in two different variations, customers can keep it classy with the Gray Pearl option, or roll up their sleeves and get to business with the Custom Scroll Wood variant. There's an additional cylinder option available should you wish to run 22 WMR. This pocket-sized single-action revolver has a cylinder capacity of six rounds, a barrel length of 2 inches, and weighs less than that burrito you had for lunch. MSRP: $189.39; Heritagemfg.com


3. CZ 457 Varmint Precision Trainer MTR
The CZ 457 Varmint Precision Trainer MTR tops our list for rimfires looking to reach out to distance…yes, you can shoot .22LR past 100 yards! The fine folks at CZ upgraded this 457 with a match-grade heavy barrel, carbon-fiber stock, and push-to-fire safety. Other features introduced to this new offering include an adjustable trigger, revised bolt rotation and integrated dovetail rail ready to accept an optic of your choice. MSRP: $1,449.00; cz-usa.com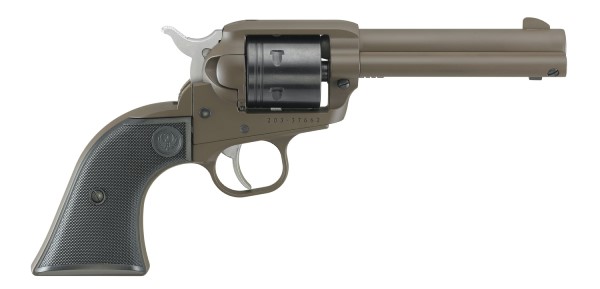 4. Ruger Wrangler
This Davidson's Distributor Exclusive features the Ruger Wrangler now with an eye-catching Plum Brown Cerakote finish. Love the gun, but not the color? No worries, as the Wrangler comes in a wide array of color options to meet your own personal taste. With a six-round capacity, synthetic checkered grips and a barrel length of 4.62 inches, this single-action six-shooter is a great option for general target practice with your favorite reactive rimfire targets! MSRP: $208; Ruger.com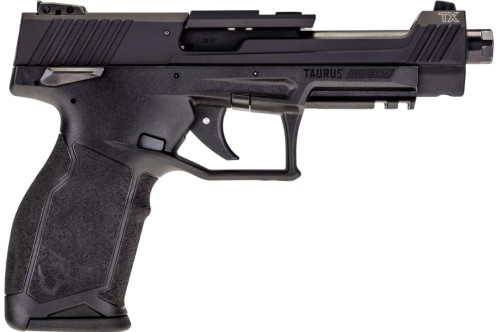 5. Taurus TX22 Competition
The Taurus TX22 Competition is a feature-rich package in a small compact frame.  This ready-for-competition rimfire ships with your choice of either three 16-round capacity magazines, or three that are capped at 10 rounds for more restrictive locales. Included for those wishing to mount a reflex optic to the TX22 Competition are two double-sided adapter plates allowing for use of just about any red-dot sight you care to run. Weighing in at less than 1.5 pounds and combined with the near absence of recoil, this rimfire comes back on target with ease after each and every shot. The TX22 Competition proves itself to be a go-to for match training while saving money on the cost of ammo! MSRP: $484.85; Taurususa.com


6. Savage Rascal Minimalist
The Savage Rascal, a perennial favorite for parents who wish to teach gun safety to their kids, receives a facelift this year. With new laminate stocks offered in either Teal/Gray or Pink/Purple variants, parents may be tempted to grab one of each to prevent the little ones from fighting because they are not taking turns. Do not let the name fool you, as the Rascal Minimalist features the ever-famous adjustable Savage Accu-Trigger we have come to know and love. Accurate, dependable, and built for the youngest of first-time shooters in mind. MSRP: $285; SavageArms.com
With these options, those we could not mention here today, and those yet to be made available in the coming months, one thing is certain: There is something for everyone in the world of rimfire! Don't let ammo costs and scarcity get in the way of continued training. Grab your favorite rimfire, a box of ammo, and head to the range with your friends and family…you'll be glad you did!