by
posted on December 24, 2013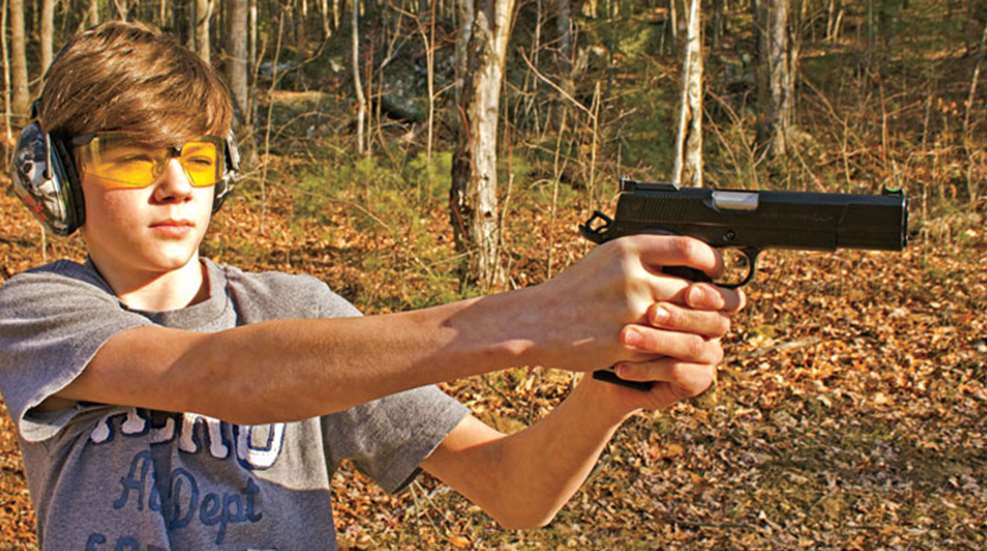 Nope, the caped crusader is not going around armed these days. The BatMann Pistol is Wilson Combat's interpretation of a 1911 configured for a shooter who may have small hands, is new to shooting, has limited arm strength or a combination of all three. While this may seem like an odd name for such a handgun, there is a back story.
During the summer of 2011, my 11-year-old son and I were hog hunting with Bill Wilson of Wilson Combat at his Circle WC ranch near Cuthand, TX. I'd asked Wilson to give my son a bit of handgun-shooting instruction one morning. After all, Wilson is a very accomplished competitive shooter and one of the founders of the International Defensive Pistol Association (IDPA). It was during this range session the concept of the BatMann Pistol was born.
You see, my son's name is Bat. Actually, it's Sabastian, but his nickname is Bat, like Bat Masterson who was a lawman, railroad detective and sportswriter. If you add in his last name, you get Bat Mann—a name he uses to his advantage, if for no other reason than because young girls think it's "the bomb." There were no girls on the range that day, but there were a lot of handguns. Wilson just kept pulling them from the safe searching for one to match to Bat's hands and shooting skills.
After about an hour of this he turned to me and said, "That boy needs a pistol that fits him, and I know how to build it. We'll call it the BatMann Pistol." Wilson had a spark in his eyes, like I'm sure he gets before every new project, and he began rattling off the specifications for this new 1911. In the end, he commented this would actually be a very practical pistol; one that anyone with small hands, limited strength and especially those people new to handgun shooting would relish.
Of course, Wilson is right. Match-ing the handgun to the shooter is the definition of practical at its basic level. When humans purchase other personal items, they do so by size. You want shoes that fit and pants that won't fall down when yousneeze. Selecting a handgun just because it's what the local police carry or because it is named after some TV star or a gunwriter is as ludicrous as drinking a swamp-water energy drink because some celebrity does. A handgun should be an extension of you, and that necessitates it fits you.
When designing the BatMann Pistol, Wilson looked at all of the critical areas of human interface with the 1911. These include its weight, grip, trigger, recoil, slide operation and sights. By blending specific Wilson Combat parts with his vast shooting experience, he was able to tune the 1911 to perfectly appease a 1911 shooter like my son. Wilson's 38 years of gun-building experience—influenced by Armand Swenson and Jim Clark Sr.—provided the foundation from which to build.
He started with a Wilson Combat Ultralight Carry pistol, a full-size1911 built on a machined-aluminum frame. The idea was to reduce weight without sacrificing sight radius or increasing muzzle flip. This makes perfect sense. Young and new shooters have not developed the necessary muscles to help them keep a heavy gun on target for extended periods. This pistol weighs 20 percent less than a steel-frame 1911.
Wilson installed a set of his company's thin G10 grips, reducing grip circumference by .25 inch and adding minimal weight. The frontstrap and mainspring housing were checkered at an extremely fine 30 lpi to help facilitate purchase. Executed perfectly, the checkering is not sharp. Rather, it feels more like a textured surface. The bottom portion of the mainspring housing is also slightly rounded to eliminate the sharp edge. A standard—not a high-ride—beavertail safety completes the grip.
Trigger reach is another important consideration. When working with small hands and short fingers, the standard or long 1911 trigger can inhibit accuracy because it makes the trigger finger push the gun to the side. By installing a short trigger, this distance is decreased by .2 inch. It may not sound like much, but if your fingers are short it can feel like a mile.
Trigger-pull weight is also critical, but not as much as trigger travel and function. New shooters need an impeccably consistent trigger. This is crucial during the development of basic-shooting skills, and trying to hone these skills with an inconsistent trigger is like trying to throw an unbalanced football. Wilson fitted the trigger and adjusted it to have minimal take-up, minimal travel and an always-consistent 3.25-pound pull weight.
Perhaps the biggest problem new or small-handed shooters face with handguns is recoil. If recoil impulse is too intense, it can induce flinching and possibly make the pistol painful to shoot. Shooting should be fun, not painful, and for this reason Wilson—a .45 ACP fan—chambered this pistol in 9 mm. From the same weight handgun, 9 mm recoils with half the force of .45 ACP.
There's another advantage to a 9 mm 1911. If set up for use with standard-pressure loads, the slide is much easier to operate due to the reduced spring resistance needed to allow it to properly cycle, but still protect the frame. The difference in slide-operation effort between a 9 mm and a .45 ACP is proportional to the reduction in recoil: about half as much force is needed.
Wilson made some other modifications to the slide, too. At the front you will find what Wilson Combat calls Carry Cuts. These shave the front section of the slide down from a width of .925 inch to .888 inch. It doesn't sound like much, but it slightly reduces weight and adds a very distinctive, Browning Hi Power-like look. Wilson also beveled every sharp edge to the extreme. Mostly a carry-gun modification made to reduce holster and clothing wear, its purpose on this pistol was to eliminate any edge that might injure the hand of a new shooter during manipulation. This, like excessive recoil, could turn a new shooter against their pistol.
For the final, but by no means least-important area of shooter-and-pistol interface, Wilson addressed the sights. The rear sight is a Wilson Combat Low-Mount Adjustable Sight with a Battle Blade. On the other end, the front sight is a .150-inch-wide Wilson Combat green fiber-optic sight. The Battle Blade has a wide U-notch meas-uring .145 inch. When combined with the bright-green fiber-optic front sight, the shooter has an easy-to-alignsight system that will not fatigue the eyes. Similarly, it will not induce the trigger panic associated with traditional sights that beg for a more precise alignment.
I can tell you from experience this was a good call. Target-style sights that leave little room for daylight on either side of the front blade make shooters want to establish a perfect sight picture and slow the shot sequence. For this reason, most of my carry guns are fittedwith the Express-style Big Dot sights from XS Sight Systems, which are conducive to the front-sight-focus method of pistolcraft. The same effect is achieved—and perhaps improved upon—with the wide U-notch of the Battle Blade when combined with the bright-green fiber-optic unit up front. These sights kind of find themselves.
Aside from these particulars, this pistol is assembled with all the perfection and attention to detail you would expect from Wilson Combat. There are no tool marks, and the fit and finish are impeccable. Operating the slide is every bit as buttery smooth and effortless as applying warm tanning oil on a hot model. It's enough to make the most devoted plastic-pistol aficionado drool.
The $64,000 question is, were the modifications successful? The only way to know for sure was to put rounds downrange. After a few minutes of dry-fire, Bat and I loaded up several magazines and he started on paper at 7 yards. You could cover his first eight-shot group with a snuff can. We backed off to 10 yards and the next eight shots went into a group only slightly larger. Stepping over to steel targets at the same distance and turning up the speed, Bat put eight shots on a silhouette-size target in less than 4 seconds. The improvement, when compared with any of the handguns he shot in the past, was astonishing.
To further test the BatMann Pistol concept, I had my wife—a recent Gunsite graduate—give it a go. She and Bat are about the same height and she'd been using a steel-frame 1911 in 9 mm. But, her pistol had not been optimized with a new shooter or small hands in mind. Her results were similar, and her smile proved the concept is sound. "This gun feels right," she commented.
In the interest of full disclosure, I must admit I've shot this pistol as much as they have over the last several months. Granted, I have big hands and need a long trigger on a 1911 (with the short trigger I have a tendency to pull the handgun to the right during the trigger stroke). However, the BatMann Pistol is a joy. I would be happy with one, even if it had Wonder Woman's name on it.
With a base price of $3,650, I'm not suggesting you order one today as a first gun for your wife or one, as I'll do, to present to one of your kids when they're 21 years old. If you live anywhere around dollar bills like I do, this is a major purchase and one that should be devoted to someone serious about shooting, like my son or his mom. Surprisingly, however, Ryan Wilson—Bill's son who now runs Wilson Combat—tells me a large portion of the company's sales are trending to first-time handgun buyers. I'm guessing these folks have done their research and are buying what they've found to be considered best in class. In our case, I can't ignore how much this pistol improved every aspect of my son's and wife's shooting. We're all in agreement; this is a check we must write.
Don't think of the Wilson Combat BatMann Pistol as a pistol named after my son, or the Dark Knight or one that is even gunwriter endorsed. While my son may have been the inspiration for this handgun, it's nothing more than a pistol perfectly customized for a specific type of shooter. Granted, from a marketing standpoint, the BatMann Pistol does sound a lot better than the small-handed, weak-armed, novice's 1911. The great thing about this custom Wilson Combat 1911 iteration is you can name it anything. The company will engrave your son's name, or an image of whatever you like on the slide.
The special engraving might boost the shooter's emotional attachment to the handgun, and there is no arguing that liking your handgun is important. However, when the last round goes downrange and center punches the steel, it will be the fit that matters most. Wilson Combat has mastered the human interface with the 1911, regardless of your stature or experience level. While the real Batman will likely never carry a gun, if he ever decides to pack heat on the Batbelt, Wilson Combat can build one to fit him perfectly.