by
posted on June 19, 2018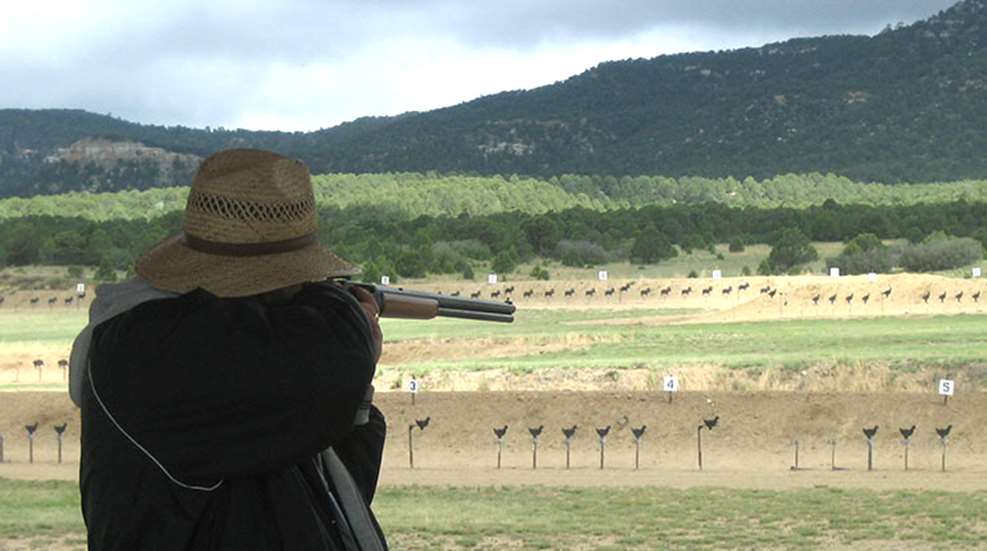 It is hard to describe the awesome feeling you get when you knock down a steel silhouette target. The loud "crack" from the bullet exiting the muzzle, followed by an even louder "clang" as you watch your target fly off the railing, is really addictive for most Silhouette shooters. As soon as you shoot your first target it is truly love at first sight. There is nothing better than shooting a game where you actually get to see your target react to the bullet. In fact, besides Silhouette, there are few other games that offer more interaction with the targets. This is truly what makes this game so much fun.
Silhouette shooting came to this country from Mexico in the 1960s. It is speculated that the sport had its origins in shooting contests between Pancho Villa's men around 1914. In the very beginning of the sport, live farm animals were used as targets. After the shoot, the shooters would have a barbeque with all the livestock that was shot during the match. These days, Silhouette uses steel silhouettes shaped like animals. The first Silhouette match to use steel targets instead of livestock was conducted in 1948 in Mexico City, Mexico by Don Gongalo Aguilar. After the Mexican Revolution the sport, which came to be called "Siluetas Metalicas," spread quickly throughout Mexico. As "Siluetas Metalicas" is a Mexican sport, it is common to hear the targets referred to by their Spanish names: Gallina (chicken), Javelina (pig), Guajalote (turkey) and Borrego (ram). On the range, chickens are up front, followed by rows of pigs, turkeys, and, farthest away, rams. (Depending on the discipline one is shooting, these animals are set at different distances from the firing line, but always in the same order.) As the sport spread and gained popularity during the 1950s, shooters from the Southwestern U.S. started crossing the Mexican border to compete. I have heard stories from older folks that competed in Mexico back then, describing Mariachi bands, food and drink behind the firing lines of these matches. Wealthy Mexicans, including high-ranking politicians and military generals, hosted them. Silhouette shooting came across the border from Mexico into the U.S. in 1968 at the Tucson Rifle Club in Arizona. The rules have stayed pretty much the same since the sport has been shot in the US. NRA officially recognized Silhouette as a shooting discipline in 1972, and conducted its first NRA Silhouette Nationals in November of 1972.
The sport of Silhouette is broken into several different disciplines: High Power Rifle, Smallbore Rifle, Cowboy Lever Action Rifle, Black Powder Cartridge Rifle, Air Rifle, Air Pistol and Hunter's Pistol. Cowboy Lever Action is broken into three subcategories, including Smallbore Cowboy Rifle, Pistol Cartridge Cowboy Lever Action and regular Cowboy Lever Action. Black Powder Cartridge Rifle also has a "Scope" class, and Hunter's Pistol is broken into four categories to include Smallbore Hunter's Pistol (with and without a scope), as well as regular Hunter's Pistol (scoped and iron sights). With so many different disciplines in Silhouette it just comes down to one thing: What do you want to shoot?
Finding a place to shoot is easy. NRA-sanctioned matches are found at gun clubs across the nation in every state. People even shoot Silhouette in different countries like England, Ireland, South Africa, Canada, Mexico, Australia and Italy (although some disciplines can't be practiced in some countries-like England-because they have outlawed handguns). Matches are held as regular monthly matches at most clubs, but there are also many state, regional, and national matches across the country as well.
Typically, all you need to start shooting in Cowboy matches is a lever gun, ammo, ear and eye protection and a binocular. Classification Score Books are sold at matches to competitors for $12 each. These books are for logging scores and tracking one's class status as you progress towards Master Class. You have to buy one to shoot in NRA-sanctioned matches. For other disciplines, equipment such as shooting mats, shotgun-style vests or shirts for recoil protection, and spotting scopes for calling shots are allowed. A lot of the rules structured around the Silhouette game are designed to make sure no individual has any unfair advantage over another shooter. The rulebook is there to provide an even playing field.
When you attend your first match, after buying your Classification Book, new shooters must shoot in the highest available class or in a special "Unclassified" class if the match sponsor provides one. After the match you will be classified based on your score. You'll remain in the same class until you shoot at least three scores in a higher classification. Usually, matches consist of 40 shots. The shooter will shoot 10 on each animal until all four different animals have been shot. In some disciplines, like Black Powder Cartridge Rifle, shooters shoot 60-shot matches-15 shots at each animal. Matches are a great place to learn from, and converse with, local shooters. The camaraderie alone found at matches is the sole attraction for some competitors.
All disciplines can have a spotter or coach. This is the person with whom you usually shoot. If you go to a match alone, you will typically be squadded with someone who also came to shoot by himself. They say that "behind every great shooter, there is an even better spotter," and this is very true. Competitors also have the option to shoot as teams. All disciplines allow three-man-team shooting. Team scores are based on the overall total (aggregate) between the team's competitors vice other teams' competitors during a match.
At the end of a match, prizes are usually awarded based on how you shot. The Silhouette classification system is based on a scale that is relevant to the scores one shoots at NRA-sanctioned matches. Master's Class is the highest class available, and it is followed by AAA, AA, A, and B Class. Awards are given to the top finishers in each class, and they are also given to the shooters with the highest match scores, including the match winners. There is nothing better than the public acknowledgement that comes with winning various trophies and awards at Silhouette matches.
Each summer, various clubs in different parts of the country host the NRA Silhouette Nationals. The NRA tries to move the championships from coast to coast each summer so more people from all over the U.S. and the world have a chance to compete closer to home. The Nationals consist of individual Championships for each discipline: High Power Rifle and High Power Hunting Rifle, Smallbore Rifle and Smallbore Hunting Rifle, Black Powder Cartridge Rifle and Black Powder Cartridge Rifle Scoped, Long Range Pistol, Hunter's Pistol and Cowboy Lever Action. It is possible competitors will see an Air Gun Nationals in the near future. Shooters from all over the world come to the Nationals. There is no better place to meet and shoot with some of the best of the best. It is a never-ending learning experience, not to mention a lot of fun.
Most of the time, the Black Powder and Cowboy Lever Action Nationals are shot at the NRA Whittington Center in beautiful northern New Mexico. This 35,000-acre shooting facility is the largest in the country. The altitude at Whittington is around 6,500 feet, which would classify the region as high desert. This true wilderness, well over a mile above sea level, is an interesting setting for competitive shooting. The facilities are amazing, as well as the scenery. It is common to see elk, mule deer, bear, coyote, roadrunners, antelope, rattlesnakes and hundreds of other critters. The legendary Santa Fe Trail runs directly through the facility. To this day you can still see where the wagon trains took early settlers West to start their new lives. Right on the side of the trail stands a bronze cowboy on horseback known as "The Scout" in honor of the great past NRA President Charlton Heston. They say that this region is where the Plains meet the Rockies. It really is an amazing place to host the NRA Silhouette Nationals.
The most important thing for the new Silhouette shooter to remember is to practice proper gun safety at all times. Mistakes are not an option with firearms, and shooters must always be carefu. It is really important to also remember to have fun. Most of the people that compete would say the best part of the match would be the fellowship, and good times behind the firing line. The third most important aspect of Silhouette would be to always listen to the guys who have been doing it for a long time. Their advice is based on years and years of experience, and a lot of the time advice is not given unless it works. The knowledge the experienced shooters have is priceless, and new shooters should try to absorb as much as possible to build a solid foundation in their competitive shooting futures.
Get Involved
You can find matches online through the Shooting Sports USA website, or sign up for a free Shooting Sports USA e-magazine. You can also call your local gun clubs to find out if any of them conduct NRA-sanctioned Silhouette matches, and when they shoot. For rulebooks and other information, just contact the NRA Silhouette Department or e-mail them at [email protected] For NRA Gun Safety Manuals or to find out where NRA rifle and handgun safety courses are being taught, please contact the NRA Education and Training Division at (703) 267-1500.