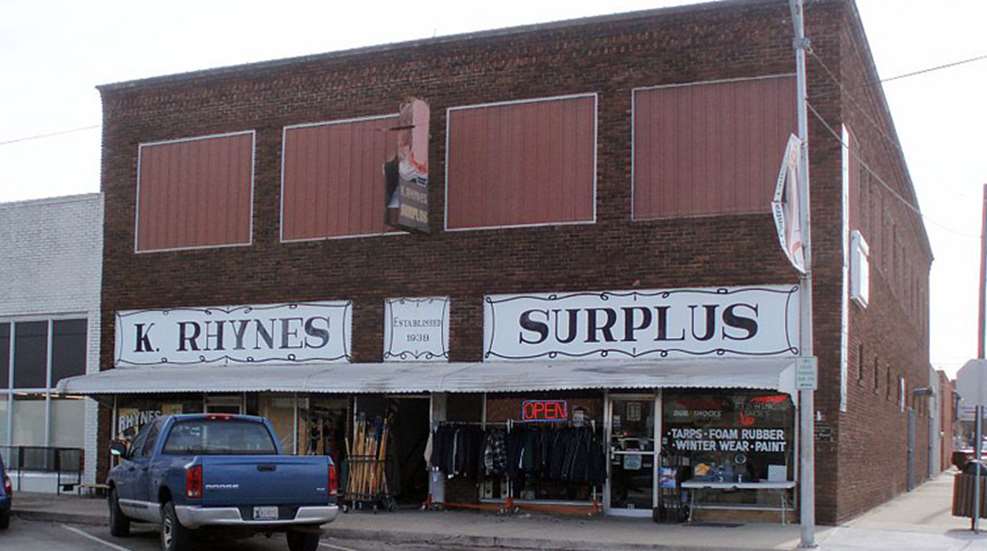 If you're like me you fondly remember the musty smelling army surplus store on the low rent end of Main Street. I was habitually amazed at all the great stuff an outdoorsman could find if I dug deep enough. Plenty of times I'd find an item and hold it up for the guy at the counter and ask, simply, "This?" to which he'd reply "Five bucks."
In the winter I practically lived in camo coveralls, and my hometown army surplus store in Ada, Oklahoma—K. Rhynes Surplus—was the place to get 'em. That and boonie hats, military issue BDUs, long johns, canteens, various ALICE gear pouches, pocket knives, gas masks, ghillie suits, machetes, lanterns, C-rations, rope and my personal favorite, Chinese throwing stars. While in this little boy's heaven I'd lose track of time, and my father would normally lose me amid the labyrinth of hallways and crawl spaces that overflowed with gear.    
These days, however, most of the military surplus stores are boarded up, thanks mainly to two things: Lack of surplus military gear, and the Internet. Those that still exist have adapted and now generally specialize in retail products like hardware or footwear. Still, there are bargains to be found at surplus stores all across America. I recently ventured back into K. Rhynes Surplus and looked for bargains. Here's what I found. Let's start with the bargains:
1. Camouflage clothing 
Evidently about 20 years ago the weird loners who smoke cigarettes at the carnival had a meeting and decided the woodland camo BDU winter jacket would be their official uniform. Thankfully today, however, woodland camo is back in vogue. You can pick up a jacket for around $30. But what hunter or survivalist among us wants such when you can ease into a U.S. Military Issue ECWCS Gore-Tex parka in desert camo for under $100? Even sweeter are the British and German issue Gore-Tex jackets and pants

—

if you can get your mitts on one before the next guy. Compare that to the $200-$400 you'll pay for a top-end parka at LL Bean.
The camo aisles down at K. Rhynes are flush with generic camouflage fleece jackets. Deer and most people over 40 can't tell that it's not Realtree, and the thick, fuzzy fleece is good for everything from sneaking up on a cobra to going to a high school football game in October. "It's 24.99," said owner Kenny Rhynes, as he held out a nice fleece jacket. Despite owning about six of them already, I was tempted.

2. Carhartts and oddities
Jennifer Holder is a self-proclaimed fourth-generation K. Rhynes customer. I asked her what she was looking for as her husband dug through a bin full of ax handles.
"I get my family's camo here … and Carhartts. (In case you don't know, Carhartt clothing is the official country folk clothing in the heartland and Midwest. Folks wear this tough, 100-percent cotton duck stuff to farm, to hunt, to go to school and to survive winter.)
"We also find oddities like ..." she said as she nodded over to her husband, "ax handles. We like digging through boxes to find bargains. There's nothing you need for an outdoor lifestyle that's not here!"
Carhartt jackets (bibs and pants are also available) start at $69. "We get in military surplus when we can get it," said Rhynes. "But I never know when that'll be. What I can count on is footwear. People still buy footwear at a store, because they can't try them on over the internet." 
Kenny's got everything from generic Crocs to Justin work boots, cowboy boots, cheap Chinese rubber boots, combat boots, tennis shoes, hunting boots and flip flops. "We're very competitive on footwear. I've seen customers scan the barcode [so they can buy the same product online] but they always end up bringing them to the counter, so I know I'm competitive." For example, he offers an excellent, American-made Red Wing Dyna-Force steel-toed work boot for $149.

3. Tactical pants 
Last I checked, a pair of 5.11 tactical pants—yes, the modern gun-owning guy's go-to outfit—cost anywhere from $39 to $100. K Rhynes has multi-pocketed tactical pants in all the common tactical colors for $35. "I've had customers tell me they've searched the Internet and can't find them cheaper," said Rhynes.

4. Gun Cases and bandoleers
"Here's a soft case for your shotgun," said Rhynes, obviously proud of the bargain he'd found, negotiated and bought in bulk to offer his shoppers. "That's 1200 Denier nylon, not 600. That thing will last a lot of years. It's $17.99. That's a bargain!" 

5. Paracord
You need 550 cord? Don't buy anywhere else than from a surplus store. I'm convinced C-130s airdrop it by the pallet. It sells it by the foot or spool, so don't go buying a single survival bracelet from The Sharper Image. Buy a spool of 550 PC and teach your kids how to make stuff. They'll wind up selling it. You'll have plenty left over for trip wires, duck call lanyards, tie downs and anything else that needs hog-tying. $5.99 per 100 feet or $49 for a 1,000-foot spool.

6. Backpacks
I like to tell the story of the teal-green camping backpack I bought at K. Rhynes after I graduated high school for about $50. Today, as an outdoor writer, I have my share of top-end backpacks—most of which cost between $250 and $500. But I still use my old K. Rynes special. It remains in good shape, there are not so many pockets that I lose stuff in it, and it's familiar. Point is, you can get a well-made, denier nylon backpack for camping or for your kids for school at most surplus stores. Most of them are tougher and cost half as much as those from Abercrombie and Fitch...from $20 to $100. 

7. Hardware
"Now with Internet giants that sell everything, brick and mortar stores like us have adapted to survive," said Rhynes. "If you need a specific wrench or a lightswitch, generally you need it right now, not in a few days. So our hardware always sells." He has a 128-piece tool kit for $59, and every odd-sized wrench you need if you search long enough.
And now, sadly, the busts:

1. Ammo Cans
Back in the day, a shooter could get a military surplus ammo can—you know, the army-green metal kind with the lever-type lid and watertight seal—for a few bucks. Now all of the ammo hoarders (and there are a lot of us out there) buy them all, and you can't find them anywhere. So you have to buy new, made-for-consumer ammo cans. But I think $26 is too much for an aluminum box, so I buy plastic bins instead.

2. Ammunition
It used to be that the surplus store would always have ammunition staples like .22LR, .223 and .45 ACP in bulk. No more. It's in too high demand, places like Bass Pro sell it by the case, and surplus store owners aren't keen on paying full retail because they know most of their customers come into their store to find bargains. You'll still occasionally find some, but don't count on it.

3. Guns
Most military surplus store owners are not the organized type—in fact, that's what makes their places so fun to shop. But guns are highly regulated and, if the owner becomes a licensed dealer, it opens his doors to audits and "compliance checks" by the ATF. Kenny said  this is the reason his father decided not to carry guns long ago; it's too much hassle for profit margins that are too narrow. So don't go to the military surplus thinking you'll come home with an M1 Garand.

4. Batteries 
Batteries often have shelf life, and many things that surplus stores buy have traveled a long road—or plane ride from Hong Kong—to get there. It's very difficult to compete with Walmart and the big boys on batteries. 
Final thoughts:
I've got nothing against good ole-fashioned capitalism and competition that drive prices down—even if it's from the Internet—but I believe that something beneficial would be lost for citizens if all such surplus stores were put out of business by Amazon. People converse in these stores, search for bargains, talk about the weather and politics, and learn to politely haggle. Going into a military surplus store is not just about the gear and the prices, it's an experience in Americana itself. So, if prices are close, I'd urge you to support your version of K. Rhynes Surplus.