by
posted on February 3, 2020
Mammoth Cave National Park encompasses the longest known cave system in the world, currently measuring 405 miles of surveyed passageways, with many more miles awaiting official survey. Also a designated World Heritage Site and International Biosphere Reserve, Mammoth Cave is the number-one tourist attraction in Kentucky, the Bluegrass State. It's a place of superlatives, all legitimate, no hype. 
A late 19th Century legend has it that Mammoth Cave was discovered in 1798 by hunter John Houchins. The story goes that he wounded a bear that ran into one of the many cave entrances.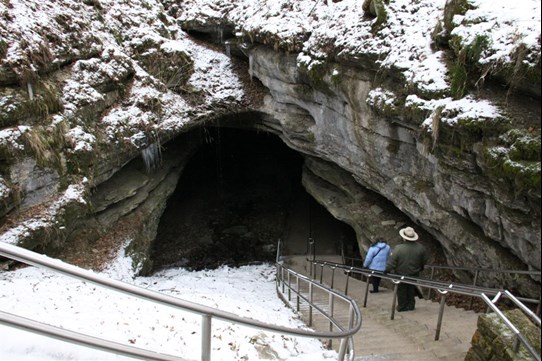 But Native Americans were using Mammoth Cave for thousands of years before Europeans ever arrived. We know that from the artifacts they left behind. For instance, cane-reed torches and woven-fiber moccasins have been found stashed in some 10 to 12 miles of cave passageways.
Other evidence of early cave use includes mummified remains of prehistoric Indians.  Several desiccated bodies have been discovered over the years, not only in Mammoth Cave but in other surrounding cave systems, as well. One adult male (known as Lost John) was crushed by a boulder as he was digging minerals from beneath it. His body still remains in the cave today, but since the 1970s has not been shown to the public during tours.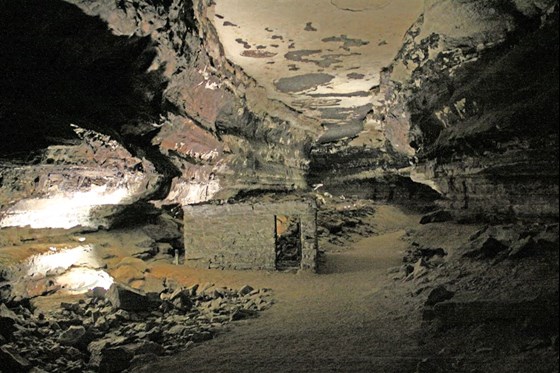 What visitors will see in the cave on any of a dozen separate tours is a spectacular natural world very different from the woodland landscape above ground. Large stalactites cling to ceilings, mirrored by stalagmites growing from the cave floor. Flowstone covers entire walls like frozen waterfalls, and crystals sparkle in the dimly-lit passageways. And Mammoth Cave is not static but dynamic, ever changing, still forming by the power of water.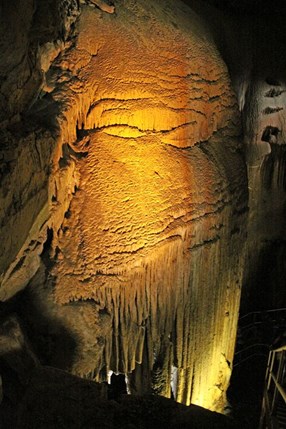 Wildlife living in the cave is unusual. Blond-colored cave crickets are found near entrances, as are wood rats and half a dozen bat species. But deep within the cave, living in underground rivers, are the most unbelievable animals: crayfish, shrimp, and fish with translucent bodies and no eyes!  
Mammoth Cave tours range from the Frozen Niagara Tour, rated easy (requires just over an hour to complete and ¼-mile of walking), to the Wild Cave Tour that lasts six hours and covers five miles. But be forewarned, the Wild Cave Tour is not for anyone who is claustrophobic or out of shape. It requires participants to maneuver in extremely tight passages in undeveloped parts of the cave. Not surprisingly, that tour is rated very strenuous and is for individuals age 16 and older. 
But not to worry, there is a tour for everyone at Mammoth Cave, kids included. If you only have a few hours to visit, the Historic Tour is suggested. Lasting two hours and covering two miles, you will see classic Mammoth Cave scenery and rock formations.
Surprising many first-time visitors on the Historic Tour is the amount of graffiti written on cave walls and ceilings in the form of names and dates. During the 1800s and early 1900s, many people visiting the cave wanted to leave their name behind, telling others they were there.  The way many of them did it was with a lighted candle.
They'd tie a candle to a stick that would reach the ceiling, then place a mirror on the ground at their feet. Looking down at the mirror instead of up at the ceiling kept the hot, melting candle wax from falling into their face and eyes. They then wrote their names in candle soot.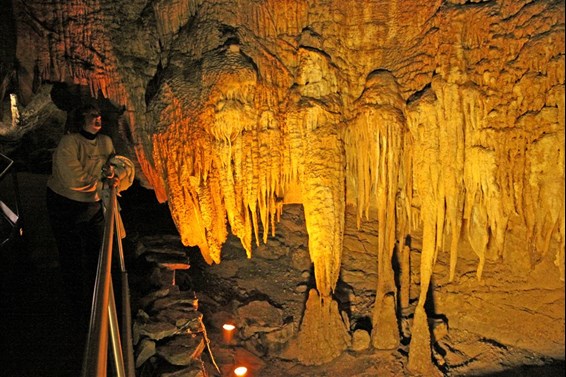 One of the more famous names written in the cave—still visible at various places—is  that of Stephen Bishop, one of Mammoth Cave's early guides. And like many other 19th Century cave guides, Bishop was not only African-American he was also a slave. Bishop was owned by the estate that owned Mammoth Cave at the time.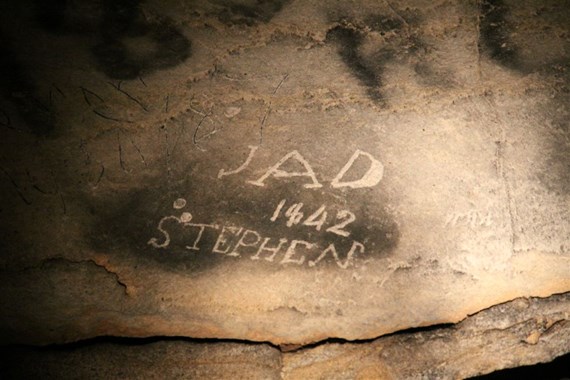 All famous caves seem to have a few ghost stories associated with them, and Mammoth Cave is no exception. "I have had some weird and unexplained experiences while in the cave," said Dave Spence, a veteran tour guide with the National Park Service. "During my first year at Mammoth Cave, I was assigned to the last station on the Discovery Self-Guided tour. It was a slow day with not many visitors, and I was standing with my flashlight on, staring at the cave wall." Spence continued, "After a bit, I got this feeling that someone was behind me. I figured it was one of the senior guides trying to scare the new guy, so I just kept looking at the wall; I wasn't going to let anybody rattle me. That went on for five minutes or so, then suddenly something grabbed my right shirt collar and tugged it hard three times. I quickly spun around, and to my surprise no one was there. Needless to say, I was more than ready to come out of the cave on that particular day!" 
This year marks multiple milestones in the park's history. Not only is 2016 the 100th anniversary of the National Park Service, but also the 75th anniversary of Mammoth Cave becoming a national park, and the 200th anniversary of the cave's first tours. Hope you can make a visit! 
If you go…
Mammoth Cave National Park (www.nps.gov/maca/index.htm) is located near Interstate 65 in south-central Kentucky, about 90 miles from both Louisville, Kentucky, and Nashville, Tennessee. Staying at Mammoth Cave Hotel puts you within easy walking distance of the state-of-the-art Visitor Center, where all cave tours begin and end.  
If you'd rather camp during your visit, three campgrounds are available on park property.  There is no entrance fee to Mammoth Cave National Park itself, but fees are charged for all cave tours. The full cadre of tours is only offered during summer, with limited numbers of tours the remainder of the year. Mammoth Cave National Park is on Central Time.  
There are no stupid questions, right?  Well…
Talk to Mammoth Cave tour guides long enough and you'll hear some humorous stories about park visitors and the many questions they ask. For instance:
Q. How much of the cave is underground?
A. All of it.
Q. What strength sunscreen should I put on before going into the cave?
A. Whatever strength you like; the sun doesn't shine in the cave.
Q. How many miles of undiscovered passageways are there in the cave?
A. We don't know.
Q. How often does a rock fall from the ceiling of the cave?
A. Just once.