In early May 2013, 18-year-old high school senior Braxton Bielski took an 800-pound, 14-foot, 3-inch alligator while hunting in Texas. Biologists estimated it was between 30 and 50 years old and it's the largest ever certified in the state.
If you think he's an experienced gator hunter who could be an extra on "Swamp People" because he wrestled meat-eating reptiles in the back yard before he learned to walk, you're wrong. His record-breaking alligator hunt was his first. And his father, another newcomer to this scaly pursuit, came home with a 10½-footer the same day.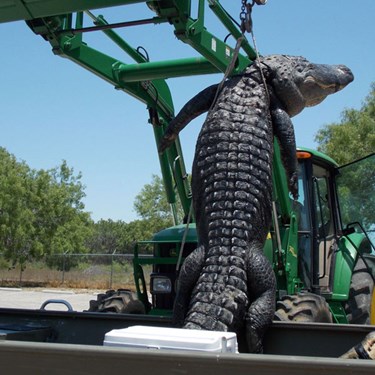 Those who live in the state are quick to quip, "Everything's bigger in Texas." While that might be stretching the truth a little, there's no denying that the opportunities for youth hunters in the Lone Star state are large.
Youth Hunts
Like many states, Texas has established some very special youth hunts. They are open to anyone 16 years of age and younger and, ironically, Braxton and his father Troy had applied several times for the alligator hunt. "He's wanted to hunt alligators for years," said Troy, a Houston police officer who has applied annually to Texas Parks and Wildlife Division's special drawing hunts for the chance to fulfill his son's dream. "We got selected one year to go on a youth hunt at the J.D. Murphree WMA, but I didn't get the permit in on time. I remember Brax was very disappointed. This is the first year we've had to enter him as an adult and we got drawn."
Yes, even parents can get mixed up on paperwork deadlines. But, in true Texas fashion, it turned out OK, and Braxton and his father came home with a memory they'll share for years.
There are many other public-land youth hunts available in Texas, including special seasons for whitetail deer. Dates vary by region and year, but typically you can expect to be out there before all the other hunters in the regular season. That typical vision of lonely stretches of cactus is far from accurate for Texas, and there are some beautiful regions of forest, farmland, ranches, wetland, urban areas and yes, desert. Luckily, the whitetail deer is one of the most adaptable big-game animals, so it thrives just about everywhere in the state-and there are some big deer. Mule deer can also be hunted in Texas, but so far there are no youth hunts scheduled.
Special hunts are also available for those interested in pursuing turkey. Texas offers youth hunts in counties that have Rio Grande turkey-hunting seasons, but Eastern turkey are also found in Texas. So the state offers two different types of toms-and take heart, they both speak the same language. (The accents are slightly different, though.)
There are also seasons reserved for youths in pursuit of squirrels and waterfowl. Of course, you can always rough it by hunting Texas' public land when all the other hunters are out. The big advantage in doing so is number of species you can pursue increases dramatically.
Pronghorn antelope is one example. They have eyes that function like a binocular, so they can see you from miles away, then escape at up to 40 miles per hour. It's the fastest mammal in the Western Hemisphere. Their one terminal flaw is curiosity. If you're lucky they'll study you for a while, then go back to grazing so you can close the gap. Hunters have used a lot of different approaches to get close to a herd. I've even talked to bow hunters who use a life-sized cardboard cow to hide behind so they could stalk closer. I think it's an "udderly" ridiculous tactic, but I guess it works.
I grew up in the desert Southwest and one of my favorite big-game animals to hunt is the collared peccary-OK, it's listed in hunting regulations as the javelina (pronounced "have-a-leen-a"). They've never met a prickly pear cactus they won't shred, chew and gnaw on. They're pretty territorial, so you won't find them wandering around much. Find their telltale sign and you can rest assured some are nearby. Because of this, they are a great way to hone your hunting skills. Their eyesight is poor, but their sense of smell is amazing. Stealthily approach with the wind in your face and you can get very close for a shot, and I mean 10 yards close.
Javelina are often confused as being a type of pig, but they are not. Texas has plenty of wild hogs, though. Smithsonian Magazine reported in 2011 that wild hogs are the most destructive invasive species in the United States. Two to six million are tearing up the countryside nationwide, and half of them are waiting for you in Texas. Landowners, state wildlife managers, ranchers and farmers welcome hunters and the sport has grown so exponentially that special ammunition for the pursuit is being sold, rifles are being made and the attempt by conservationists to stem the swiney tide has even spawned a television show called "Leupold's Pig Man." Texas Parks and Wildlife biologists explore some of the problems in this video: http://youtu.be/GigpxLNbgeg
These things average 150 to 200 pounds when full-grown, although 400 pounders can be found. Urban legends of a squealing 1,800-pounder persist, but most experts scoff at the claim. They can run up to 30 miles an hour in short bursts, smell something up to 25 feet underground or seven miles away, and they carry ticks, fleas and diseases you hoped you'd never hear of after studying medieval history. They herd up and wallow, making holes big enough to swallow an economy car. OK, they're not usually that big, but they can render ranch property and farmland useless.
There are literally hundreds of guides and outfitters offering wild-hog hunts on private land across Texas. Most are not that expensive, largely because there are so many and you're a welcome sight to the landowner. Hunting also takes place on public lands, but the real opportunities are on the 94 percent of the state that is privately owned.
Private Property
The manner in which Texas landowners have handled non-native species of animals is one of conservation's true success stories. There are regions of the world where some wildlife is being endangered by loss of habitat, hungry populations, ruthless poachers and disease. When a few animals were brought to Texas and managed properly, though, they thrived, virtually guaranteeing the species' survival. Those first successes brought more animals and today it's amazing what you'll see in the Lone Star State on private land.
Some non-endangered animals also found their way to Texas through different channels. The greater kudu, for example, lives in Africa, but in 1964 a pair took up residence in the San Antonio zoo. At first they were quarantined, but after several offspring were produced a few of the animals went to ranches in 1994. Today some can be seen at the state's Mason Mountain Wildlife Management Area.
But even on a Texas ranch, the amount of grass to graze is limited, so some animals need to be removed annually and hunting is part of that equation. Whether you're after addax, aoudad sheep, axis deer, blackbuck, black sheep, elk, fallow deer, gemsbok, ibex, kudu, nilgai, red deer or sika deer, you will find it here. I probably missed a dozen or so, and in the time it took you to read this another one or two may have been added. Plus, most private ranches with hunting also allow the pursuit of native species during their respective seasons.
Regardless of where you're hunting, you will need all the necessary licenses, stamps and permits. Remember, too, some of the more exotic animals on these ranches are hard to manage or may not reproduce at a fast rate, so no hunt may be open for a while and if one is, it could be expensive. Some ranches hold special youth hunts for other species, though, so it never hurts to check.
In addition to big game, Texas also offers a variety of small-game species to pursue. Time your hunt right and you, too, may be able to enjoy dove hunting (white-wing or mourning), teal, sandhill crane, jackrabbits, cottontails, pheasant, quail and more.
Are things really bigger in Texas? I'm sure "gator" Braxton would make that bold claim, but there is one undeniable fact. When it comes to hunting in the Lone Star state, there sure is a lot more of it.