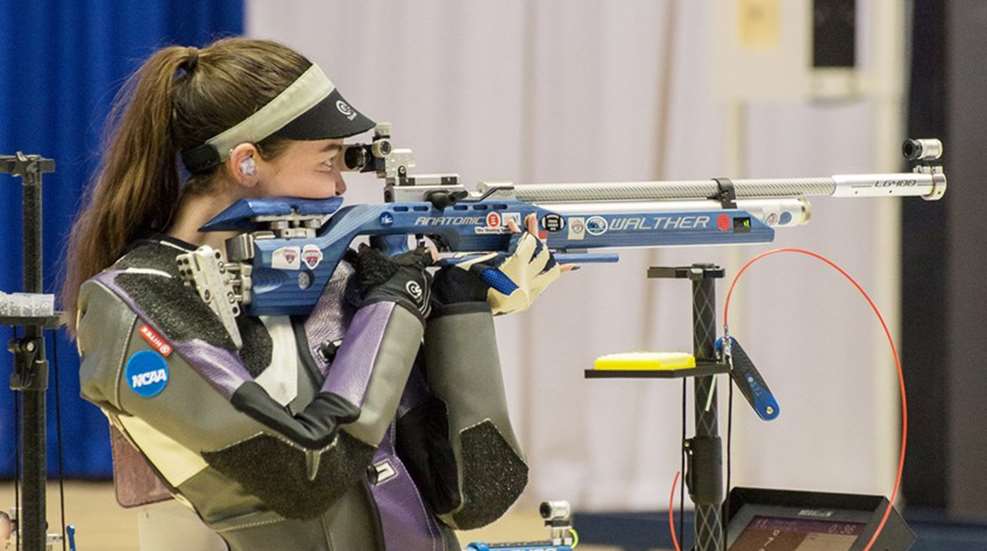 No matter how far along you are in high school, you've probably been told by at least one person that your high school years will fly by quickly, and that senior year will go by even faster. Whether you are excited or nervous to get out on your own, planning out what to do after you throw that graduation cap can sometimes be overwhelming. Fortunately, the shooting sports are growing in popularity at the collegiate level and can be a familiar part of your life that will stay with you during this transition. Even better, shooting may be able to help pay for your education. As colleges expand and add shooting programs, the amount of money available for exceptional shooters is also increasing.
One great aspect of these shooting scholarships is that your skill and dedication can be accommodated. At many schools there are both competition teams and shooting clubs. Top shooters can receive skill-based scholarships for competing for the school. These scholarships will generally award you with a certain amount of money every semester, or they may even cover a certain percentage of your school tuition each year that you attend the college. It is important to keep in mind, however, that these scholarships often come with conditions. The first is academics; after being accepted into the school and onto the team, you must also maintain a certain grade point average (GPA). If your GPA falls below this set number, you may be suspended from competition, practice, and potentially lose your scholarship. Another condition for keeping a scholarship is your performance and effort on the team. Coaches need to see your best effort in practice as well as competitions, and any personal scores and team standing will reflect the time you put in.
Some colleges may also have shooting clubs that do not require as much commitment but still allow you to enjoy the sport that you love. There are many outside organizations that could reward your desire to continue shooting in one of these school clubs or even at your own range if you choose to attend a vocational school or other college with no shooting program. Most organizations that offer scholarships for high-school shooters want to see that they are invested not only in their own shooting, but in bringing others into the sport as well. College shooting clubs offer a great opportunity for encouraging friends to come try their hand at shooting sports, especially if you complete the NRA Coach Education Program in order to help beginners.
The application process for scholarships varies from organization to organization. If it is a scholarship through your college, you will most likely be receiving the information from a coach, admissions counselor or financial aid advisor. You should be able to direct any questions to them. Outside scholarships may be a little trickier to apply for, but if it helps to fund your education, you will thank yourself later! In order to figure out the best way to apply for an outside scholarship, you should first learn about the organization that awards it. This will give you a better understanding of what the scholarship judges are looking for and allow you to cater your application to this. Depending on the organization and your activities, you may qualify better for some scholarships than others. For example, do you enjoy hunting and the outdoors? There are many wildlife and conservation organizations that hold scholarship competitions for high-school students, whether you plan to shoot competitively in college or not. Organizations such as these will often have students write an essay about either their experiences with the outdoors or about current problems and solutions in the conservation world. Other organizations may ask for an essay about your own experiences in the shooting sports. Some may also require a list or résumé of what you were involved in throughout high school. They will most likely be looking for your time commitment to the shooting sports—through competitions, volunteering and working to introduce shooting and gun safety to others. The Brownells/NRA Outstanding Youth Achievement Award is one such opportunity, allowing youth to compete for money by taking an active part in the shooting sports. You can also check out the NRA's Marksmanship Qualification Program, instructor training and the Brownells/NRA National Youth Shooting Sports Ambassador Program to start thinking about ways to contribute to the shooting community. More ideas for involvement can be found at https://explore.nra.org/interests/youth-interests.
Another important thing to remember as you apply for scholarships is to make the application unique to you. Be creative, but be personal. Make sure your application is a true reflection of your personality and your life that allows the scholarship judges to get to know you. Personal stories and your own positive insights will set your application or essay apart from the rest and allow judges to remember you as they look back through stacks of submissions. Almost as important as the content of your application is the presentation. A neat, well-arranged application will show judges that you thought enough of the school or association to put time and effort into it. Finally, just as you organize your submission, it is necessary to keep yourself organized as well. If you are applying for multiple scholarships, it is easy to get application requirements, forms and deadlines confused. Keep the pieces to each application in a separate folder with clearly marked deadlines. This will help you remember when each one is due so that all of your hard work does not go to waste.
Shooting is a lifelong sport, so why let moving on to college stop you from doing what you love? Fortunately, there are many great people in the shooting community who believe the same thing. Although it will require some research, there are many generous colleges and organizations that not only value education, but want to help you continue shooting after high school. To help get your search started, go to http://www.issuu.com/compshoot/docs/nracollegiate/1 if you have any questions about collegiate shooting. Also, you can visit https://competitions.nra.org/competitions/nra-national-matches/collegiate-championships/ for a directory of schools that offer shooting programs and possible scholarships.