"Safari," in the Kiswahili language, translates to "journey." But in embarking on an African hunting safari, you're embarking on more than just a bit of travel. Indeed, the pursuit of wild game species on the other side of the world begins at home.
With an endless multitude of experiences offered by outfitters across the continent, it is up to the interested hunter to really create his or her own ideal for a safari. This task can appear daunting, perhaps reminiscent of the expedition-scale undertakings of the earliest foreign hunters on African soil. While there is no longer any need to provide your own caravan of camping gear, however, the purpose of any safari should be the same: To seek the thrill of an education by nature in a wild, unfamiliar environment. Guides, agencies, lodges and bush camps all exist to provide for your safe and easy pursuit of the hunt—picking the right ones is vital.
Because planning usually begins thousands of miles away from the destination, and months or even years before departure, research can be your initial insight into the African hunting scene. If you're not committed to visiting a particular country or hunting a particular species, then you'll choose your destination from amongst a massive diversity of habitats. From the dry expanses of Namibian deserts to the thick greenery of riparian southern Tanzania, ecosystems change and so do the conditions of your hunt. It is worth looking at photos of the terrain you'll be hunting—not just of the trophies that come out of it! Remember, too, that a safari in Western Zambia will have you exploring grassy floodplains and hardwood forests, while just across the country to the east are waterways, viney jungle, and mountainous valley walls. This striking polarity goes for nearly every other country in Africa. Some outfitters will offer access to multiple hunting areas within a single country; be sure to consider what landscapes interest you most.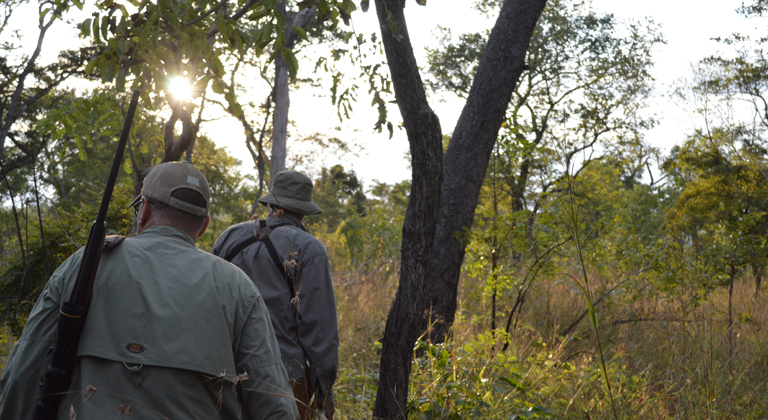 Hunters, unlike the average tourist, tend to find real excitement in the uniqueness and variety of species, in addition to landscapes. Animals from baboons to eland are huntable in Africa, depending on where you go. Due to the country-by-country legal complexities of game regulations, though, this area of your research requires straightforward liaison with potential outfitters. It's also possible that the specific area you wish to hunt may be lacking in a population of blue wildebeest that season, so if your hunting priorities lie with that species it can be wise to confirm their presence ahead of time, through your guide. With regard to hunting licenses, legality of trophies, their export and import back home, and the availability of species, you really can't ask too many questions.
Accommodation, too, should be considered in selecting an outfitter to hunt with. For some hunters, internet communications are a necessity (and can be found in even the most remote bush camps, today), while for others the mere sight of a satellite dish detracts from their experience. There is much to be said for the stillness and darkness of a traditional thatched-hut camp at night, even if they are nowadays labeled as "rustic."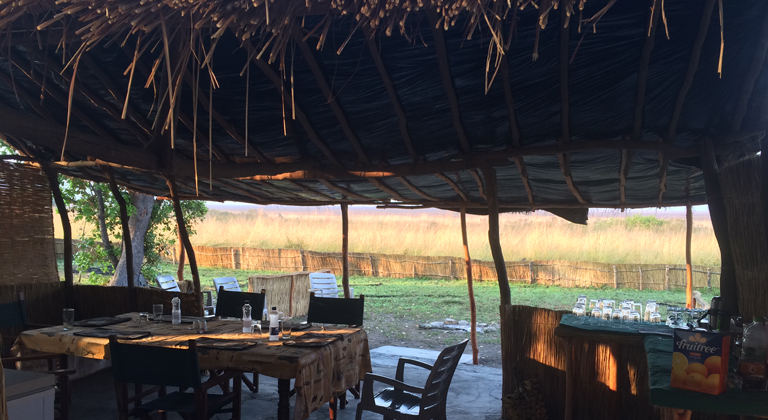 Faced with a multitude of options throughout the safari planning process, it's best to always keep the ideal of your hunt in mind. Read and ask around to see what places, what animals, what kind of camp experience appeals the most. In speaking with outfitters, remember that a quality guide is not simply defined by a trophy success rate, but also by the services they provide to allow the hunter a unique and fascinating experience. In leading the hunt, conducting it safely, and showing real expertise in the environment, the guide facilitates a client's personal adventure and pursuit.
Turning your hunting ambitions into a reality can, at first, seem overwhelming, but time spent understanding your options and carefully picking the suitable outfitter is always worthwhile. Whether you wind up in the savannah or the sand dunes, hunting Cape buffalo or bushbuck, you'll be ending each hunting day around a campfire. If you're on your ideal safari, you'll know the feeling of satisfaction of being in absolutely the right place.