by
posted on September 5, 2020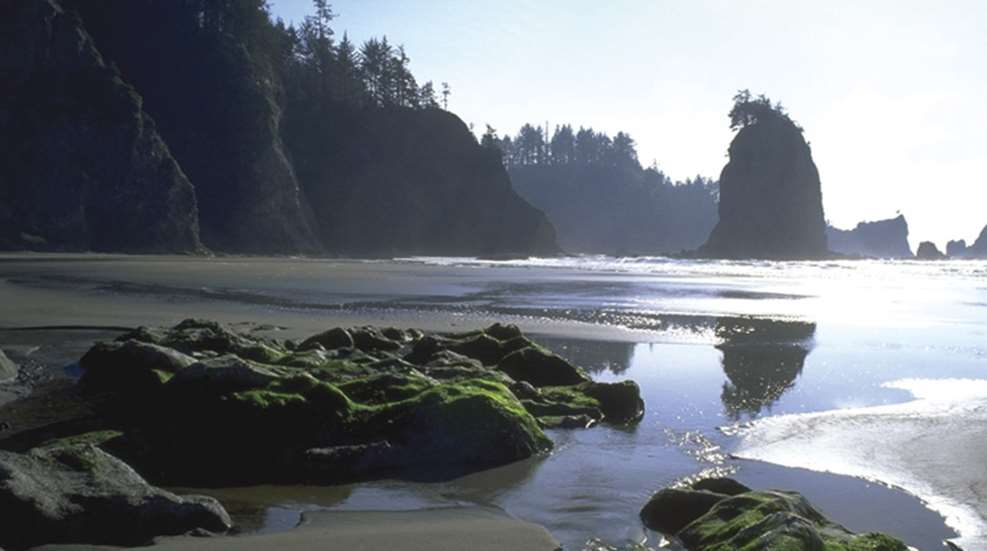 The Olympic Peninsula, located in the extreme northwest corner of Washington state, is not exactly close to most of the rest of America. It's remote; you have to want to get there. But its very isolation is much of the attraction, and the peninsula's crown jewel is Olympic National Park.
Encompassing nearly one million acres, Olympic is surrounded on three sides by water—the Pacific Ocean, the Strait of Juan De Fuca, and Puget Sound—and boasts ocean coastline, rainforests and snow-capped mountains, all within a day's drive. Ninety-five percent of the park is designated wilderness, with more than 100 wilderness camping locations available. But if you're not quite that adventurous, the park offers many developed campgrounds. Visitors may also choose from rooms in historic hotels dating back to the early 1900s, modern motel-type accommodations or rustic cabins.  
The Coast
The Pacific Northwest is famous for its wild coastlines, and a strip of Olympic National Park, separate from the main portion of the park, preserves more than 73 miles of rugged Pacific Ocean beach. Appearing much today as it has for hundreds if not thousands of years, waves crash, gulls call and eagles soar. At low tide, tidepools beg to be explored. On clear evenings, spectacular sunsets slowly burn themselves into the ocean. A feature characteristic of the area, sea stacks—large chunks of rock marching into the ocean—fight their ongoing battle with erosion.
Another unique feature of the coastline is the large number of huge tree trunks jumbled along the shoreline. This maze of weathered wood begins when trees are swept downstream by inland rivers. The surf then pounds the trees against the rocks and sand of the shoreline, peeling off bark and removing many of their limbs. Finally, storms fling the heavy logs high onto the beach in massive, twisted, jumbled piles.
Beaches and tidal pools along the Pacific Northwest coastline are fascinating places to hike and explore but beware: They also hide dangers. When tides rise and seawater rushes into headlands and the base of cliffs, unsuspecting hikers have been caught and drowned. Never attempt to hike around a point or headland on an incoming tide. Instead, use overland trails.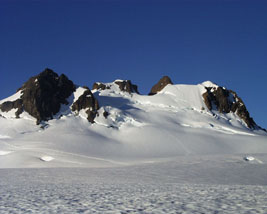 Mountains and Rainforest
Several types of forest can be found at Olympic National Park, but the area is most famous for its temperate rain forest. Snow-capped mountains rising near the coastline force moisture-laden Pacific air masses upward, wringing moisture from them like twisting a wet sponge. As a result, rainforests on the western side of the park get between 140 and 167 inches of moisture annually (that's 12 to 14 feet!), while areas on the eastern side of the mountains—just 30 miles away—are in a rain shadow, receiving only 17 inches of moisture per year.
Obviously, this precipitation difference can have a huge effect on environmental conditions, so do your homework and learn a little about the areas you want to visit before arriving at the park. Plan accordingly, both for gear and clothing. Seldom does the temperature drop below freezing in the rainforests, and summertime highs rarely exceed 80 degrees.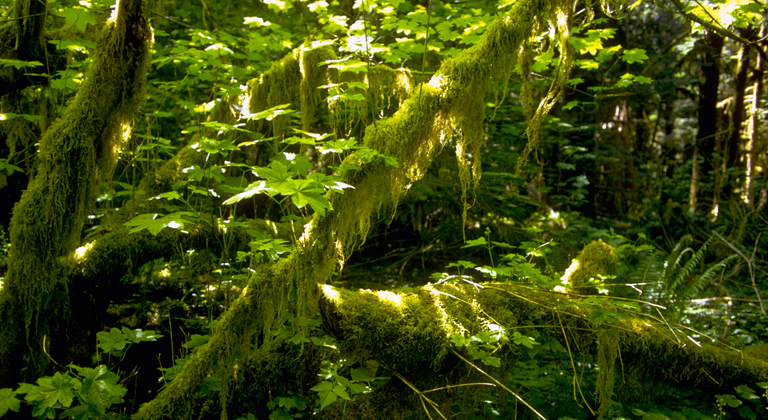 With all that rain and snow, it's not surprising that trees in Olympic's rain forests reach gigantic sizes. The dominant tree species are Sitka spruce and western hemlock—some 500 years old—growing to 300 feet in height (the length of a football field) and 23 feet in diameter. In certain areas, the forest canopy is so thick that snowfall catches in the branches and does not even reach the ground.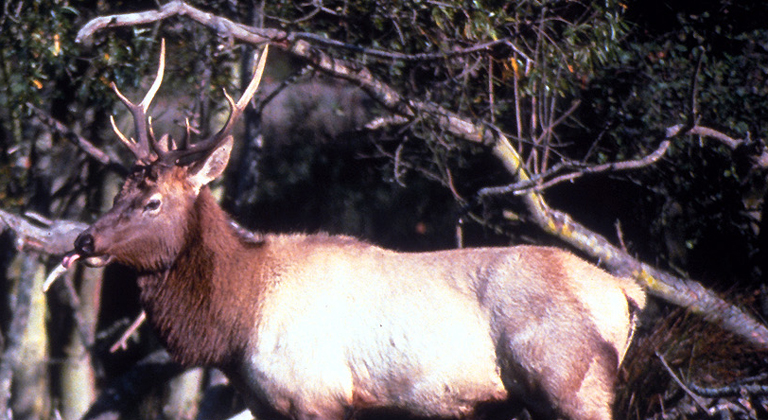 Roosevelt Elk
One of the main reasons Olympic National Park was created was to protect Roosevelt elk populations. Named for President Theodore Roosevelt, these elk differ from Rocky Mountain elk (wapiti) in that they are larger, have white rumps, and sport antlers of slightly different configuration than their Rocky Mountain counterparts. Roosevelt elk are also extremely shy, wary animals, so if you spot one during your visit consider yourself lucky. Olympic National Park also boasts certain types of wildlife unique to the area: Olympic marmot, Olympic chipmunk, Olympic snow mole, and Beardslee and Crescenti trout.     
Unlike Roosevelt elk, most wildlife in the park is very tolerant of people, so don't forget your camera. You should never attempt to approach wildlife, but by remaining still and quiet some species might approach you. For instance, during my visit to Olympic I got great photos of black-tailed deer and coyotes, both of which ventured quite close to me, unafraid.
The park's Olympic Mountains are not unusually high, yet their sudden rise in elevation from sea level to the top of Mount Olympus (just under 8,000 feet) makes Olympic National Park scenery spectacular. This park definitely deserves to be on your bucket list. For more information about Olympic National Park, go online to: http://www.nps.gov/olym/.