by
posted on May 11, 2020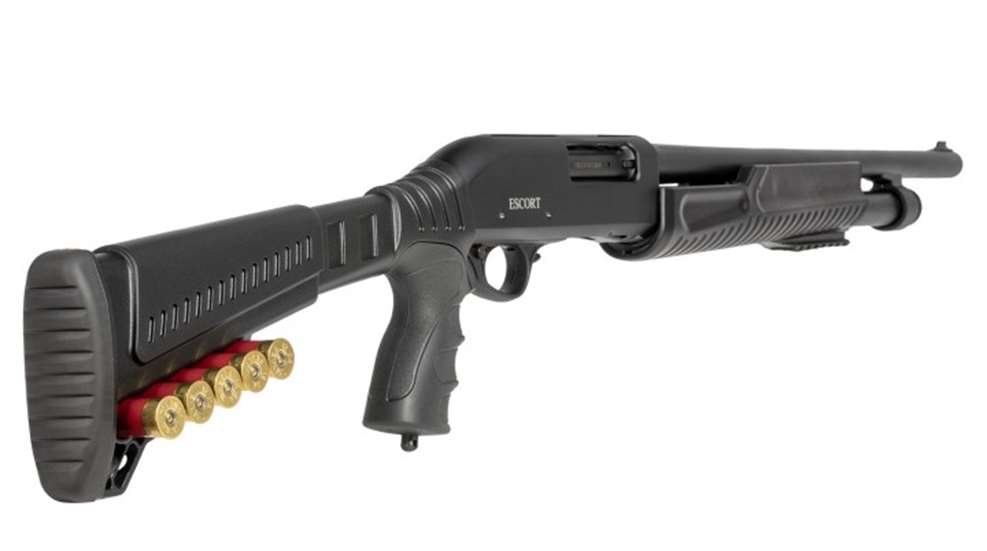 One of the most heartening trends that we're seeing from firearms manufacturers is the introduction of reliable, accurate and extremely budget-friendly firearms designed for home defense, and the new-for-2020 Escort Slugger series is a shining example of same. We got a sneak peek at the Sluggers at the 2020 Shooting, Hunting, and Outdoor Trades (SHOT) Show, and we knew that Escort had a huge hit on their hands. These security-focused shotguns were created for entry-level gun owners and budget-conscious families with an astonishing pricetag of just $220...tops. (And chances are quite good that you'll be able to find them for less at your local gun dealer!) But make no mistake; although these tough scatterguns won't hurt your wallet, they're everything you want and need in a home-defense gun.

The Slugger series is available in two styles: the Slugger and the Slugger Tact. The Slugger boasts an MSRP of only $209, and is a synthetic-stocked, ergonomic grip scattergun with textured grip panels for use in multiple environments. The Slugger Tact is the tactical, pistol-gripped variant for even better control and versatility. Available in 3-inch magnum 12-gauge, either Slugger model comes in a durable, all-weather, black finish.
Whichever model tickles your fancy, both are built to work hard. The fixed blade front sight is large and easy to find in low light, but isn't as delicate as a fiber sight. Mounted sling studs provide solid attachment points for a variety of slings and tethers. The extended pump handle is easy to operate and doesn't require extending one's natural reach during use. Coupled with a fixed cylinder 18-inch barrel, the 5+1 ammunition capacity offers the right combination of portability and competence. A soft rubber buttpad absorbs recoil and improves shooting comfort.
The Tact model additionally features a soft rubber pistol grip with contoured finger grooves and an extra sling mounting point. The buttstock provides an improved cheek weld and space to hold 5 additional shells for greater carrying capacity. The forend also provides space for extras via way of a Picatinny accessory rail.
Slugger Series Features:
12 gauge, 3" chamber pump-action shotgun
Fixed cylinder choke for shot or slugs
Oxidation proof hard chrome plated steel barrel
Alloy receiver with tough black finish
Advanced polymer synthetic stock and forend for strength and durability
Long, ergonomic forend
Soft rubber buttpad absorbs recoil
Manual cross-button trigger safety
5+1 shell capacity
Mounted sling studs
Tact model features 5-shell holder in buttstock, soft ergonomic pistol grip, and accessory rail
Slugger Specs:
18" barrel
38" overall length
6.4 lbs.
MSRP: $209.99
Slugger Tact Specs:
18" barrel
38" overall length
6.5 lbs.
MSRP: $219.99
Want to know more?
Click here for more information, and to find a dealer
!