by
posted on December 6, 2018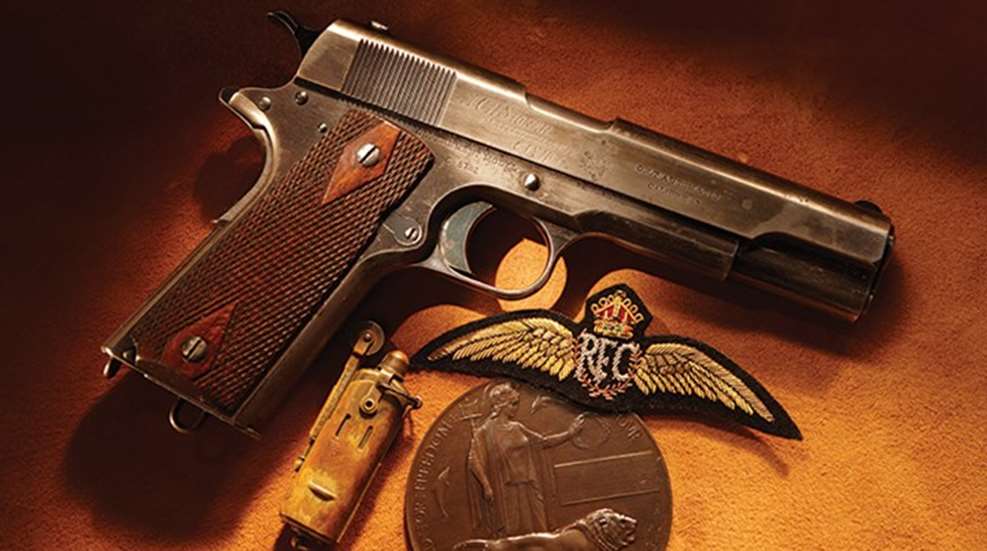 In the history of American firearms, only a handful have become true classics, icons of the gun manufacturer's art and craft. The Colt Model 1911 handgun is among that elite group.
The pistol takes its model number from the year Colt introduced it, 1911. From then until 1984 it was the standard-issue sidearm for the entire U.S. Armed Forces, eventually replaced by the 9mm Beretta M9.  An expert on the history of the gun is Doug Wicklund, senior curator of the NRA's National Firearms Museum in Fairfax, Virginia. 
"The Colt Model 1911 was developed in response to the U.S. Army seeking a semi-automatic handgun to replace its outdated revolvers," said Wicklund. "The designer of the pistol was none other than famed gun-maker John Browning, and the design was one of the best he ever came up with."   
Wicklund explained that one of the reasons Browning's design eventually won the highly-competitive Army contract was because the handgun had a number of unique attributes. "For example," Wicklund said, "it was one of the first guns with parts that could be used to disassemble itself. In other words, its component parts could be used to disassemble other parts of the gun for simple, easy takedown and cleaning."
From 1907 through 1910, prototypes of the gun were tested in trials across America and on U.S. military bases around the world, to see if it could hold up in the field under various environmental conditions. In addition to Colt, several other gun manufacturers developed and submitted prototypes as well.
In the end, the choice boiled down to just two guns: the Colt Model 1911 and a pistol produced by Savage Arms. Six thousand rounds of ammunition were poured through each gun over a period of two days. The Savage handgun recorded 37 malfunctions, while the Colt Model 1911 had zero, sealing the deal.
A very popular type of handgun yet today, Wicklund estimates that more than 150 firearms manufacturers around the world make and sell model 1911-style handguns in various calibers. Compact variants of the gun are also popular as a concealed-carry firearm because of the design's relatively slim width and the stopping power of the .45 ACP (Automatic Colt Pistol) caliber.
Should you happen across one of the originals, what is the current value of a Colt Model 1911? "It would of course depend upon the condition," Wicklund said. "But even one that was pitted, loose, and perhaps had a number of replacement parts would still fetch $800 to $1,000. A few of the early serial number 1911 pistols in excellent condition have approached six figures in value."
Wicklund owns a few of the handguns himself. A gun collector, shooter and hunter, he collects firearms with unique historical associations—guns engraved with a person's name. One of the government Model 1911s he owns was originally purchased in 1914 by a Canadian soldier heading to World War I: John Cameron Hume-Storer. (Gun pictured above.)
"He carried it for two years in the trenches of WWI, and then applied to become a member of the Royal Flying Corps, the air arm of the British Army before and during World War I," said Wicklund. "On February 17, 1917, he climbed into the cockpit of a biplane, flew off on routine patrol, and was never heard from again. No trace of his plane was ever found, but somehow his Model 1911 turned up in an American gun shop many years later, and I was fortunate enough to purchase it." 
Did the Canadian pilot take his pistol with him on his last flight, or did he leave it back at the barracks?  "That's the mystery," said Wicklund. "We know he flew into limbo on that winter day many years ago, but his gun is still here. We just don't know whether he left it behind with a friend or it went with him."
The real test of any firearm is the test of time. The fact that the Colt Model 1911 fought its way through WWI, WWII, Korea, Vietnam and lesser conflicts solidifies its reputation as an American classic. "That's a very, very long stretch of time for any one handgun to be the primary sidearm for any armed service anywhere in the world," said Wicklund. "Some modern-day versions of the gun are still in service with American military units, such as the U.S. Army Special Forces." 
One handgun, strong, durable and dependable enough to remain in production for more than seven decades is extremely rare. But it's the Model 1911's reputation for reliability, accuracy and stopping power that has made it a true icon. In fact, many competitive handgun shooters yet today compete with Model 1911-pattern pistols. 
If you'd like to see more photos of the Colt Model 1911, go to: www.nramuseum.com and search for Colt Model 1911. If you'd like to see some of the guns in person, the NRA National Firearms Museum system consists of three facilities, telling the story of firearms, freedom and the American experience—the story of Americans and their guns:
NRA National Firearms Museum, Fairfax, Virginia (3,000 guns on display of 10,000 housed at the museum)
NRA National Sporting Arms Museum, Bass Pro Shops, Springfield, Missouri
NRA Brownell Museum of the Southwest, Whittington Center, Raton, New Mexico