by
posted on September 6, 2017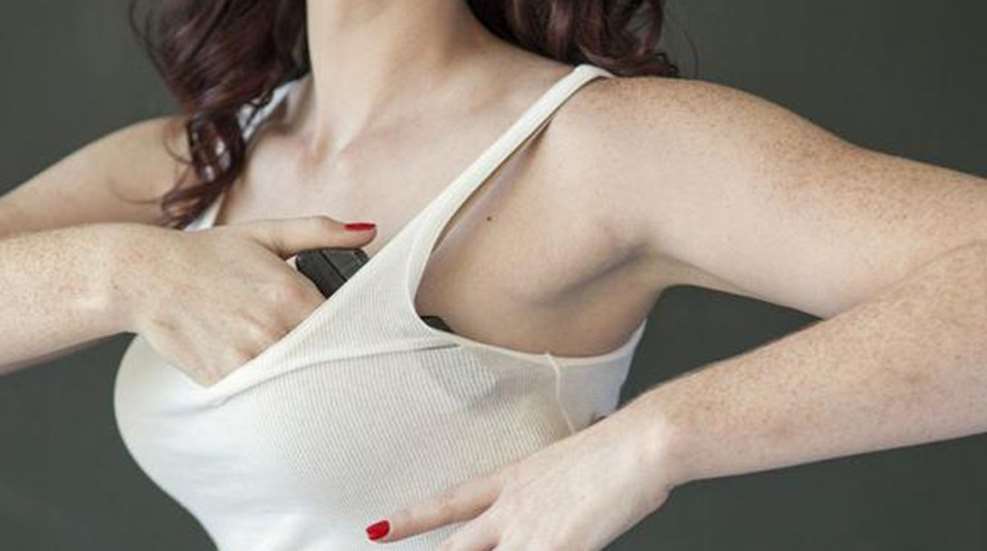 In a previous column about purse carry, I made no bones about the fact that I wasn't a huge fan of the concept, and that I vastly preferred on-body carry for a number of reasons ranging from security of the firearm to ease of rapid access in an emergency.
Still, there are times when attire is called for that makes on-body carry extremely difficult. When you get too far into either end of the clothing formality spectrum, the contemporary American woman's wardrobe doesn't really run toward the two things that are really necessary for conventional on-body carry: Belt loops on the one hand, or big pockets on the other. A cottage industry has sprung up trying to address this need, offering a variety of unconventional holsters marketed specifically to women.
One kind of holster I've seen offered for sale is a sort of garter holster, designed to be worn around the thigh and theoretically offering access to the pistol when wearing a skirt. In theory, this seems like a sound idea. Everybody has seen footage of SWAT guys on television with their pistols in holsters suspended from their belts and strapped to the outside of their thighs. So it seems logical that the same sort of thing would work dandily if the pistol were moved around to the inside of the thigh and worn under the clothes instead of on top of them, right?
Ehhhh...not so much, it turns out.
The reason why becomes apparent if you look at the most clueful guys wearing those thigh holsters. They have them hiked as far up on their thigh as possible, to the point of removing the upper of the two leg straps so they can hike the holster up to almost crotch-height. This is because it turns out that a heavy piece of metal strapped to your thigh as you move around tends to flop around alarmingly.
True Confession Time: In my early 20s I decided that I would be able to carry my little Beretta Jetfire in everything from club kid attire to sundresses if I had a thigh holster, and so I set about to make myself one using some shadetree seamstress work and a discarded bellyband holster.
The holster fit and worked as planned...when standing still in front of the mirror. In actual movement? Forget it. The thing gyrated and flopped everywhere just from walking. Running? Dancing? Hah! It went right in the failed holster experiment box, where I think it languishes to this day.
The staple for this kind of carry is the bellyband, and for good reason. They work, or at least the good ones do. They're offered in every variety from basic black to all trimmed with lace these days.
One holster that I was prepared to hate was the Flashbang bra holster (pictured above). At first glance, it seemed just wrong and dangerous, and it wasn't until I got a chance to get hands-on with one with an open mind that I saw how ingenious it was. Really, all the Flashbang is is a horizontal shoulder-holster rotated around to the front. It's accessed the same way a horizontal shoulder holster is, by moving the support-side hand up and out of the way (I put my left hand on the back of my head during a shoulder holster draw, so I know where it's at) and pulling down on the gun before rotating the muzzle away from the body and onto the target.
Is it an ideal day-to-day carry holster? No, but neither is a conventional shoulder holster. They just offer a concealment option for certain circumstances.
As with any holster, conventional or unconventional, dry-fire practice is essential to get the most from it. Seek out some professional instruction from someone with experience using the kind of holster you're looking at and train to access it safely and quickly.