by
posted on February 16, 2019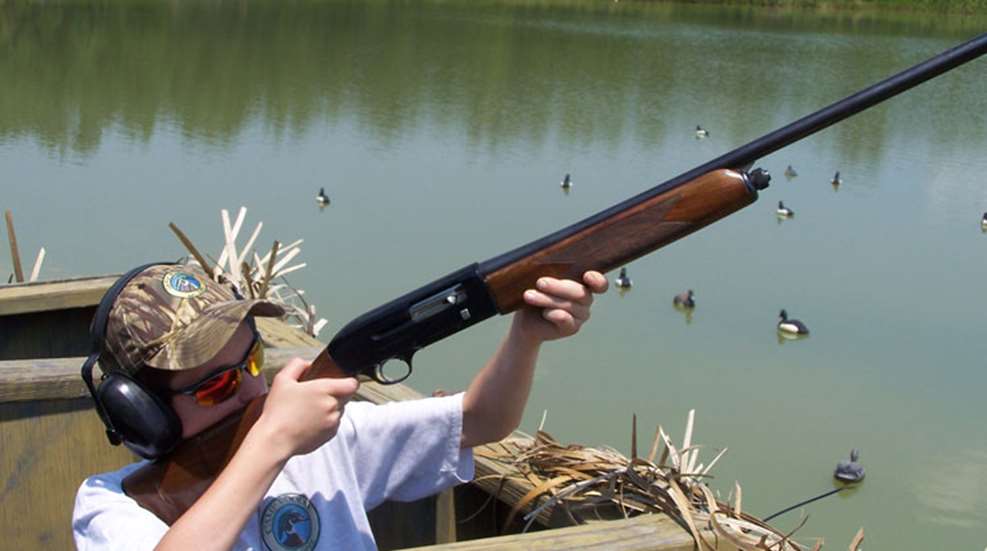 Ah, summer! It's the time to chill out by the pool, hang with your friends, head out for a family vacation—and maybe, if you're lucky, go to waterfowl camp at South Carolina's Camp Woodie.
Two summers ago, Katelyn Watford was among the lucky ones. She not only attended one of the summer sessions, she received a scholarship to do so.
"I was able to participate in several of the outdoor activities," says Katelyn, "… shooting, archery, skeet shooting, duck calling, swimming and a hunter's safety course. I had a really great time."
The Camp Woodie Experience
Sponsored by the South Carolina Waterfowl Association (SWCA), Camp Woodie offers 11 summer sessions for kids eight to 11 and 12 to 16. Each of the sessions is five days long. Four are coed; two include both the summer camp and a duck hunt in the fall. This camp is all about "passing on our waterfowl legacy to young people," says David Wielicki, executive director and founder of Camp Woodie.
Wielicki remains at the camp 24/7 during each session. In addition, there are seven counselors and a variety of professional instructors, including champion callers and callmakers, waterfowl biologists, well-known outfitters and two shooting instructors. Among this year's professional instructors, world championship caller and callmaker Marc Ackerman of Swamp Thing Mallard Calls, Kelly Haydel of Haydel Game Calls and world championship caller and call maker Buck Gardner of Buck Gardner Calls will be on hand to help you improve your calling skills. Also instructing is reptile specialist, wildlife adventurer and television entertainer Roark Ferguson.
But let's get to the nitty gritty. What exactly is the Camp Woodie experience? A look at the activities for each day should give you a pretty good idea.
Day 1
The first day—Sunday—is a short day. You don't check in until 5:00 p.m., but that still gives you five hours to have fun until lights-out at 10:00 p.m.
Your parents can stay for the first hour to complete paperwork, ask questions and look around a bit. Meanwhile, you get to find out what group you're in, check out where you'll be sleeping and meet some of the counselors. By 6:00 p.m., all the parents have cleared out, and you and your fellow campers gather at the main lodge to talk about the rules and regulations, get your own questions answered and enjoy a Papa John's pizza dinner. Camp Woodie has officially begun!
You'll spend the next part of the evening meeting your fellow campers and enjoying group activities before making your way to the campfire ring for the opening-night campfire. A snack afterwards, and you're ready to head back to your bunk and a good night's sleep.
Day 2
If you're thinking you can sleep in the next morning, you can think again! It's up and at 'em at 7:00 a.m., breakfast at 7:30, a general gun safety review and then it's time to join your assigned group and get on to the field activities. There are four 1½ -hour activities during the day—anything from 5-stand to skeet range, .22 range, archery, sporting clays, building a blind and more. One popular activity is learning how to build your own survival tent/sleeping bag combo. Now that's a useful skill! Then there's a nature trail, fishing, swimming and boating.
Of course, they feed you, too. So bring your appetites to the awesome lunches and dinners. And twice a day, you get to do a canteen. This is the time when you can buy Camp Woodie hats and shirts, calls and other types of hunting and fishing items, have a snack and a drink or just hang out with your new camp friends.
Evening activities start at 6:30 and, as is the case every night, lights are out at 10:00 p.m.
Day 3
Day Three dawns and—you guessed it—you'll rise and shine at 7:00 a.m. yet again. Like the previous day, this one is chock-full of activities. There will be an hour in the morning with Stuart Cochran, head waterfowl biologist for the SCWA. Cochran likes to provide tips for identifying waterfowl—and he does it with the aid of some live ducks he brings with him, so you can actually see what he's talking about. The rest of the day will be filled with more shooting, archery, swimming and the like, canteens, and let's not forget the awesome meals.
That night's special happening is a demonstration by the Charleston Retriever Club to show the difference between a beginning and a finished dog. Next is an energetic game of tubeicide. Think major fun in the mud! Then it's time for the last canteen run of the day before lights out.
Day 4
By Wednesday, which is Day Four, you'll be well used to the rhythm of the camp: Get up at 7:00 a.m., breakfast at 7:30 and then on to a full day and night of activities, including a couple of one-day-only happenings. Day Four's special events feature a live animal show—a chance to learn some amazing things about the animals with whom you share the environment.  And, then there's the duck-calling seminar. This is your chance to hear calling at its best and to pick up a few pointers. But, as Marc Ackerman of Swamp Things Mallard Calls likes to warn, your family at home may not always be as enthusiastic about your duck calling practice as he is.
Perhaps the high point of the day-four activities is a game of "capture the flag." Campers dress in camouflage and use their best woodland warrior skills to capture both the flag and the glory for their team.
Day 5
All good things must come to an end, but at Camp Woodie, there's one more fun-filled day before that time comes.
Day Five could best be described as competition and awards day. It starts with campers trying for their personal best scores at all the shooting venues in a camp-wide event. By morning's end, the competition is complete and everyone is more than ready for lunch.
Then it's off to the campfire ring for the duck-calling contest. Yep, it's time to try out all those new duck-calling skills you've learned! With any luck, there's time for a group game before the start of the Wacky Woodie Olympics. Here, you can enjoy such activities as sinking your counselor in his or her canoe, decoy throwing and skinning the snake (which is not skinning a real snake, in case you're wondering).
A quick camp cleanup and it's time to greet the parents, who start arriving at 4:30 p.m., and pack up your belongings. In the meantime, the cooks are busy preparing the final dinner, to be served at 6:00.
Of course, no last day of camp would be complete without an awards ceremony, and that's exactly what you can expect at Camp Woodie. Counselors will present the cabin awards for best archer, wing shot, and the like. The director will award the winner of the morning's camp-wide competition and recognize individual campers for their achievements during the week. And, at the conclusion of the ceremony and of the Camp Woodie session, there's a drawing in which each camper gets a prize.
Good Times and Better Memories
Camp Woodie sees more than 400 young campers each summer. Letters from kids and their parents to the camp staff are uniform in their thanks and in their enthusiasm for the program. Perhaps Michael McDowell, a recent Camp Woodie attendee, sums it up best. "I can't believe how much fun I had," he writes. "The archery trial was the best. I made lots of new friends. I will be back next year …."
Sound like fun? Maybe it's time for you to make plans for your own Camp Woodie visit.